Esports News UK editor Dom Sacco picks some of his memorable moments in UK esports this year. 
This list is purely subjective and is not reflective of any specific achievements – it's purely moments and goings on that stuck by us. Another note: I don't really follow CSGO that closely – I leave that to the lads over at UKCSGO.

10. Universities embracing esports

Other territories may have already been doing this for some time, but it was still great to see the UK take its first steps towards adding some esports to their courses and degrees, including Staffordshire University, the University of York and the University of Leicester.
Let's hope the courses are genuinely valuable and help foster future talent in esports.
It was also great to see the National University Esports League continue its great work and for the Foundation to emerge.

9. UK Masters banter

The most recent League of Legends UK Masters was an interesting tournament, full of twists, turns and banter.
From Kirito's claim that it's so easy it's basically 'free money' to Candyfloss' weird performance as Jarvan, Arctic Storm's former manager Ashley "Slip" Haynes promising to 'hard stomp Masters' and Joekerism shutting down egos, it was eventful to say the least.

8. Fnatic's new UK office

Okay so Fnatic technically opened their pop-up shop in Shoreditch back in 2016, but fully opened a 5,000 sq ft esports office this year.
It's a great esports space in the heart of London, and has hosted a bunch of viewing parties and other third-party community events this year, from WD Speedrunning tournaments to Esports Insider networking gatherings for the industry.

7. Watching the UK's first school esports tournament

Watching some of the UK's best young Rocket League players play in the Digital Schoolhouse finals at the Gfinity Arena was great, not just because it was the first time this had taken place, but because it's inspiring a new generation and gives schools a way to get involved with esports.

6. kerber0s' performance in the crazy NUEL LoL finals

Earlier this year the National University Esports League held its NUEL Live UK university final between Warwick and Aston.
It was an exciting League of Legends series packed fall of split-pushing, backdoors, barons, turnarounds and just sheer mayhem.
Warwick top-laner kerber0s was a menace and caused Aston a lot of trouble.
Check out our match report on NUEL Live final 2017 here and our video highlights above.

5. Team UK's run in the Overwatch World Cup

Watching Team UK breeze through the opening stages of the Overwatch World Cup and easily make their way to the quarter finals at Blizzcon was a joy to watch.
Not only were they damn good when beating the likes of Germany, Israel and Belgium, they also clearly had great fun while doing it.
Just don't mention those quarter finals against Sweden.

4. Following the ups and downs of MnM Gaming

Journalists are supposed to remain as neutral and impartial as possible when providing coverage of teams, but damnit MnM Gaming, you make that guideline so hard to stick to.
From their ESL Prem victories to the scam that thwarted their first Challenger Series attempt, from the hardships in their beginnings to their UK Masters win, from their gaming house to their Challenger Series disappointment, MnM have been through a lot together.
Like any sports team that's fun to follow, there are ups and downs, and you're not always sure what's going to happen next. But they're raw, real and rare – and that's why they're so great to follow. Looking forward to seeing what 2018 has in store for them.

3. England win the World Cup

It might not be THE World Cup, but I'm going to take any victory we get. And this is one victory that should not be downplayed.
The UK's Spencer "Gorilla" Ealing won the 2017 FIFA Interactive World Cup in London this year, beating Germany's Kai "Deto" Wollin 7-3 in the grand final.
Gorilla was coached by Sean "Dragon" Allen – who finished runner-up in last year's FIWC final. It's a remarkable turnaround story, considering the pair were at loggerheads late last year and were involved in a falling out, but turned things around, teamed up – and it paid dividends.

2. From the UK scene to the LCS

It's satisfying to see talent play in the UK League of Legends scene before going on to do great things on the global stage.
Team Infused's Alphari and Maxlore now play for EU LCS side Misfits together (a side who originally qualified from the ESL UK Prem under the name Renegades Banditos). They almost beat the world's most consistently high performing LoL team – SKT – at Worlds this year. It was so close to being an unbelievable memory, but in many ways it already is.
We now also have Caedrel playing for H2K, KaSing with Splyce (along with manager Grievance), British casters Vedius and Medic in the LCS, Fnatic team director Finlay "Quaye" Stewart and Joe "InnerFlame" Elouassi, the general manager of Misfits.
It's great to see.

1. Progress

For many years the UK has been lagging behind other territories when it comes to esports.
But throughout 2017 we saw some impressive wins, top performances and signs of real hope for the future.
With the likes of Reason, exceL and Endpoint picking up wins in the Gfinity Elite Series (and EndPoint advancing to the CSGO Mountain Dew League with a UK roster), MnM winning ESL Prems and UK Masters, Gorilla lifting the FIFA Interactive World Cup, Misfits' Alphari and Maxlore doing well in LoL, some great new talent in Street Fighter, FIFA and PUBG, plus great UK victories in the likes of H1Z1, Gwent, Old School RuneScape and F1 (see winner Brendon Leigh above), Splyce becoming the first UK CoD team to win major international event on US soil, not to mention the countless casting and other esports talent across the globe, the future is looking bright for UK esports.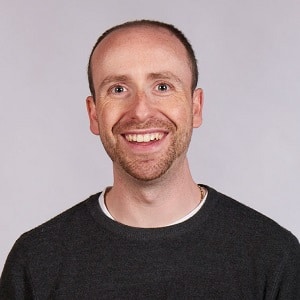 Dom is an award-winning writer who graduated from Bournemouth University with a 2:1 degree in Multi-Media Journalism in 2007.
As a long-time gamer having first picked up the NES controller in the late '80s, he has written for a range of publications including GamesTM, Nintendo Official Magazine, industry publication MCV as well as Riot Games and others. He worked as head of content for the British Esports Association up until February 2021, when he stepped back to work full-time on Esports News UK and as an esports consultant helping brands and businesses better understand the industry.