England's Spencer "Gorilla" Ealing won the 2017 FIFA Interactive World Cup (FIWC) in London this evening.
He beat Germany's Kai "Deto" Wollin in the grand final at the Central Hall Westminster, with a score of 7-3 on aggregate.
That's despite a nightmare start for England in the FIFA tournament, with four of England's five players dropping out on day one of the group stages.
20-year-old Spencer – who plays for Unilad – was presented with his trophy by European Champion and Dutch football legend Ruud Gullit (whose virtual form scored a crucial goal in the final)!
The Englishman also received a cheque for $200,000 and an invitation to attend FIFA's annual awards ceremony 
The Best FIFA Football Awards
 in London on October 23rd.
The result means that fellow English FIFA player Christopher "Thee Bullock" Bullock's prediction proved true.
Bullock said to Esports News UK ahead of the event that an Englishman would win the FIFA Interactive World Cup 2017
this week.
Armed with the reputation as the best attacker in the history of FIFA, Spencer dominated the day to win England its first ever taste of gold-medal glory at the FIWC since 2005.
He scored 46 goals over three days, and was statistically the best attacker with 2.93 goals scored per game, and the best all-rounder with a goal difference of +17.
In an exciting final match, Kai accumulated a 3-1 lead, but Spencer forced his way back, to ensure a 3-3 draw at the end of the PlayStation Leg.
"It's absolutely unbelievable to have won this tournament. I think that to have won something of this magnitude is something that will change my life forever."
Spencer "Gorilla" Ealing
During the Xbox leg, Spencer asserted his authority on his preferred console, racing into a two goal advantage before the interval. Gorilla created history and sealed a 7-3 aggregate victory.
Gorilla was coached by Sean "Dragon" Allen – who finished runner-up in last year's FIWC final. It's a remarkable turnaround story, considering the pair were at loggerheads late last year and were involved in a falling out.
Gorilla asked Dragon to come up on stage to lift the cup, and said he couldn't have won it without him.
"I've known Dragon for ages now," Gorilla said in this interview. "It benefited me having him as a coach tactically. I think it actually won me that game in the final because if I stayed with my same formation – which I was going to – I probably wouldn't have won.
"So I thought, what would Dragon do? I switched to 4-4-2 and it won me the game."
Couldn't of done it without @DragonFIFA_ seriously he helped so much this tournament. Best hype man in the game! Tactical beast as well.

— Spencer (@Gorilla_Unilad) August 18, 2017
Very admirable your attitude ?? pic.twitter.com/kG8gq22HUq

— Martendal #TLZ #FSW (@martendalfifa) August 18, 2017
"It's absolutely unbelievable to have won this tournament. I think that to have won something of this magnitude is something that will change my life forever," Gorilla said.
"Obviously the prize money is huge but for me it's not about that, it's about being the FIWC champion and representing all of the people who have supported me to reach this point."
FIFA's director of marketing services Jean Francois Pathy has promised to make the Interactive World Cup bigger for next year.
He said: "We are looking forward to working with our partner EA SPORTS and the FIFA community to make our competition even bigger and better."
This week's event was the 13th version of the tournament. Over seven million players over the course of an almost-year-long season attempted to qualify for the FIWC – 32 made it to this week's finals.
Waited 3 years for this moment, words cannot describe this feeling. Finally a World Champion!!! Your support has been unreal since Day 1…. pic.twitter.com/Gk5RgCPyLj

— Spencer (@Gorilla_Unilad) August 18, 2017
The UK can play FIFA pretty damn well – here's to more victories in the future.
European Champion from ?? with the WORLD Champion from ?? @Gorilla_Unilad That is 2 Major Championships brought back to the UK, WELL DONE ?? pic.twitter.com/iGS3nyYPII

— Tass (@Hashtag_Tass) August 18, 2017
More content
Interview with English FIFA players Bullock, Shellzz, Stackzz ahead of the tournament: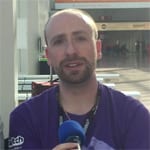 Dom is an award-winning writer who graduated from Bournemouth University with a 2:1 degree in Multi-Media Journalism in 2007.
A keen League of Legends and World of Warcraft player, he has written for a range of publications including GamesTM, Nintendo Official Magazine, industry publication MCV as well as Riot Games and others. He works as full-time content director for the British Esports Association and runs ENUK in his spare time.