The president of the Swansea Gaming Society is setting up a new organisation to help grow university esports in the UK.
Declan Murphy, who has admin experience with ESL, Multiplay and epicLAN, and owns the university Dota 2 Arrow League, hopes the new initiative will be backed by the National Union of Students (NUS) by the end of this year.
The university esports association he's set up is called Foundation.
The idea is to help gaming societies grow their esports scenes and for more universities to compete against one another live at LAN events, without the worry of things like travel costs.
Declan plans to motion the NUS with this idea. He said: "This motion is to address the lack of official backing from our universities in regards to providing a stable base for esports to grow from.
"This is something that we want to start rolling out as soon as the beginning of next year and fully flesh out in time for September 2018."
The motion has three main aims:
1. To provide solid and meaningful competition between institutions and societies
"By providing the tools to make varsities happen, we can build a real meaningful element to the games that we play," Declan said. "As good (or bad) as the NUEL (and Arrow) may be for their respective games, LANs are where the real competition is.
"The motion will make LANs a big part of any gaming/esports society and hopefully put us all on the map in meaningful ways. By having the NUS at our backs on this we're able to draw upon our own unions and universities to make this a reality."
2. Travelling to and from LANs to be funded by unions
"Travelling is the biggest obstacle when it comes to running a LAN," Declan added. "Every bit of planning is dependent on a union providing travel and we've had that come back to bite us more than once. By ensuring that our respective unions are able to provide this travel cost to us we can focus on the more integral parts of competing."
3. To legitimize esports as an ecosystem within universities
"The endgame here is that we can achieve a stable base to grow from and reach a point where esports can become the buzz around campus," Declan explained.
"From uni to uni, having an atmosphere where people want to watch their League or CS team play against another university is seen as something people want to watch and get involved in. The main way we can do this is by creating an organisation that we all get a say in via our societies."


There have been several university esports varsities in the UK, including the Varsity Games Dota 2 tournament won by LSE (above), Lancaster vs York, DeMontfort vs Leicester at LoL and more. 

'We want to show the NUS we are legitimate' 
Declan says he wants the new organisation to improve esports' standing at universities.
There is still an awareness problem around esports within the UK in general. Last year, Loughborough Students' Union opposed a motion that aimed to get competitive gaming recognised as a sport, in order to unlock funding at a university level.
In a letter sent to other gaming societies, Declan said: "The big thing we want to do this year is help as many societies as possible play out their varsities against their counterparts and show the NUS that we are legitimate and capable of great things.
"The hope is that if we can do that well enough then by this time next year we will be looking at the very first NUS recognized organisation dedicated to university esports. This organisation would seek to combat the issue that I'm sure a lot of you have seen before, which is societies and teams dying out once one or two key members have left after their term has ended at university.
"An organisation that allows a lot of the things needed to be done almost automatically would provide a strong base for societies to maintain. Of course this organisation will still at the core be run by us, the societies, but be able to facilitate a lot of the heavy lifting."
Of course, the National University Esports League (NUEL) is already well-established in this area.
Last year, the NUEL's founder Josh Williams spoke to Esports News UK regarding Loughborough's opposition, and esports' standing at uni compared to other sports.
He said: "As much as we want to champion university esports, it's a fair assessment that the players and teams don't put the same amount of training into competing right now – it's our job to get it to that level and get that level of respect.
Esports News UK has contacted Josh for an updated comment and to seek his views on Swansea's new idea.

"The hope is that if we can do that well enough then by this time next year we will be looking at the very first NUS recognized organisation dedicated to university esports."
Declan Murphy, Swansea Gaming Society
Draft motion

You can read Declan Murphy's draft motion in full below:

This union believes: 
1. Esports is competitive video gaming. Pitching individuals or teams against each other in
a PvP (Player versus Player) nature.
2. Esports is one of the fastest growing industries in the world and is estimated to be worth
a staggering £5bn a year by 2020.1
3. Esports in the UK has shown to have great potential, with numerous inter-university
events such as King of the North, Battle for the Mountain and Best of the South West.
4. Most university esports events ran in the UK are done by students without any official
backing from either the University or big sponsors.

This union further believes:
1. There is little to no support for esports in universities, The NUS should take a supporting role.
2. By supporting esports within universities the NUS will be able to assist in creating and
monitoring a friendly and fair playing field that isn't discriminatory.
3. Esports can be brought up to the standard of other competitive activities. Both in terms
of legitimacy and acceptance from university bodies.
4. A previous related motion approved by the NUS to petition BUCS wasn't successful in
achieving its goal.
5. Currently players are faced with choosing between esports and university. Something
must be done to alleviate this division.

This union resolves:
1. That the NUS assist in setting up an inclusive esports organisation for the purpose of
running these competitions in an official manner.
2. This organisation would run esports leagues across multiple games deemed relevant
and demanded by the national student body.
3. This organisation would also run at least an annual LAN (Local Area Network) final along with regional qualifying LANs.
4. That the NUS provide a funding pot for this organisation to set-up an online portal for
students to navigate and partake in.
5. That the NUS ask its member unions to provide the financial costs of travelling to and
from esports games and events in a similar fashion to what is done for sports teams
across the UK.
6. That the NUS and its member unions support esports as part of any varsity that particular member union may have or create a separate electronic gaming varsity that receives recognition and funding from all involved institutions.

Further reading: University of York recently hosted a CSGO LAN event and partnered with ESL, while Staffordshire Uni is offering the UK's first esports degree
Hide our ads and become a premium reader to support ENUK today from just £1 per month!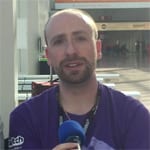 Dom is an award-winning writer who graduated from Bournemouth University with a 2:1 degree in Multi-Media Journalism in 2007.
A keen League player and WoW RPer, he has written for a range of publications including Games TM, Nintendo Official Magazine, games industry publication MCV as well as Riot Games. He currently works as full-time content director for the British Esports Association.