The UK has had a remarkable year in esports, with huge victories in FIFA, H1Z1 and F1 to name a few – now it can add Gwent to the list.
UK player Fred "Freddybabes" Bird won the $100,000 Gwent Challenger #2 tournament this month, taking home $68,750 after beating Germany's Benjamin "Kolemoen" Pfannstiel 3-0 in the grand final at Moszna castle in Poland.
18-year-old Freddybabes also received the December 2017 Gwent Challenger winner's ring and has qualified for the 2019 Gwent World Masters.
Runner-up Kolemoen left with $14,000.
Challenger champion!!! ? I'm sooo happy to have won and couldn't have done it without the support from everyone, love you guys <3 Huge thanks to the @PlayGwent team and all the awesome people that made this event possible! Super excited for Gwent's future! ?

— Fred Bird (@Freddybabes) December 17, 2017
In the semi-finals, November's Gwent Open finalist Damian "TailBot" Kaźmierczak lost out to Kolemoen 3-2 win, while Freddybabes beat previous Gwent Challenger champion Adrian "Lifecoach" Koy 3-0 in the other semi.
For Freddybabes to have won Gwentslam earlier this year, then the November Gwent Open, to go on to win the Gwent Challenger with a 3-0 in the semi-final AND a 3-0 in the grand final, it's an astounding achievement.
The UK player didn't just win, he smashed his opponents to comfortably take the title. That's three tournament wins in the space of a few months.

"Are we seeing the emergence of a new UK esports hero who will dominate competitive Gwent over the next few years?"

According to Esports Earnings, Freddybabes has earnt $86,000 in prize winnings this year alone. He also coaches other players via GamerSensei.
Are we seeing the emergence of a new UK esports hero who will dominate competitive Gwent over the next few years?
Let's certainly hope so. It's great to see a relatively new game emerge on the esports scene and to have a host of UK talent rise along with it.
Further reading: Gwent and Eternal: A look at the new breed of CCGs and their UK esports talent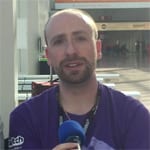 Dom is an award-winning writer who graduated from Bournemouth University with a 2:1 degree in Multi-Media Journalism in 2007.
A keen League of Legends and World of Warcraft player, he has written for a range of publications including GamesTM, Nintendo Official Magazine, industry publication MCV as well as Riot Games and others. He works as full-time content director for the British Esports Association and runs ENUK in his spare time.