As it's Christmas and the end of the year is approaching, we thought it'd be a good time to look back on 2017 and put together some top tens.
Following our top ten most popular articles of 2017 and our top ten UK esports moments of 2017, today Esports News UK editor Dom Sacco picks his personal favourite articles from the site, in no particular order. Most of this is lighthearted, some is more serious (but not really your typical esports content) and then there's the weird and wonderful. Enjoy!
(Note: most of this is written content, we'll publish our top ten videos soon)


Even esports fans have had enough of Arsène Wenger. The manager of North London football club Arsenal has come under increasing pressure from some of the team's supporters this year, following inconsistent form in the Premier League.
A member of the audience at the North American League of Legends Championship Series (LCS) esports final held up a 'Wenger Out' sign, after TSM beat Cloud9 3-2 in the final. Random.


The world's first full-time pro gamer, Johnathan "FATAL1TY" Wendel, made a name for himself as a Quake champion in the late nineties and early noughties.
It was an honour to speak to someone who is such a big part of esports history about how things have changed since then, what he's up to now and the business side of esports.


Beyond the drama and bad banter of UK esports there's a community with a warm spirit.
Several members of the UK CSGO community raided the stream of Cole "JettZade" Lacey, a young CSGO player who was after a particular knife skin, and helped him get it with a string of sudden donations.
It was nice to write a bit of a heartwarming story for once!


A man posing as a woman online, who duped esports players into boosting him in League of Legends, has been exposed as a catfish.
It was unlikely detective duo from the UK League of Legend scene – ADC player Joe "Joekerism" Kent (right) and egirl extraordinaire Rachel "SonaBoner" Dean (left) – who brought the catfish to justice. Easily our weirdest story of the year.


During Mental Health Awareness Week back in May, I asked 10 people in UK esports and beyond how mental health has affected them, and whether esports has been a positive outlet for them in some way.
I thought I'd put something together myself as I feel it's an important topic. Some of the stories were upsetting to hear, some were difficult to read. But I think the overall message was positive. Thanks again to all those who kindly and bravely shared their stories with me.


Sigh. Just read it. 

Of course, none of those mentioned were actually sued.


I felt like a writer for Heat Magazine with this one.
A League of Legends fan popped the question to his girlfriend at the UK's Insomnia gaming and esports festival – and she said yes.
Scott Harding proposed to Robynne Seguin on stage during an interval at the Insomnia pub quiz on Friday April 14th. Aww!


This is not so much about esports, but more my thoughts on how games media is changing as a whole following 'Gamergate' and the rise of Twitch and YouTube.
Inspired by a Kotaku UK interview with well-known British games critic/YouTuber TotalBiscuit about dealing with hateful online comments, I decided to write an opinion piece on the shifting media landscape.
Not sure how, but I somehow managed to write a piece about Gamergate that generated interest on Reddit and Twitter, but I didn't really receive any hate from either camp. 

Another strange one. TV broadcaster ITV posted a video news clip on social media featuring several UK esports players.
They were not kind to ADC player Toaster – they used some intense images of him talking seriously to his teammates (over the wording 'these players might not look like athletes').


This one is a bit of a biased self-promotion. But! It's for a worthy cause.
Esports News UK's 24-hour GameBlast charity gaming marathon raised £650 for SpecialEffect!
The money will go to people with disabilities to help them play the games we love. Thanks again to all those who took part and donated.

We'll be back with some more top tens soon. In the meantime, Merry Christmas!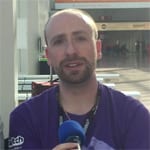 Dom is an award-winning writer who graduated from Bournemouth University with a 2:1 degree in Multi-Media Journalism in 2007.
A keen League of Legends and World of Warcraft player, he has written for a range of publications including GamesTM, Nintendo Official Magazine, industry publication MCV as well as Riot Games and others. He works as full-time content director for the British Esports Association and runs ENUK in his spare time.