About a week ago, ESL announced a new CSGO Women's Circuit complete with a $500,000 prize pool, as well as a #GGForAll program aiming to "establish an inclusive gaming community free of discrimination, verbal abuse an bullying".
Now the dust is starting to settle, Esports News UK editor Dom Sacco shares his thoughts on the community reaction to some controversial tweets from CSGO personalities Semmler and Thorin, which sparked a debate on esports diversity and the effectiveness of women's tournaments.
Over the past week Twitter has been ablaze with discussion and debate from the esports community around ESL's new CSGO Women's Circuit.
Usually, esports drama lasts maybe a day or two before dying down, with apologies or resolutions made, or some kind of middle ground found, before the situation is relatively concluded.
But this debate has now gone much wider than the topic of the tournament series and #GGForAll diversity initiative to focus broadly on esports diversity, sexism and the effectiveness of women's tournaments.
As I sit down to write up this article, British CSGO personality Duncan 'Thorin' Shields' is still going at it – his most recent tweet posted about 15 minutes ago.
Update (December 28th): Thorin's Twitter rant is not over yet. He posted a thread in the early hours of this morning about the discourse around the CSGO Women's League, feminism and people hoping to be blocked by him.
He ended the thread by saying: "Tell you what, you do that cute thing where you tell me to get out of the industry I built and still rests on my fucking shoulders. I AM ESPORTS! Begone, peon."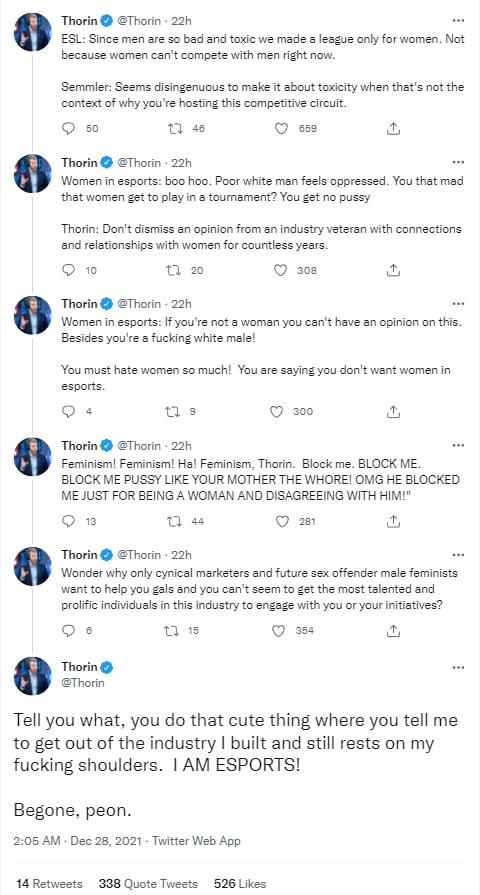 Followers have been gained and lost, Twitter users have been blocked, and accusations have been fired left, right and centre. Some are throwing hate Thorin's way, beyond this topic of diversity, others are trying to be blocked by him, and there has been a lot of childishness on Twitter on this over the past week.
Whatever you think of Thorin and his tweets, the discourse on Twitter seems to be descending to name-calling and memes, with emotions running high, and I feel the core points behind ESL's announcement are now being lost to this chaos. So I'll try to cover those.
Firstly, why has this debate raged so wildly in particular? We've had tournaments specifically for women and marginalised genders in esports for years now.
I've had a good think over the past week, and what sets this new tournament series apart is clearly the amount of prize money ESL, Intel and DHL have thrown behind it.
$500,000 is significant amount, way beyond the usual $20,000 or $50,000 or so that women's tournaments like the now-defunct Intel Challenge Katowice and this year's Valorant VCT Game Changers have had (of which UK org Tenstar Nova are back-to-back EMEA VCT champions, might I add). This has made the community stand up and take note – far more than usual.
This tweet from Semmler stirred up a hornet's nest, with many stating the obvious to him – that although esports is technically mixed, there's a serious lack of women pro gamers at the top level, and women-only tournaments can provide a welcoming space for women to compete and improve.
Some have described Semmler's tweet(s) as a joke, but if it is, it's a poor one. Some still hold this kind of view about women-only tournaments and initiatives, though it seems it's the prize money that has caught Semmler's attention in particular.
"If the goal is to get more women to compete with men, isn't having a league with free money only for women actively working against that goal?" he asks.
I have to disagree with him. You could argue publishers give 'free money' to players in all esports tournaments, which, although they are technically for all genders, could be mistaken for being men-only, given the extreme lack of women players at the top level. Sure, we've had exceptions over the years – Scarlett, Liooon and MissHarvey are great women esports role models and champions, but they are just that: exceptions, not the norm. Women-only tournament series are trying to make long-term change in esports, to make it more diverse and welcoming.
So heated was the reaction to Semmler's tweets, I had several people in my DMs asking me what Blast thinks about his comments, why I hadn't written about them, and if my silence was a form of acceptance.
For the record, I was working on this UK LoL piece on the 2022 NLC prize pool and with Christmas around the corner, I was lacking in time and resources. But I wanted to cover this topic as it's important, so I'm doing it now. Anyway, enough about me.
Let's cut through Semmler's poor choice of words, which presents him as part of the problem, to the core points he is trying to get across: that women-only tournaments aren't currently working.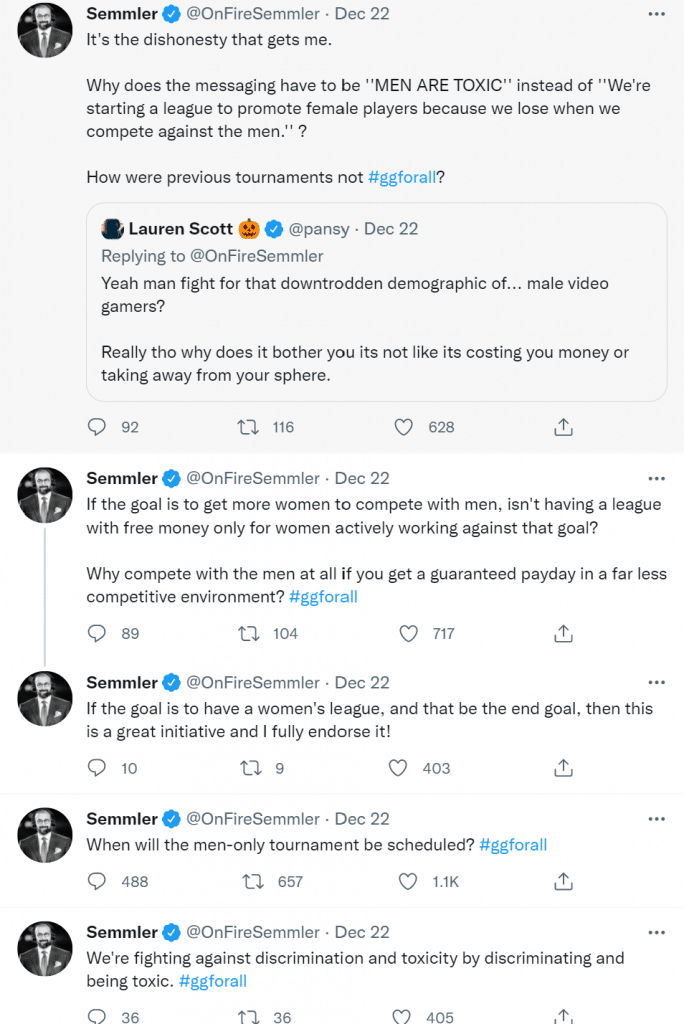 I have personally struggled to see where Semmler is coming from, but playing devil's advocate for a minute, let's take his view of women-only tournaments not achieving their goal of bringing more women to the top level. That this new women's circuit won't help women compete at the top level alongside men.
For me, women-only esports tournaments are of huge benefit to the industry. They make esports more welcoming and open to women, instil role models in the space (encouraging younger girls and others to get involved) and create a pathway for women esports talent to get careers in the space, make friends – and make a name for themselves.
Just last week, the Great Britain Dota 2 women's team won a silver medal at 2021 Global Esports Games. We've had great Women in Games 2021 award winners announced this year, and talented UK esports winners named at the*gameHERs awards 2021, to name a few.
No one can deny these are positives – no one can deny we have some brilliant women talent in esports.
Yes, you could argue that women-only tournaments "segregate", but esports for me is sadly already segregated. That segregation is there when women speak in a game lobby, it's there when you look at the number of women players in the LEC or LCS or Worlds or any other top-level tournament, it's there in the esports me too movement, it's there when Frankie Ward is criticised for being pregnant while working at the Dota 2 International, it's there when a woman does well in scrims but is overlooked because the guys in the team 'don't feel comfortable playing with a woman', it's there in the depressingly seemingly endless cases of sexism and harassment, it's there in the words unspoken.
Women-only tournaments show the world that this segregation doesn't need to exist. It gives them a place to play away from this embarrassing sexist shitshow we have in esports, it demonstrates this talent is ready to reach the next level, be treated as equal and form mixed teams at the top level. For many have said the end goal isn't to have women-only tournaments, it's a starting point with the goal of making esports more diverse. It's not GG, until it's GG for all," reads the ESL press release.
Now, all of a sudden, women are getting substantial prize pools – and some people are upset about it. So what? Us men already have access to the world's biggest prize pools in esports. Let talented women esports players earn decent amounts for playing. Let's break down barriers to help them get there, barriers that men don't have.
I'm not defending women's tournaments for the sake of it, or to score points on social media. And if I'm being completely impartial, I have to question some of the women's tournaments over the years. Since I started reporting in esports six or seven years ago, we had initiatives back then like the AnyKey pledge from ESL and Intel, we've had women's tournaments, we've even had mixed gender tournaments like Skylla.
I've been a big advocate of tournaments like this over the years, I want more women talent to break through in esports. Let's not forget – we already have top women talent in esports, from hosts to casters, production staff, journalists, marketeers, product managers, coaches and more. These kind of tournaments are mainly set up for women players to shine.
Yet, we still have a serious lack of women pro players at the top level. We've had debacles like Team Siren and the all-female Russian team Vaevictis making a mockery of the competitiveness of a league.
So yes, the cynic in me questions whether these are helping esports become more diverse in the long-term, but the optimist in me says Rome wasn't built in a day. Esports is still a young industry – the idea of women's tournaments is not new, but it's not exactly super old either. The industry is learning, it's developing, ESL has come back from the Intel Challenge and AnyKey initiatives with this new GGForAll initiative and a women's circuit with a larger prize pool.
So let's see how this tournament series goes over the next year or so, and have this discussion again in a year's time. Let's keep the dialogue going. Let's keep breaking down barriers and changing old-fashioned views. The announcement alone has got people talking, and I remain hopeful of a more diverse future in esports.
What makes me less hopeful is some of the discourse I've seen on social media over the past week.
Actions speak louder than words, and if you believe esports is for all, then show that with the way you treat others. Nasty, vitriolic and hurtful responses and tweets aren't the way forwards, in my opinion.
Anyway, enough of my waffle. Another opinion piece from me waffling out of control. This isn't about me, or Thorin, or Semmler, it's about women in esports. So I'm going to embed a series of tweets from those affected, tweets from women in esports on this whole reaction to ESL's new women's circuit, to Semmler, to Thorin and others.
Let them have the final say, because I'm not a woman, and I will never have the insight they do on this topic.
Game Arena marketing head Lyndsay has made 'I Am Esports' merch which is going towards the prize pool of an all-women's tournament and has been promoted by esports journalist Jake Lucky:
Thorin has since blocked the British Esports Women in Esports initiative – and doubled their number of followers in the process: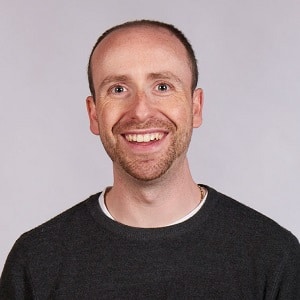 Dom is an award-winning writer and finalist of the Esports Journalist of the Year 2023 award. He graduated from Bournemouth University with a 2:1 degree in Multi-Media Journalism in 2007.
As a long-time gamer having first picked up the NES controller in the late '80s, he has written for a range of publications including GamesTM, Nintendo Official Magazine, industry publication MCV and others. He worked as head of content for the British Esports Federation up until February 2021, when he stepped back to work full-time on Esports News UK and offer esports consultancy and freelance services. Note: Dom still produces the British Esports newsletter on a freelance basis, so our coverage of British Esports is always kept simple – usually just covering the occasional press release – because of this conflict of interest.