Continuing our top tens of 2017, here's our top 10 videos we produced this year, in no particular order.

UK League of Legends top plays of 2016 montage

We asked you to send in your top plays last year and ADC Joekerism then put together and edited the above video. The aim was to simply showcase players within the UK League of Legends scene.
There's another one for 2017 in the works.

smooya interview: 'The UK is not good enough at CSGO' 

Alex Wright interviews Epsilon Esports' British CSGO player Owen "smooya" Butterfield about winning season 1 of the Gfinity Elite Series, what can be done to improve CSGO in the UK and what's next for him.

Grassroots esports panel at EGX's Twitch stage

Panelists discuss the importance of grassroots esports at EGX 2017 on the Twitch stage.
Panelists included Rob Black from ESL UK, Jon Winkle from epicLAN and Kalvin Chung from MnM Gaming. The panel was chaired by ENUK's Dom Sacco.

An interview with up and coming UK FIFA players Bullock, Shellzz & Stackzz 

We interview English FIFA players Bullock, Shellzz and Stackzz about their history in esports and England's chances ahead of the 2017 FIFA Interactive World Cup in London.

What's it like being an esports journalist? Panel discussion

Esports journalists Ollie Ring, Mike Stubbs, Michael Moriarty and Dom Sacco discuss what life is really like as a journo, the ups and downs and everything in-between.

Whetherspoons and chill with Rifty and Toaster

Dom Sacco interviews experienced UK League of Legends scene players Rifty and Toaster at Wetherspoons during i61 about… well… anything and everything!

League of Legends coaching with UK LAN veteran Tundra (Silver 5 elo)

UK LAN veteran and peak Challenger player Jamie "Tundra" Duthie teaches ENUK editor and Silver scrub Dom Sacco how to climb as a jungler in League of Legends (apologies for the screen stutter – this passes after a few minutes).
This was something different and a bit of fun. The game in question was a disaster with plenty of low-elo hi-jinks.

Joe Brady – esports photographer interview

Alex Wright interviews British esports photographer Joe Brady about being up for an Esports Industry Award (Joe ended up winning after the interview!), his community Blackout Gaming and what he got up to at Multiplay Insomnia61.

13 UK League of Legends players who stream

We take a look at some players to follow on Twitch, including those playing in the UK scene, as well as a handful of professional British players playing at a higher level.

CSGO ECS winners interview: SK Fer and TACO

Alex Wright interviews two CSGO players ahead of the Season 3 ECS Finals at London's Wembley SSE Arena, who went on to win in the grand finals.

Bonus video: Gross Gore does QVC
QVC Bank Holiday Discounts! Special offers on new home appliances pic.twitter.com/itLyPSKWIO

— Dominic Sacco (@Dom_Sacco) 29 April 2017
It's ironic that the one video I have a laugh with and make as a muckabout is my most popular bit of content of 2017…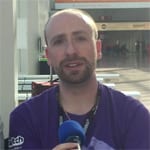 Dom is an award-winning writer who graduated from Bournemouth University with a 2:1 degree in Multi-Media Journalism in 2007.
A keen League of Legends and World of Warcraft player, he has written for a range of publications including GamesTM, Nintendo Official Magazine, industry publication MCV as well as Riot Games and others. He works as full-time content director for the British Esports Association and runs ENUK in his spare time.