Esports News UK editor Dom Sacco looks back on some great things the ESL UK team have done over the years, in light of the sad news of ESL UK's recent voluntary redundancies
When I wrote the news story linked above based on ESL's statement, the full weight of the situation hadn't yet sunk in.
Now, four days later, having seen all the farewell posts from staff on Twitter announcing their last working day at ESL UK, and the outpouring of support from the UK esports community, it's starting to be fully realised.
ESL UK MD James Dean confirmed 30 staff took voluntary layoffs. While ESL UK will continue to operate, supported by ESL Poland and Germany, it will do so with a substantially smaller UK team, focusing on sales, admin and product management.
Because of these things, and because of how influential and important ESL UK has been to the UK esports community and beyond, I had to write something more worthy of their work, to celebrate it and recognise it, beyond just an 'ESL confirms layoffs' news post.
ESL UK has genuinely changed my life (I'll explain how exactly further down), so on a personal level, outside of the journalistic objectivity I have while working on the site, I am very grateful towards the team. I don't care if this article comes across overly complimentary or sycophantic, I feel it needs to be written and those who know me will know I'm just being honest.
As a father of three with a mortgage, I personally understand the value of job security (I don't think I could live without pay for even one month), so my thoughts go out to the whole team and I hope they all find work as soon as possible. They are extremely bright and hard workers and I'm sure many if not all will find work elsewhere.
It's very hard to find a positive angle when covering news like this, but I don't want this article to drone or moan. I want it to be a celebration of what the team have accomplished in a short space of time and to shout about their top work.
Of the 2,389 articles published on Esports News UK so far, 177 are about ESL – and most of those are on ESL UK specifically. That's 7.4% of all articles written on the site, which goes to show their influence on and input into the UK esports scene.
So without further ado, here are 11 great things ESL UK has done in the 4+ years I've been covering UK esports, in no particular order. Many of these points are personal to me, some are broader. I tried to include a good mix.
A quick apology before I begin. This article would normally have been written three or four days ago. So you'll have to forgive me, because my life right now is a confusing haze of nappies, Netflix and no sleep (it's hard to type when you have newborn twins sleeping on your lap, so TV and Twitter have become my go-to forms of digital media). My wife has taken the kids to the park today so I have an hour or two free to write this!
1. The first ESL Premiership tournaments, a big inspiration for the launch of ENUK
During the summer of 2015, I was working as editor of a PC retail trade magazine called PCR. One afternoon a press release landed in my inbox detailing Season 2 of the ESL League of Legends Premiership.
As an avid League fan of three years already, this immediately caught my eye and I had to tune in that weekend to watch the matches. I was so excited to have found a local League tournament, I had to write about the matches on my old blog. The next day when I checked Twitter, my post had received more than 10 retweets and had a lot of people in the UK LoL community talking.
This ignited my passion for writing about UK esports, I booked myself onto a Guardian course titled 'Turning your blog into a brand' and Esports News UK was born.
ESL UK and Riot Games invited me to the finals and Riot even paid me on a freelance basis to write some match reports and interviews which appeared on their website and in the LoL game client.
In short, if it wasn't for ESL UK, Esports News UK wouldn't exist. And I wouldn't have gone on to secure my full-time role with the British Esports Association. Because of that, I am eternally grateful to ESL UK and Riot Games and will never forget the day that press release arrived in my inbox.
Of course, ESL UK went on to put together many other successful Premiership tournaments for teams in the UK & Ireland and I'm sure they will continue to do so.
2. ESL One Birmingham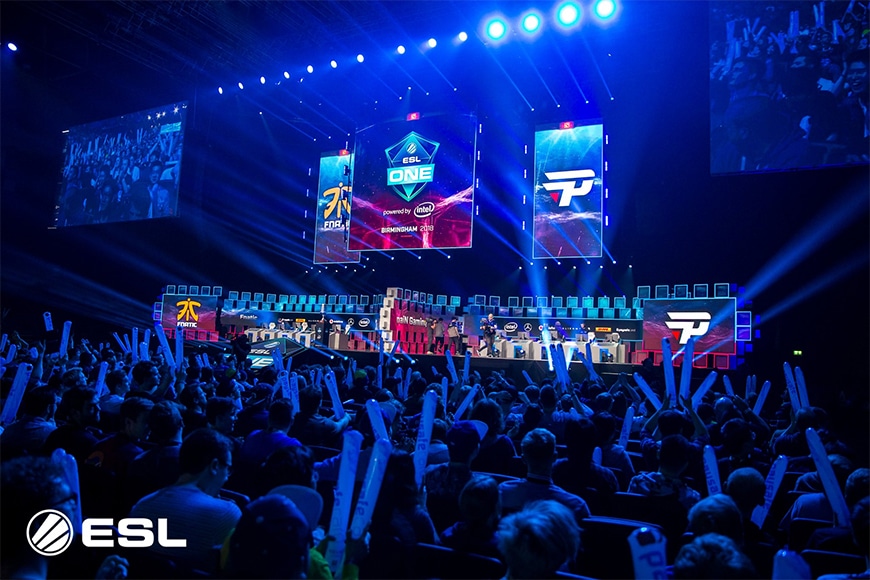 In May 2018, ESL brought a Dota 2 Major to the UK for the first time.
1,000 tickets were sold within the first five minutes, and the whole pre-allocation of tickets were gone in six hours, with more added later.
The event had a $1m prize pool and returned in 2019 for another event. While it wasn't a Major, ESL One Birmingham 2019 had record-breaking viewership.
I know ESL UK worked damn hard on this event and convincing ESL global to host a Major in the UK was no mean feat. Kudos to them.
3. Working with government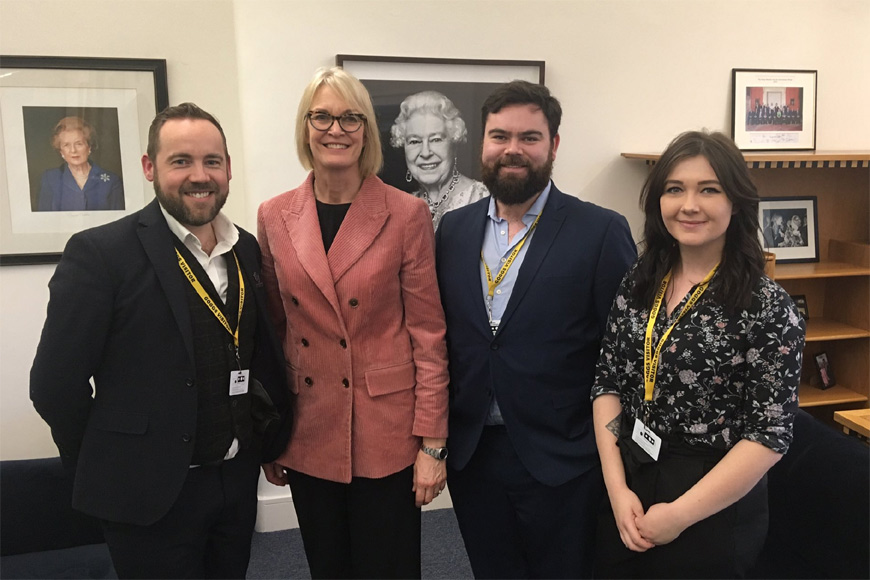 ESL UK has been keen to seek government support to help take esports to the next level in the UK.
Last year, ESL UK managing director James Dean (pictured far left) and Team Dignitas founder Michael 'Odee' O'Dell were invited to a reception at 10 Downing Street, where then Prime Minister Theresa May gave a brief talk on the strength of the UK creative industries.
They also worked with former Minister of State for the Department for Digital, Culture, Media and Sport, Margot James (pictured, second left), who gave a good understanding and support of esports before resigning from her post.
These are just a few examples. I'm hoping this kind of integration with government continues in 2020 and beyond.
4. Their dealing with a streaker at the Hearthstone Prem finals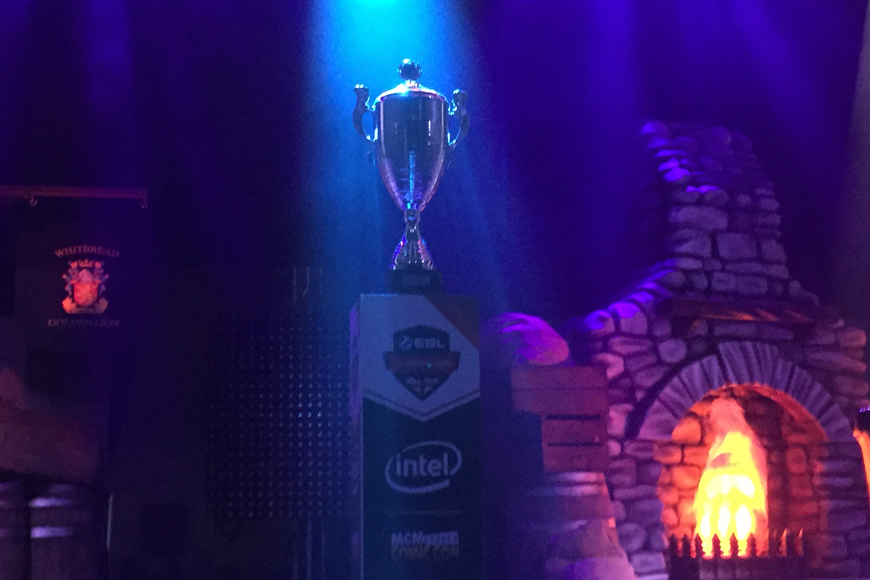 Ahem. Okay, so this one isn't serious, but it's still a memory that's stuck by me. I mean, it gave me one of my most ludicrous headlines I've ever written: Streaker bundled off stage by 'jedi' at UK Hearthstone finals
A streaker ran onto the stage and grabbed the ESL UK trophy, and was immediately apprehended by someone cosplaying as a jedi as well as ESL UK's head of league operations Matt Loftus, who swiftly got him off the stage.
Unfortunately for me and the community, there were no photos or video of the streaker. Because of this, some in the community doubted my news post was true (hey, PC Gamer covered it though)! And while I tried my best to get a picture from ESL UK, which I knew they had, they wouldn't oblige. I was gutted at the time as it would have made for a hilarious photo (don't worry, I would have blurred parts out, ahem), but I respected that the team were just doing their job.
Esports is live, and situations like the above happen. ESL dealt with it professionally and in good humour.
5. EU Masters and Leicester Haymarket Theatre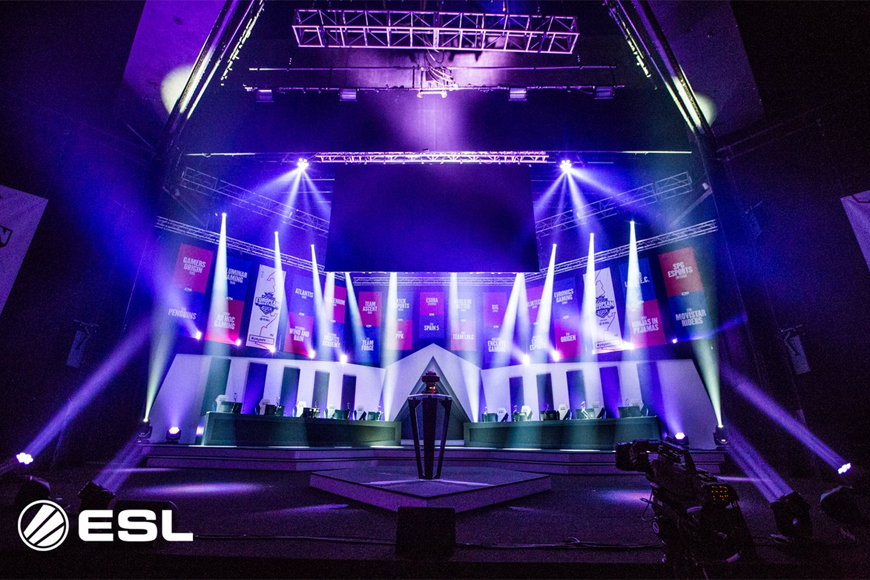 I first reported on the rumour that ESL UK was in talks with a council-backed consortium hoping to redevelop the Leicester Haymarket Theatre, back in January 2017.
I followed the story and its developments closely, and true enough, it was eventually announced that the venue would host the League of Legends EU Masters. We conducted a behind the scenes tour of the Haymarket as an esports venue.
It was great to see ESL UK work on a bigger, European tournament bringing some big names in League of Legends to the UK, and to work with a well-known local venue, not just to host from their own studios.
6. Providing a platform for future professionals
ESL UK has always placed an importance on grassroots esports, on providing a platform for players and other talent to reach the next level.
Back in 2015 ESL UK told me they wanted to properly invest in UK esports, not just make money. They also predicted a world-class esports team would emerge from the UK within two years, and their prediction came true.
They gave pathways from the ESL UK & Ireland Premierships to bigger leagues like the LoL Challenger Series/EU Masters and CSGO Mountain Dew League.
Over the years, teams like Renegades Banditos won the Prem and went on to become Misfits, playing in the LEC, while MnM's UK Rainbow Six side won the Prem and got picked up by Na'Vi, eventually winning the Rainbow Six Pro League.
Other top UK players like smooya have gone from the UK Prems to bigger leagues, and the same can be said for casters like Medic and Excoundrel, who cast Premierships in the past and went on to broadcast the likes of LEC and other huge tournaments.
Notable mention: Moments like this showed the camaraderie the ESL casters had, as well as how comfortable they were around each other. For me, a lot of this comes from the environment instilled by their employer.
7. Their understanding and support of journalism
In this digital age of information overload, fake news and social media, where brands can broadcast news straight to fans from their own channels, the role of journalism has never been more important, in my opinion.
Journalists are needed more than ever to report impartially, tell the truth and hold those with power to account.
ESL UK understand this. Unlike some others I shall not name here in UK esports, who try to shun or stifle objective reporting, ESL welcome it. In fact they encourage it – ESL UK MD James Dean has supported ENUK on Patreon and I do not hide this fact.
They always let me know about upcoming developments, give quick and honest answers whenever I've had to ask difficult questions and invite journalists like me to their events. They once put me in a team scrim room instead of a press area at a finals event which gave me great insight into the event.
They supported me even through the difficult stories. Because they know for every negative article I've had to write about them, there are positive ones. They know that journalism is not personal and I salute them for that.
8. The Weavr project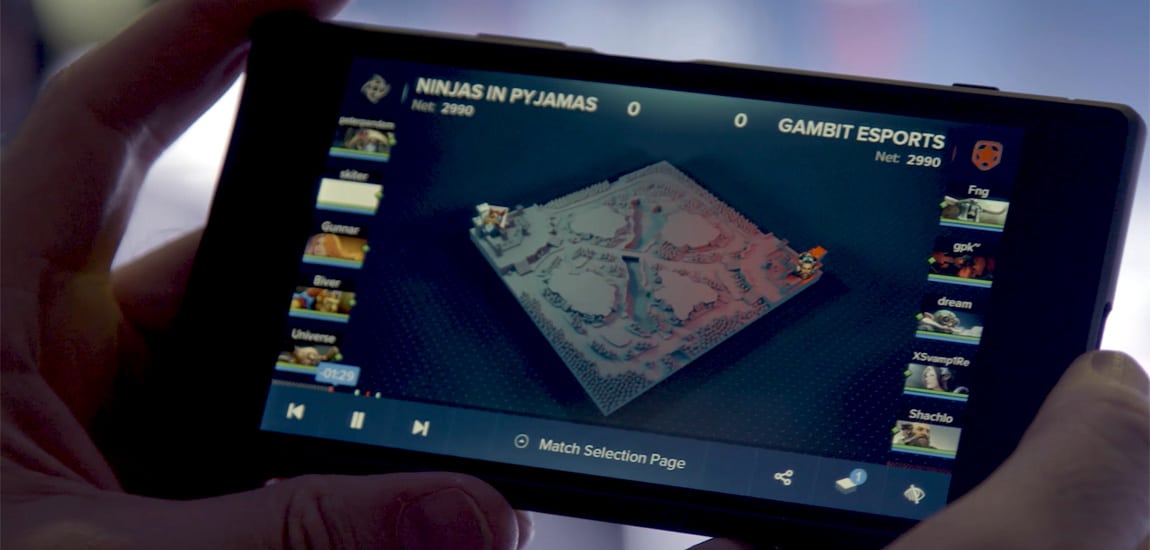 At the start of this year, a new consortium led by ESL UK was awarded £4m of government funding to create new "immersive audience experiences" for esports fans.
The Weavr project focuses on viewer experiences that feature technology including Artificial Intelligence (AI), 8K, Virtual Reality (VR), Augmented Reality (AR) and Extended Reality (XR).
A Weavr app went live recently and more developments were shared. It's a promising initiative and will continue following the layoffs.
9. Willing to work with third parties
As stated briefly in the Haymarket Theatre point earlier in this article, ESL UK has been open to supporting other initiatives in UK esports over the years.
Whether it's hosting their finals at different venues or events, like EGX and the MCM Expo and Gamescom, or providing a platform for events like the Battle of the Brands charity push (pictured) and the UK Esports Awards, or teaming up with others like epic.LAN, Ukie and Esports Insider, they've done it.
While they've focused on some of their core Premierships over the years like CSGO, Rainbow Six, League of Legends, Hearthstone and others, they've also helped with one-off tournaments in games like PUBG, RuneScape and others.
ESL UK also brought in guest casters like Foxdrop to add something new to their productions.
Community is key to esports and ESL gets that, they have been open to partnering with others and long may that continue.
10. Opening ESL Studio 1 in Leicester
Back in 2016 ESL UK opened Studio 1 in Leicester. This was at a time before things like Red Bull's London studio, the UK's Majors, gaming cafes like Wanyoo UK and more had opened.
It's an impressive studio and has played host to many events over the years, including Premiership finals and some of the events listed in the earlier point.
For ESL to have invested in a space like this with state-of-the-art technology in the UK was great for UK esports – and a risk – at a time when there wasn't as much activity going on elsewhere here compared to today.
11. Student support
ESL UK has been involved at the student level, supporting esports courses in the likes of the University of York, Birmingham City University and more.
They also partnered with National Student Esports (NSE) on a FutureGen esports leadership programme for students in the UK.
While it's great to be training up the next generation in esports, with the ESL staff closures there are fewer full-time jobs in UK esports. However, a lot of esports and digital skills are transferable and there are of course many games industry and digital jobs in the UK that these students can obtain.
Final notes
This list is my personal selection of things ESL UK has done which have stood out to me. It's not designed to be a reflection of every single accomplishment they've done and I'm sure I have missed some developments and moments from this.
I also had to cut a few things out as I was approaching 2,500 words and didn't want this to be a book!
On that note, please feel free to share your moments and memories from the team in the comments below or on Twitter.
Again, all the best to the staff affected by the ESL restructure. I hope to see them in work again soon and I look forward to seeing what ESL UK does next. Thanks for reading, and for those worried about the future of UK esports, I'll leave the final word to ESL UK former COO Rob Black.
ESL UK downsizing it's FTE should not be taken as a bad omen for the UK or wider esports industry. ESL have been clear that their choice to downsize local entities is a strategic decision to focus on what they see as growth opportunities for the global business 3/4

— Rob Black (@Rob_Morg_Black) December 18, 2019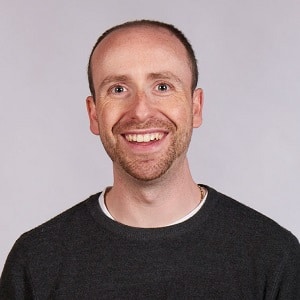 Dom is an award-winning writer who graduated from Bournemouth University with a 2:1 degree in Multi-Media Journalism in 2007.
As a long-time gamer having first picked up the NES controller in the late '80s, he has written for a range of publications including GamesTM, Nintendo Official Magazine, industry publication MCV as well as Riot Games and others. He worked as head of content for the British Esports Association up until February 2021, when he stepped back to work full-time on Esports News UK and as an esports consultant helping brands and businesses better understand the industry.