The Apex Legends ALGS London broadcast talent line-up for the Apex Legends Global Series Year 3 Split 1 Playoffs has been announced.
The Apex Legends London LANs were announced last month and the first 2023 physical event will run from 5pm GMT on Thursday February 2nd to Sunday February 5th at London's Copperbox Arena.
Today EA has revealed more information on the event, including the Apex Legends ALGS London broadcast talent line-up.
ALGS London broadcast talent line-up, stream partners and Twitch drops announced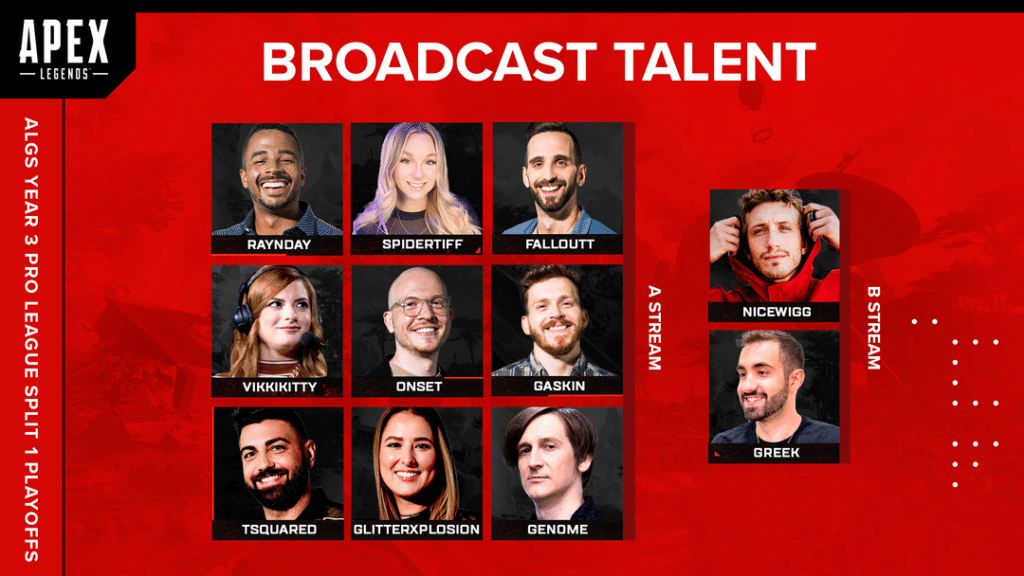 EA has revealed the ALGS London broadcast talent for the event in an ALGS Year 3 Split 1 Playoffs blog post on the EA website, and there is a host of UK and North American talent on board.
The team includes UK casters Gaskin and Onset, as well as Australia's Genome. And from the US there is Raynday, Fallout, VikkiKitty, spidertiff, Tsquared and GlitterXplosion, with NiceWigg and MrGreekGod working on the B stream.
In terms of observers on the ALGS London broadcast talent team, the UK has a great representation, with Hariboe, Fazecat, Zhuh, Chai and evient covering observing duties. There's also spof (Serbia), Parks (Canada), LilFuzzySeal (North America) and Jacob Bishop.
Fans can watch on the Apex Legends Twitch channel and YouTube channel, and the 'ALGS Multiview' experience will return for the Split 1 Playoffs, providing viewers with greater control over how they consume the weekend's matches, allowing them to watch from multiple viewpoints and listen to the teams and players they want.
In addition to our official English broadcast coverage, you can also watch the Split 1 Playoffs in Japanese, Thai, Mandarin, and Portuguese with alternate language broadcast partners Rage, Friends Project, Newer Esports (finals only) and WooHoo, respectively.
In terms of Twitch drops, they will be available on the Twitch Apex Legends channel and other ALGS content creators during the Match Point Finals on Sunday February 5th. Users need to link their Twitch and EA accounts to do this.
The rewards are as follows:
15 cumulative minutes watched on Day #4 of the Split 1 Playoffs: 'ALGS-Hunted' Holospray
1 cumulative hour watched on Day #4 of the Split 1 Playoffs: 'Shock & Claw' Volt Weapon Skin
2 cumulative hours watched on Day #4 of the Split 1 Playoffs: 'Natural Selection' Gibraltar Skin
3 cumulative hours watched on Day #4 of the Split 1 Playoffs: 'King of the Ring' Gun Charm
ALGS London tournament format and broadcast schedule
As well as the ALGS London broadcast talent, there's the format to consider. The 40-team Group Stage spread across the first two days of competition. In the Group Stage, teams will be split into four groups of ten, and each group will play a single six-match series against every other group.
Following the Group Stage, every team will be assigned a starting position in the double elimination Bracket Stage based on their Group Stage performance. The Bracket Stage kicks off at 10am GMT on Saturday February 4th.
Finally, after playing through the double-elimination bracket on Saturday, the top 20 teams will advance to the Match Point Finals, while the rest of the field is eliminated.
The Finals are set to take place on Sunday February 5th at 12 GMT midday and will consist of a single Match Point format series to determine the ALGS Year 3 Split 1 Playoffs Champion.
Teams in the Split 1 Playoffs will compete for a share of the $1m prize pool and Playoff Points, which will help teams qualify for the year-end ALGS Championship in Summer 2023.
There's more info in the Apex Legends Esports Official Rules and in the blog post linked at the top of the caster section near the top of this article.
Finally, Hannah Marie will reporting from the event in London for Esporst News UK, so check back for more coverage.
Related article: Fnatic's Apex Legends bootcamp at Red Bull Gaming Sphere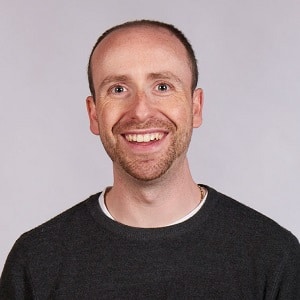 Dom is an award-winning writer and finalist of the Esports Journalist of the Year 2023 award. He graduated from Bournemouth University with a 2:1 degree in Multi-Media Journalism in 2007.
As a long-time gamer having first picked up the NES controller in the late '80s, he has written for a range of publications including GamesTM, Nintendo Official Magazine, industry publication MCV and others. He worked as head of content for the British Esports Federation up until February 2021, when he stepped back to work full-time on Esports News UK and offer esports consultancy and freelance services. Note: Dom still produces the British Esports newsletter on a freelance basis, so our coverage of British Esports is always kept simple – usually just covering the occasional press release – because of this conflict of interest.