Article contains affiliate links
It's official: Sports Direct has purchased retailer GAME in a deal worth £52m.
The sportswear retail group also owns department store chains House of Fraser and Flannels, and its CEO Mike Ashley owns Premier League football club Newcastle United. Now it's picked up GAME Digital – so could we see gamers visit House of Fraser stores for esports tournaments and more?
Sports Direct has taken a greater share of GAME over the past few years. In February 2018 Sports Direct acquired a 50% interest in the rights of GAME's Belong intellectual property for £3.2 million.
Then, last October, the first competitive gaming-focused Belong Arena opened in a Sports Direct store.
Now, it's taken ownership of GAME, after making an offer of 30p per share to GAME's shareholders.
Analysts said that GAME accepted Mike Ashley's offer "begrudgingly", as the retailer has been struggling to cope with the digital-focused games marketplace, reports The Guardian.
For some, stocks and shares isn't there thing – they may prefer gambling and playing Pokies online.
GAME said in a statement: "The Board has considered the growing size of Sports Direct's shareholding in the Group and the reliance GAME has on Sports Direct for supporting its future growth prospects (especially the future rollout of BELONG and GAME venues under the collaboration agreement), combined with the ongoing industry headwinds, current negative retail market outlook and the likely elongated current console lifecycle which are expected to impact the future financial performance of the Group.
"The Board wishes to recognise the efforts of the GAME management team in driving the broader transformation strategy, the launch of BELONG and delivering significant efficiencies and right sizing throughout the business to position better the company to navigate the challenging and evolving markets in which it operates."
Mike Ashley acquired House of Fraser after it went into administration last year. It currently has around 50 stores nationwide.
Article contains affiliate links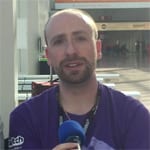 Dom is an award-winning writer who graduated from Bournemouth University with a 2:1 degree in Multi-Media Journalism in 2007.
A keen League of Legends and World of Warcraft player, he has written for a range of publications including GamesTM, Nintendo Official Magazine, industry publication MCV as well as Riot Games and others. He works as full-time content director for the British Esports Association and runs ENUK in his spare time.