The League of Legends European Masters group stages get underway today (April 15th) and the UK's sole representative is now UKLC winners Fnatic Rising.
Now that the play-ins are over (which saw fellow UK side Diabolus get knocked out), 16 teams remain to battle it out in the Main Event. So where does Fnatic Rising stand amongst Europe's finest in this unforgiving crucible? Megalodontus looks at their chances in this preview.

"It's coming home, 

It's coming home, 

It's coming, 

Football's coming home"


The Lightning Seeds, Three Lions

The year is 1996. England hosts the 10th ever European Championship (The Euros), marking the first time they host this prestigious football tournament. In the iconic stadium of Wembley, with the frenzied roar of the local fans serving as impetus, the English national team were desperate to 'bring it home'. But alas that was not to be.
Against bitter rivals Germany the Three Lions gave everything but could not overcome their infamous Achilles heel: penalty shootouts. Germany would then go on to win Euro 96 as England fans could only watch in muted regret.
Now in 2019, we see palpable similarities. The UK hosts this edition of the European Masters once again in Leicester's iconic Haymarket Theatre. And the representative for the UKLC? Fnatic Rising. Their name alone demands respect. Considered by many as one of the British circuits strongest contender, they wear the crown of Britannia loftily, ready to defend their homeland in the name of Her Majesty.
The competition is fierce. Now that the play-ins are concluded, the main curtains are drawn. Finally the Main Event beckons.
Will Fnatic Rising…rise?

A word in honour of the UKLC's second representative: Diabolus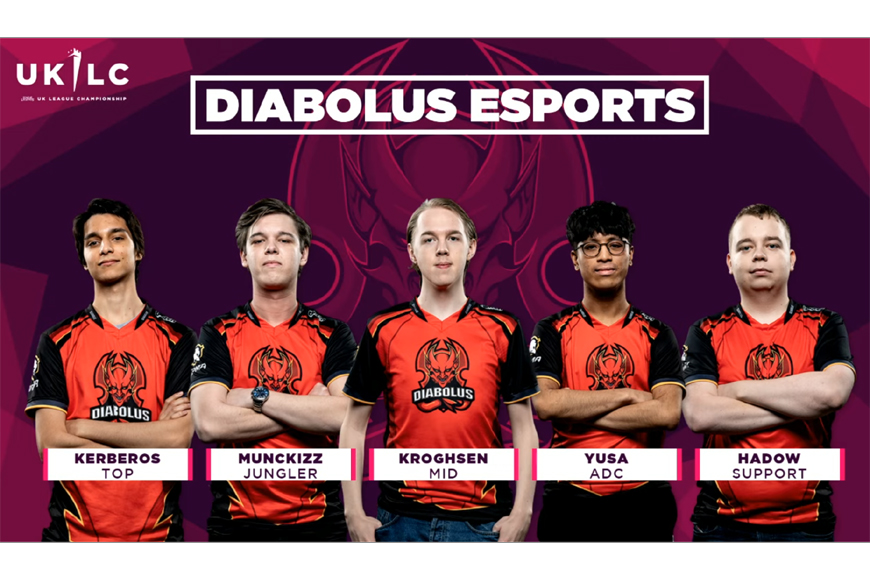 Diabolus Esports. Your remarkable record in the UKLC this split is not so soon forgotten. You have fought valiantly in the gauntlet of play-ins, occupied by schools of sharks ravenously fighting to get into the Main Event.
Defying all odds and making it into playoffs with a sliver of a chance, you tried your hardest against Misfits Premier. It did not turn out well this time, but perhaps next time may you emerge triumphant. Blaze your trail and ignite your path to glory once again in the Summer Split. Show them the terror of an angered demon.
We are watching, and we will be waiting.

Fnatic's road out: Who are their opponents in Group C?

There is no way to put this across gently: Group C is the EU Masters' Group of Death. Featuring not one, not two, but three academy teams. The only way this group could have possibly gotten worse was drawing France's number 1 seed in Team-LDLC, replacing the Czech Republic & Slovakia's champions AS Trenčín eSports.
But nevertheless, Fnatic Rising face a monumental challenge. Despite many predicting that they should at the very least make it out of groups in second place, the Main Event's format is a single round robin.
That means every loss hurts. Dearly.
Should Fnatic lose to Misfits and Rogue, nevermind the potential banana peel in AS Trenčín, they are out of the tournament instantly due to their head-to-head record against their academy rivals. Only the top two teams will progress to the Knockout Stage. It is a tricky tightrope to walk, and an excellent test of mettle to see what the British Isles finest are made of. If Fnatic Rising falter here, they stand no chance in the knockout stages.
For those who wish to read a breakdown of their opponent's style and players in general, here are three guides my partner Clockwork and I prepared for lolesports: Rogue Esports Club, Misfits Premier, AS Trenčín eSports. Fnatic Rising is also included for those wanting a refresher. Without further ado, let's get into their chances in this group.

Rogue Esports Club (Ultraliga, Poland)

Make no mistake, Rogue are already considered by many to be one of the – if not the – strongest teams. Perhaps the best analogy for them is one for you history aficionados: Rogue Esports Club are like Polish Winged Hussars of old. Valiant, fearless and nigh unbreakable as a unit. Once they start their charge they become unstoppable.
Rogue employ a very potent punishing style where they don't let missteps go for free, a style Fnatic too is familiar with. If we go lane by lane, Fnatic Rising's best chance is probably in the top against Finn, who while incredibly solid has been exploited in the past during laning and out of.
Larssen and MagiFelix in the midlane is a dream matchup between ERL titans (and of course, Larssen has deep experience in the UK scene himself – in fact Larssen was on the same team as Fnatic's Dan for a while), while Rogue's botlane will look to seriously pressure xMatty/Profair or Targamas.
The early game will be an intricate chess game played by junglers Inspired and Dan, who both are very adept at reading their opponents. Mid to late game skirmishes or single teamfights may determine the victor.
Individually, both teams are not found wanting. It will remain to see who shows up on the day.
Featured matchup: Larssen vs MagiFelix
The two juggernauts of midlane finally clash on even footing. They share many of the current meta champions (such as Zoe, Lissandra, Ryze etc) and have huge pools to choose from.
If we're lucky we will not just bear witness to their dizzying skill in skirmishes and large engagements, but also potential razor-edged single duels in the midlane as they vie for ultimate supremacy.
Fnatic's chances of winning: 2.5/5

Misfits Premier (LFL, France)

Shikari and Prosfair once represented former kings of Britannia, Misfits Academy, in the EU Masters. Now choosing to make their home in France, this match has become even more intense. Will Fnatic then make Misfits Premier meet their Waterloo?
The Killer Rabbits of Caerbannog are a very scrappy team but very volatile. When they are ahead, the make sure you never reconnect. But when they can't find opportunities, they either force fights too hard or wander around cluelessly. Thus Fnatic must not let Misfits find any form of tempo or momentum. Jungler Dan will be key to this. He will have to keep the aggressive Obsess in check.
Solo laners in Shikari and especially MagiFelix are most vital to hold down their lane counterparts in Dan Dan and LIDER. Especially LIDER, whose large pool of assassins can single-handedly take over the game. Like Rogue, Misfits' bot duo will look to pressure and force 2v2s against Fnatic's botlane duo.
Fnatic Rising are favourites but only by a slim margin. Should they be careless in the early to mid game, they will find themselves being hunted instead by these bloodthirsty bunnies.
Featured matchup: The botlane
It's not so much of the actual match between xMatty/Prosfair or Targamas and Neon/H1iva, but more so how Dan and Obsess will play around it. Neon and H1iva's aim is usually to crush the bot side on their own but against Fnatic's solid duo, we most likely will see both junglers pathing downstream. The ensuing mind games or 3v3s should result in a very entertaining spectacle.
Fnatic's chances of winning: 3/5

AS Trenčín eSports (Hitpoint Masters, Czech Republic & Slovakia)

Truthfully, AS Trenčín enter the group of death as punching bags. It's an unfortunate draw for a team that has made history, being the first Slovakian club to properly invest in an esports arm and defeating the immovable kings of their region: eSuba.
And yet, this is a match that the three academy teams must not take lightly unless they want to be surprised. As massive underdogs coming in, AS Trenčín have zero pressure and will probably play like it, especially in a best of one scenario.
On paper and based on style, Fnatic Rising should outclass the Slovakian team. AS Trenčín tend to be much more explosive past the midgame, and Fnatic must not fall into that trap as it has claimed many games that were thought to be lost. The two big threats on AS Trenčín are their solo laners: Dread and Wondro. MagiFelix should still take the edge over Dread but Wondro is the real terror. Give him an inch and he'll take the whole damn mile. Fnatic's bot lane in theory should not face many issues unless they get complacent.
It would be easy to think of AS Trenčín as a 'free win'. But with the harsh groups format in the Main Event, no team will be taking them lightly. Following the quote used in the LEC before playoffs: "Every game counts."
Featured matchup: Shikari vs Wondro
Some more think of this matchup a 'shield versus the spear' but Shikari has also demonstrated his mastery over carry champions such as Ryze, Kayle and Kennen. This will prove pivotal over his explosive top counterpart in Wondro, who picks champions like Jax, Vladimir and Aatrox with the intent of destroying his foes.
Shikari will be tasked with holding down this ticking time bomb, and for fans of the British circuit it's fair to say there is no one better suited to this task.
Fnatic's chances of winning: 4/5

In conclusion: Fnatic will relish their run through the gauntlet

The road out for Fnatic Rising will not be easy. Getting seeded into the group of death also means if they make it out in second place, they are very likely to meet another powerhouse in the form of either Team-LDLC, BIG, SK Prime or Splyce Vipers.
It's out of the frying pan into the fire. Fnatic, with their multiple successful teams, are no stranger to adversity – they will relish their run through the gauntlet.
The UK is desperate to shed their reputation of being hyped up and then failing to deliver against other nations (much like the English football team). With the similarities to the fated year of 1996, Fnatic Rising will want to go one step further and claim the ultimate prize in their home country.
The battle lines are drawn, the stage is set. Their road to the top begins here.

"Follow your spirit: and upon this charge,
Cry — God for Harry! England and Saint George!"
William Shakespeare, Henry V

Image source: Megalodontus
Megalodontus is a miraculous survivor from the mass extinction and somehow learnt how to use his stubby fins to operate complicated mechanical equipment and drink tea. Worryingly for cryptozoologists, he's been writing League of Legends articles too.
A self-taught writer who's had the privilege to work with good editors who aren't terrified of his pearly whites, Megalodontus is often seen writing either independently or for various websites such as this one. When not writing, he usually runs it down mid in real life and is fascinated with watching paint dry.