The UK League of Legends scene's top mid-laner, Emil "Larssen" Larsson, has left MnM Gaming to play in the EU Challenger Series.
He has joined Wind and Rain (WAR), who qualified for the Challenger Series along with Red Bulls.
ESL UK & Ireland Premiership champions MnM were unsuccessful in their bid to reach the Challenger Series, but despite this, showed us that winning isn't everything.
The news comes after Origen signed WAR's former roster, a rumour caught by Esports News UK which turned out to be true.
Larssen joins the following players in WAR's new roster, including British jungler and former Fnatic Academy player Daniel "Dan" Hockley (who is on loan from Kinguin):
We are happy to announce our brand new EUCS Roster. #StormofWAR

?? @Jwaow
?? @KGNDan
?? @Larssen00
?? @WooliteLoL
?? @aodzillaa
— Wind and Rain (@WindandRaingg) June 6, 2017
'These players are super driven to succeed' – Kazehaya
WAR's British team manager Alex "Kazehaya" Hirst said: "I am super excited for this team, we held in-house tryouts for the positions and these players all stepped up and performed really well. They are all super driven to succeed and work together well.
"I would like to thank everyone else that came to those tryouts too, as it was a lot of fun to host and we are super happy with the results that we got from it.
"Honestly I am really excited for the split, I think we can do really well, all the players and staff are driven to succeed and we have a few players who have worked together in the past.

"I am super excited for this team, we held in-house tryouts for the positions and these players all stepped up and performed really well."

"Also most of the team is really experienced at this level, with the addition of Larssen who will be new to Challenger Series, but will be in great hands with the experience that we have put around him."
On the competition, Kazehaya added: "Looking at all the other teams, the most hyped up teams are the likes of Red Bull and Schalke. And if they have UK talent to be that favoured, we decided we need UK talent too – Dan is great addition to the team.
"Also Dan has worked with the likes of Woolite etc previously, so he already has a few connections on the team to get everyone off to a running start."

'I think the Challenger Series is very open' – Larssen on the upcoming split
Larssen told Esports News UK: "I moved to WAR for the opportunity to improve with good players and to play in the Challenger Series, which is a good step in right direction.
Hide our ads and become a premium reader to support ENUK today from just £1 per month!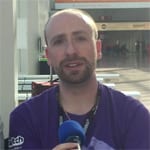 Dom is an award-winning writer who graduated from Bournemouth University with a 2:1 degree in Multi-Media Journalism in 2007.
A keen League of Legends and World of Warcraft player, he has written for a range of publications including GamesTM, Nintendo Official Magazine, industry publication MCV as well as Riot Games and others. He works as full-time content director for the British Esports Association and runs ENUK in his spare time.