Proof again that the UK has the best amateur esports team names: 'Sponsored by Hyper-exe LUL' beat 'Super Duper Giant Truck Team' in the NUEL Live final yesterday.
It was a derby final as both League of Legends teams are from the University of Exeter, but only one will be progressing to the University Esports Masters (UEM) tournament in July.
Hyper-Exe beat Super Duper 3-1 in the final to lift the National University Esports League (NUEL) trophy yesterday.
Hyper-Exe will now represent England at the University Esports Masters (UEM), a tournament featuring the best national university LoL teams from across Europe.

There will be 11 nations taking part at UEM altogether: England, Ireland, Italy, Spain, France, Germany, Portugal, Turkey, Netherlands, Poland the Nordics.
Portugal has won the University Esports Masters for the past two years, and went undefeated last year in the tournament that included teams from Italy, Great Britain, France, Germany and Spain.
Last year the UK was represented by Grey Warwick of the University of Warwick.
This year, the University Esports Masters will be held at the Tenerife Lan Party (TLP) from July 16th to 19th in Spain.

"Esports is a powerful tool that can give students a voice and empower them to do great things"

Organisers said in a press release: "The competition brings students together from different cultures, providing them with the opportunity to travel to new places and create lifelong memories.
"The UEM is not just about the competition but is also an opportunity to build friendships and memories that produce a unique experience. Esports is a powerful tool that can give students a voice and empower them to do great things, the UEM's purpose to give students the opportunity to build and express themselves through esports."
You can check out a highlights video from the 2017 UEM finals here.


The rosters
Hyper-Exe were represented by (top to support) Max "Librothers" Li, Alex "Uggz" Hart, Matthew "Mat" Croft, Jeedos and Tom "Woo" Thomas.
Super Duper consisted of Matt "Whatley" Whatley, Callum "Melvinizzle" Iles, James "Pinkteemo" Hollyman, Mark "high on anxiety" Johnson and Shane "A Venomous Shrew" Shanahan.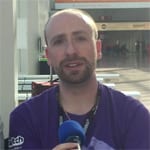 Dom is an award-winning writer who graduated from Bournemouth University with a 2:1 degree in Multi-Media Journalism in 2007.
A keen League of Legends and World of Warcraft player, he has written for a range of publications including GamesTM, Nintendo Official Magazine, industry publication MCV as well as Riot Games and others. He works as full-time content director for the British Esports Association and runs ENUK in his spare time.