UPDATE (May 9th):
Gross Gore has now paid his former video editor Foossy, and Esports News UK understands he's going to pay Asmind as well.
Several people have DMed us since the publication of the below article, disputing some of Ali's claims made in this interview.
We also reached out to Foossy and spoke with him, and have updated this article with some of his points, namely the following:
Foossy and several others dispute the fact Gross Gore says he was offline for a while, as he was seen playing RuneScape during that time
Foossy disputes Ali's views that his haters (aka 'The Plan') 'brainwashed' Foossy into putting his video out on him. He says he reached out to former editors on his own accord and wasn't influenced by others
Foossy says that Fed paying him was not scripted. "I never spoke to Fed. I've told no one to do that and I wasn't fishing for donations," he told Esports News UK
Foossy wants to make it clear that Gross Gore didn't pay him, not because Gross Gore didn't like his videos, just that he paid him late
Esports News UK also wants to make the following clear:
We are not defending Ali's actions. As we stated in the similar article a few years back, he should pay whoever makes videos or works for him, as should any streamer, or anyone else. And he has done now, although it was late
Ali said on Twitter there's a UK law that the customer is always right and doesn't need to pay for work if unhappy. But if an agreement was in place beforehand, both parties should stick to that
This debate raises a point around contractual or freelance work. We encourage streamers and editors to have a solid agreement in place before any work is done, that clearly sets out payment dates, and what happens if payment is not made on time
Gross Gore has also caught the attention of drama video channels Scarce and Keemstar over the past 24 hours.
He streamed today and cut it short after having someone knock at his door, seemingly caused by one of his haters on his stream.
ORIGINAL ARTICLE (posted May 8th):
Yesterday Esports News UK received a DM saying the UK streamer Ali 'Gross Gore' Larsen had scammed his video editor.
We reached out to Ali for comment and he said a hate group that have been following him got into his editor's head. Our conversation turned into an interview on the hate he receives, what his streaming plans are and thoughts on League of Legends.
What is your response to this video from your former video editor Foossy? He claims you haven't paid him £50 for the last video he made for you around 20 days ago and that you also owe £50 to another editor, Asmind, as well as others.
[Gross Gore initially believes Foossy made three videos, not four, but after we corrected him and he checked for the fourth video, he said he would pay whatever he owes for the fourth]
Looking back now, when Foossy posted that fourth video, I didn't see it at the time, because I was going through a breakup with [my ex girlfriend] Rachael.
He messaged me saying I owe him a payment and I said 'ok'. But I haven't been on my PC, on Discord or streaming for a few weeks because I had a breakup with Rachael and some stuff going on.
(Edit by Esports News UK): Foossy and several others dispute the fact Gross Gore says he was offline for a while, as he was seen playing RuneScape during that time.
When I come back he's in the Discord, as a mod, calling me a scammer. So I banned him and now he's made an 'exposed' video.
But I've always been late paying editors. I get behind on it, I wait for Twitch to pay me and then I pay. Asmind had to ask me three or four or five times for my payment, because I was going through a breakup with Rachael. I was losing my daughter, of course I'm not going to prioritise being on my PC messing around on Paypal. What can't wait is my daughter and that's why I didn't pay for a while. All Foossy had to do was ask me for the £50. I don't want all this hate and drama for £50.
The guy can have £50, I don't care. Be my guest. I'll pay him. But he doesn't just want the £50, he wants the drama.
Because it's the haters that have got to him – and you. They're smart, they've seen your article on me from the other day about Voyboy's comments on toxicity, and they've gone to you to try and make me look bad and get you to write a bad article about me. They hate brigade, they're a group of 50 people and they plan this stuff together.
This happened a few years ago when they said I hadn't paid video editors. Drax [one of Ali's former editors] is in the hate group, they want me to give a reaction or make a Twitter reaction, but they're not getting that from me this time round. They're making a mountain out of a molehill.
Some say you're a scammer and all you care about is money.
How can I care about money when I haven't streamed properly in four years?! If I was money-hungry I'd be streaming 24/7. I never want drama but I have to say it how it is.
They're expecting me to melt but that makes me look like I'm guilty and I'm not. Anyone can commit a bad crime and pin it on Gross Gore and the world would believe it.
What are your thoughts on Fed paying Foossy $100 to compensate you not paying him?
He really did that? Oh my God. This is all scripted crap and I can't believe Fed's fallen for it. This is all hilarious to me. It's like I'm playing the villain, that's how I'm painted. But people are being played.
(Esports News UK edit: Foossy says that Fed paying him was not scripted. "I never spoke to Fed. I've told no one to do that and I wasn't fishing for donations," he told Esports News UK)
This group of haters you speak about, are they the same ones that send you takeaways and things like that?
Yes. They've got my address, they've got a lot of personal information about me. And they love to pull on my strings like I'm a puppet, they like to mess me around and emotionally blackmail me. All the time.
They posted it on Livestreamfails and it didn't get anywhere because no one gives a shit about me and no one gives a shit about the drama.
I believe someone could do a one-hour documentary on how bad these guys are. It will make your stomach turn. They have a permanent gun to my head, until I move.
The biggest challenge I'll have is moving out of my home, and also streaming here with all these haters knowing where I live. They've done some shit.
The amount of unpaid food I've had sent to my door… I've stopped streaming so many times because of that. I've had christians, mormons, locksmiths come to my door, it's given me anxiety and depression. But now I just bite the bullet. I just take it day-by-day.
I've been streaming at home the past few months because they found the office I was streaming from.
What's the story behind that?
These guys are so smart. I rented an office and these guys are such psychopaths they searched for offices around where I live. And found about 50 offices in a 30-mile radius.
They had, in their Discord, a dedicated 'find Gross Gore' mission. It took them a week to do. On my stream there was an empty room with a little electric box in the corner. Using that, they found the office and exact room I was in, because they found the blueprints to the office.
They started making donations on stream one day saying 'unit xx' with the correct number and address in. I was scared for my life.
These guys, any little detail they get, it's like a sick pleasure for them. A 'we know where you are' type thing.
And when I move, it's going to happen again. The only way to prevent this is for me to stop acting toxic and start being nice. But I'm not toxic, I'm just honest.
That sounds a bit mad, people hunting for information on your personal life.
Oh mate it's nuts. They are crazy. I had to leave the office. They were ringing up the lady on the front desk, she hated it. She was like: 'Oh here we go again.'
Are these people to do with 'The Plan'? What is that?
They're a breed of my biggest fans, but fans gone wrong.
They thrive for attention, they live for it. But it's getting shut down now. I had a mental breakdown last November, I quit streaming.
I complained and cried about people in my chat creating accounts, ruining my mental health, and how Twitch needs to implement an IP ban. Well guess what, Twitch done exactly that last month.
Now, when you ban someone from your chat, they are IP-banned from the chat [so they can't just make a new Twitch account].
So these guys will be shut down and there will be no unbanning on my channel. The only problem is, if they're banned, they will get mad. Who will they get mad at? Me. So they're gonna fuck with me in the real world.
You mentioned the takeaways and mormons and locksmiths. What other things have they done to you in real life?
I've had cow shit sent to me recently. I get stuff all the time. Look at this. I threw it straight to the bin.
[Goes to the bin to check, and brings back the package that contained the poo, see below]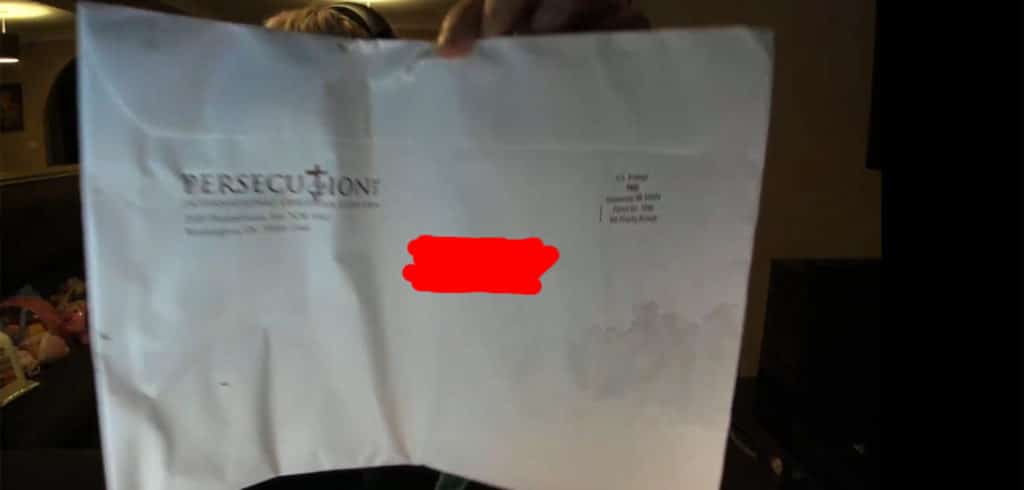 It was sealed, so you can't smell it straight away. Then you undo it all and the smell… there's been horse shit, cow's shit, pig's shit, there are websites out there that encourage people to prank their friends.
The envelope is something to do with religion and was addressed to 'Turk Cocksal', because I'm half Turkish. And the surname is similar to my old second name.
But that's nothing. I've had about 500 leaflets sent to my house at a time, they turn up in boxes.
These guys are sick, I've had so much shit sent to this address you wouldn't believe. I've had Jehovah's Witnesses turn up for appointments and bookings. I've had the police, everything. They will go to any level to get a reaction out of me.
I actually received a donation today, off-stream [see below, click to enlarge].
I woke up to this. And I found it scary, a bit worrying when I saw it. You could take the 'im play now' as a threat. So I blocked the email and refunded the donation.
These guys are so nuts, they hacked the social accounts of Michael Bublé and Ice-T's girlfriend and posted edited pictures of me with fake racist messages on there.
Have you spoken to these people?
Yes. I've spoken to a lot of them and they are shady as fuck. They are really dodgy.
One of them has a criminal record for hacking. These guys make serious money from the dark web. They are serious business and they're nuts. It's crazy how they do it, they are seriously freaky and fucking weird.
They have my address and one day, one of them are going to do something really stupid to me. If they got pissed off enough, I really do believe someone could kill me. It's nuts that they have that power.
So you need to be careful online. And I need to get out of here and protect myself in my next location. It was my fault, I leaked my address in the first place.
A lot of them do this stuff because they're mad I'm not streaming. It's like a punishment, they're punishing me for not streaming. They don't care I've gone through a breakup, they want me to lose my Twitch channel, they want me to lose everything.
You said earlier that this hate group got to Foossy.
This 'video editor scam' stuff, they're all behind it. This hate group brainwashed Foossy to do everything. He was the nicest guy I've ever spoken to and he turned so toxic. My back was turned and they got in his head.
And they tried to get to you. Someone came into my Discord recently and posted a fake article of yours, to try and worry me. Then they deleted it.
(Esports News UK edit: Foossy disputes Ali's views that his haters 'brainwashed' Foossy into putting his video out on him. Foossy says he reached out to former editors on his own accord and wasn't influenced by others)
Riot has buffed Twisted Fate twice and people are saying I should come back. The reason I played League of Legends in the first place is because it's the only game I could do a stream then a Q&A. Back then, just talking without playing was against the Twitch ToS.
So I'm very tempted to get back into League. Not to take it seriously, but get into it on the side. I think the streaming thing will boom, doing IRL and League of Legends.
I'm looking to become the biggest streamer on Twitch. 100%. There is not one person that interests me on Twitch – why don't I become the streamer I want to watch? That's my goal and vision right now. But I don't want to just talk about it, I want to do it.
You said before you have an on-stream persona that you switch to when streaming. Is that still the case?
I'll be honest with you. I don't even fucking know at this point, I swear it. They say I'm bi-polar, some say I'm not, my mum believes I am, Rachel says I'm not, Ryan believes I am.
I don't know. I just go with the flow. I don't think anyone out there can diagnose me. I'm clued up not to put my foot in shit though.
You seem to have removed most of your YouTube videos. Why?
From now on, I don't want to do YouTube. It's dead. It's not worth it. I'm coming back full-time on Twitch and I have a work ethic for it. Rachael has taken all my money, taken all my fame, and I've lost a lot.
All I want to do is Twitch, my Twitter videos and Instagram. So this YouTube crap, my old editor can have the £50. No more YouTube, no more Snapchat, no more Facebook. Less is more.
When I said to you a few months ago I wanted to do reality TV, I still want to do reality TV, but I want to do it through Twitch. That's the right way: IRL streaming.
When you move address, to protect yourself you shouldn't say where you're moving to.
I'll be honest. I want to have one good year working all the time on Twitch, and I want to apply to move to America. I want to live in a Southern part of America, where it's real laid back. It's always been my dream, it's tricky I have a kid now, but even having a summer house out there or something.
I just spoke on his stream actually, he rang me up, it was really good content.
I'm on cloud 9 with the little one. My life with her is so real. I didn't stream for two months because Rachael and I broke up. And it would've been awkward for her – I didn't want to put her in that position.
But it's perfect now, I can walk around the living room and do content.
When will you start streaming again?
Over the next couple of days. I'm going to get a new camera. Rachael walked out on me and I have a week and a half without Ellie, I'm gonna be streaming now and doing a lot of just chatting.
You can follow Gross Gore on Twitter, Twitch and Instagram here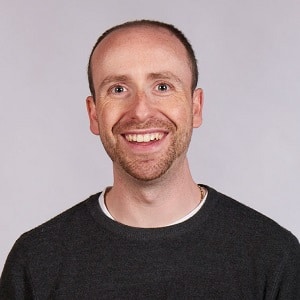 Dom is an award-winning writer who graduated from Bournemouth University with a 2:1 degree in Multi-Media Journalism in 2007.
As a long-time gamer having first picked up the NES controller in the late '80s, he has written for a range of publications including GamesTM, Nintendo Official Magazine, industry publication MCV as well as Riot Games and others. He worked as head of content for the British Esports Association up until February 2021, when he stepped back to work full-time on Esports News UK and as an esports consultant helping brands and businesses better understand the industry.