The ESL UK & Ireland Spring 2018 League of Legends Premiership will contain four teams new to the competition, and four with prior Prem experience.

The newcomers: Welcome to the Prem
The newcomers consist of former Challenger Series side Wind and Rain (WAR), Diabolus Esports, No Org No Problem and a Misfits academy side.
According to the ESL qualifier page, WAR's sign-up roster was AoD, Commissar Yarick, Dan, Furuy, Matty and mongoLabrov, while No Org No Problem's was Daejin, DanXD, Matt1509, Mistogun and SkedenXD. No Org No Problem is the only org-less roster that has qualified, and you can expect an org to come in for them shortly.
As outlined in the links above, Diabolus have the former ManaLight/MnM roster, and Misfits have BIMBO, Chrisberg, Prosfair, Shikari and Special, as well as Joe "InnerFlame" Elouassi looking over them, the British general manager of Misfits.
While Misfits sort of played in a previous Prem, it was under their former name Renegades Banditos, before a change of ownership. This is essentially a completely new side.
Other orgs that had their sights set on the Prem – like Hyperion and Newcastle Jaguars – will be disappointed after missing out.
While there are some great players in these teams, there's also quality in the tried and tested teams which have prior experience in the Prem.

The old hands: Experienced Prem teams return

The other four teams to qualify include current holders exceL Esports, along with MnM Gaming, NerdRage Pro and Enclave Gaming.
All teams that are experienced in the Prem, know what kind of challenges it brings and we're sure they will all be raring for a shot at the title.
You can check out NerdRage and exceL's rosters here. MnM also announced their roster here and Enclave's can be found here.
Singularity have failed to qualify for the Prem after reaching the finals last time around.
It makes for an interesting mix of teams and probably the most exciting we've seen in the Prem for a while.
Of course, it's not the end of the world for those who didn't qualify, as there will be a second competitive tier below the ESL Prem. We're expecting more details on that to be announced by ESL UK soon.

The qualifier results
Images courtesy of ESL Play:
Day one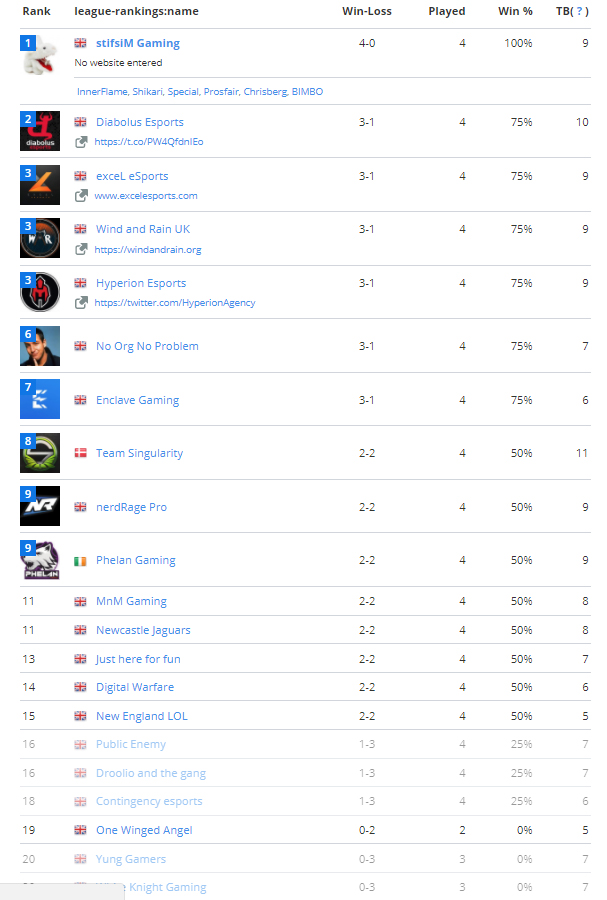 Day two

Reaction
Twitter is abuzz with player and team reaction right now. Here are some of our picks:
We won our last game and finally qualified for ESL UK Premiership, overall happy with the performance of the whole team since we have a huge window to improve #xLing ?? ? pic.twitter.com/QGvNIRmJde

— DuaL ? (@ImDuaLL) January 30, 2018
Your time is up Singularity. pic.twitter.com/vmb0YjNZa9

— – Marcus (@Blumigan) January 30, 2018
We qualified for the @ESLUK Premiership despite some shaky games! Got a lot of work to put in now! Thanks to @Impalerlol for subbing in ?

— Joe Kent (@Joekerism) January 30, 2018
[LoL] WHAT A MATCH ?
We take the win vs @EnclaveGamingUK and have qualified for the @ESLUK Premierships! GGs!@IglooLoL @PhurionEUW @Larssen00 @XDSMILEYs6 @Hadowlol#GiveEmHell ? pic.twitter.com/PYvkn4k9R1

— Diabolus Esports (@DiabolusEsports) January 30, 2018
qualified for the @ESLUK premiership, looking forward to play good friends like @SpecialLoL_ there again pic.twitter.com/Xznlb0XUei

— lars (@Larssen00) January 30, 2018
Really proud of the boys – hard work comes from here. @EnclaveGamingUK @kerberos_lol @Munckizz @Paris_GRE @ENC_Frappii @UKShogun @iHansen95 @ENC_Britsaint https://t.co/enZuE9gcPr

— Jordan (@JordanWalshm8) January 30, 2018
Well played by the League of Legends boys!

That's a win over @SNG_esports to secure our spot in the 2018 ESL Prem Spring Split!#nRWin pic.twitter.com/vVwpdL9u3e
— nerdRage (@NerdRage_pro) January 30, 2018
team no org no problem qualified for @ESLUK prem and is now looking for an org

— Matt @Eric? (@EuTwistedFate) January 30, 2018
Honestly completely heartbroken, don't know where to go from here honestly.

— Johan L. Olsen (@CoachLeeJooHo) January 30, 2018
Qualified for UK prem, its like one of my dreams came true

— Joran (@SpecialLoL_) January 30, 2018
One teamfight away from division one @ESLUK. Unfortunate ending to the competition but good performance nevertheless. Looking forward to playing in the coming months #jaguars.

— Carniflexin (@Carniflexin) 30 January 2018
When does the Prem kick off?
The ESL League of Legends Premiership Spring Split 2018 will begin on February 6th. It will be broadcast live on the ESL_LoL Twitch channel from February 11th at 6pm.
Matches will be played every Tuesday and Sunday.
The top four teams will play at the LAN finals, which will take place on the weekend of April 7th and 8th 2018.
Read more details on the ESL Spring Prem 2018 here.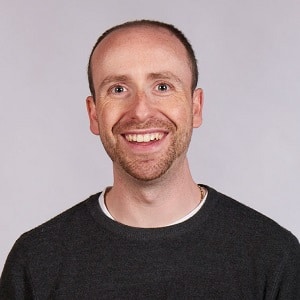 Dom is an award-winning writer who graduated from Bournemouth University with a 2:1 degree in Multi-Media Journalism in 2007.
As a long-time gamer having first picked up the NES controller in the late '80s, he has written for a range of publications including GamesTM, Nintendo Official Magazine, industry publication MCV as well as Riot Games and others. He worked as head of content for the British Esports Association up until February 2021, when he stepped back to work full-time on Esports News UK and as an esports consultant helping brands and businesses better understand the industry.