Before sim racing revved up, before it was the norm for motorsport brands to have some kind of esports operation, there was an initiative that started it all: GT Academy.
This saw the best gamers in Gran Turismo compete on a physical track in real race cars to earn a professional racing contract. And now, a movie based on the initiative has just launched after some ten years in the making, titled 'Gran Turismo: Based on a True Story'.
This story belongs to the UK. The British GT Academy founder, Darren Cox, worked at Nissan in 2005 when he thought up the idea. The racers, who took part, trained at iconic British tracks like Silverstone. The movie tells the story of Jann Mardenborough, the British racer who won GT Academy in 2011.
Nissan and Sony thought Darren was 'bonkers' at first, but his GT Academy idea was a success. Dom Sacco catches up with the GT Academy founder Darren Cox to ask how true to life the film really is, and what it's like having Orlando Bloom portraying a character based on you.
The Gran Turismo Movie Cast and Synopsis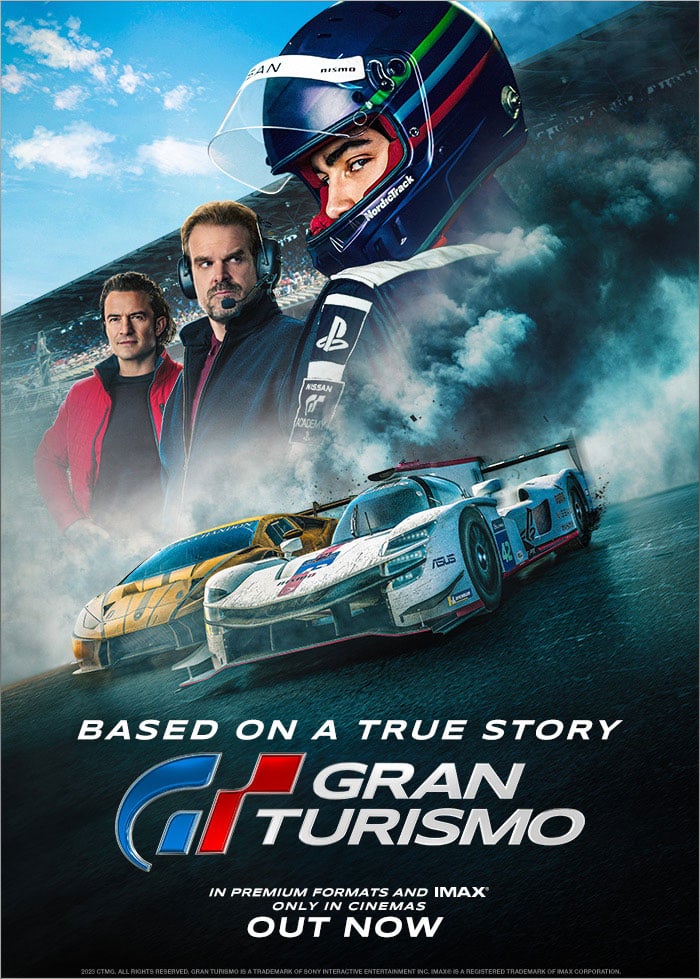 Before we dive into Darren Cox's story as the GT Academy Founder, let's look at some of the film's key info.
Gran Turismo: Based on a True Story, focuses on a team of 'unlikely underdogs – a struggling working-class gamer (played by Archie Madekwe), a failed former racecar driver (David Harbour) and an idealistic motorsport executive (Orlando Bloom) as they aim to win big on the track'.
The film also features Darren Barnet, Geri Halliwell Horner and Djimon Hounsou, and has been directed by Neill Blomkamp, with screenplay by Jason Hall and Zach Baylin, and the story written by Jason Hall and Alex Tse.
Gran Turismo is of course the popular racing game series on Sony PlayStation, developed by Polyphony Digital and produced by Kazunori Yamauchi, which has amassed more than 90m sales worldwide since the first game launched back in 1997.
So, how does our interviewee, Darren Cox, feel about being described as 'an idealistic motorsport executive' in the film's official synopsis? Let's ask him and look at his actual background below.
Who is GT Academy founder Darren Cox, played by Orlando Bloom – and is he known as 'Danny Moore' in the Gran Turismo Movie?
Darren Cox has not only been integral to the development of sim racing as it's known today, but he's also been heavily involved in real racing and a host of projects in the motorsports and games industries.
The British racing game expert is the owner and founder of DCC+Co, his latest venture, and has also founded Esports+Cars, a service provider across gaming, esports and motorsport. He also introduced the World's Fastest Gamer initiative, which we covered back in 2017 from the McLaren HQ.
Darren Cox also ran the Mercedes F1 esports team as well as the Racing Point Aston Martin one, and has managed drivers including the UK's Brendon Leigh, who won the first F1 Esports Series.
Darren launched the original GT Academy programme when he was working with Nissan back in 2005.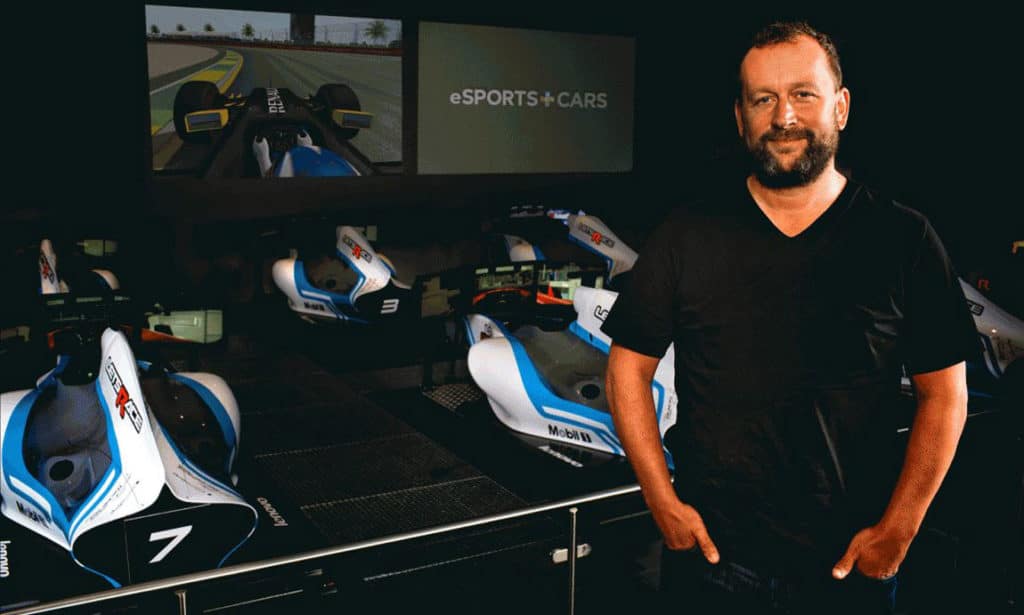 "I created and delivered GT Academy for Nissan and our partners at PlayStation, which is still the automotive / gaming benchmark to this day," Darren Cox tells Esports News UK. "It's had success on the track (podiums at Le Mans, Championship wins, win at Bathurst 12 Hour etc), and off track I've worked on multiple seasons of TV shows going to over 100 countries, offering huge ROI for everyone and changing the lives of many of those involved, including the 23 gamers that became racing drivers.
"I started at Nissan, as the film depicts correctly, in the collections department, collecting money from people who had car loans they defaulted on, and ended up being the global motorsport director and head of performance cars including the Z and GT-R."
The character based on Darren Cox in the Gran Turismo Movie is known as Danny Moore (played by Orlando Bloom), and we'll cover why further in this interview.
Where did the idea for GT Academy come from and how much did Nissan and Sony trust Darren Cox to launch it?
Darren Cox says: "The idea was a competition we ran with the Haymarket group of companies (who publish magazines like Autocar). Sony was bringing out Gran Turismo 4 at the time and Nissan was bringing out a new special edition 350Z. So it was an advertising campaign to promote the new car, and they put Sony and Nissan together, and I came up with the concept of the special edition car and we ran the competition, which gave me the inspiration for the idea of gamer to racer.
This was in 2005, so online gaming wasn't really a thing. So the competition was a hand-made send-in-via-postcard thing to guess the fastest Nürburgring lap time of Kazunori Yamauchi, the maker of Gran Turismo and CEO of Polyphony Digital, who features heavily in the film.
The 20 that were closest were invited to Bedford Autodrome. So they weren't the fastest, they were just 20 gamers. We had various challenges like parking a Micra to doing an off-road course in a 4v4, and driving a 350Z on-track and in the game.
We had all sorts of restrictions in place, like an independent health and safety inspector who had the ability to stop the programme if he saw any issues. It was risk averse, but it worked.
Lucas Ordóñez won [the first GT Academy in 2008], in fact we had two winners – the other being Lars Schlommer, who didn't make it through the training programme. Lucas did and has had a fantastically successful career, with podiums at Le Mans, he's now an ambassador for PlayStation, Polyphony, Sony and Toyota.
But the movie's not made about him, because Hollywood movie execs decided to tell the story of (2011 winner and British driver) Jann Mardenborough.
In the film, those three years are condensed into three minutes. Hollywood's gotta do that, right? I was thinking of finishing the book I started writing – the real story behind it.
I'm fine with [not being heavily featured around the film], I understand the politics. But things aren't what they seem and there's always a story behind the story, which is why I should write the book."
Why did Darren Cox's name change to Danny Moore (played by Orlando Bloom) in the Gran Turismo Movie?
Darren Cox explains: Firstly, Darren Cox is not the most Hollywood of names! Secondly, politics. And thirdly, as everyone keeps saying in the promotion, the character is loosely based on me.
It's a Sony-invested production and they want Kazunori Yamauchi to be the hero, they want Jann Mardenborough to be the hero, they want the game to be the hero, they don't need a guy who's no longer at Nissan to be the hero. So adapting the name breaks the link between me and the character.
And that character (played by Orlando Bloom) is not me – he's way too corporate, he makes decisions based on progressing his career, and the opposite was true. This was a massive risk for my career, I had a good job and this was on the side because I'm passionate about racing and gaming.
Someone said Gran Turismo is an amazing film but the reality was better. It was a great working culture we established, it was innovative, edgy and entrepreneurial.
The awful crash that Jann has comes before his podium at Le Mans in the film, but they were the other way around [in real life]. The last corner looks nothing like it is either. So it's been Hollywooded. It's made for generalist cinema goers and people that love gamers. So it's a great story. It would be a good film if it wasn't true, but it's great because it's based in reality.
So go and see it, suspend reality for two hours, enjoy it, and know that gaming and esports can't be ignored. Look how many gaming movies we've had in recent years. We should celebrate the fact they've made a Hollywood movie about two of my passions – gaming and racing – and I encourage everyone to go and see it, but do a bit of research in the background about the real story, because it's equally if not more fascinating.
'This is not an f***ing documentary, man' – how did the Gran Turismo Movie script change, and was Jack Black in it?
Darren Cox answers: This movie has been in the works for ten years, and the first conversation I had was with an executive producer Dana Brunetti, who's made films such as Social Network, 21, House of Cards, a big hitter in Hollywood.
When I met him, I read the initial script which was completely different to this one and absolutely not based in reality. His words were something like: 'This is not an f***ing documentary, man'.
So he meant they needed to make it right for Hollywood. But when they found the Jann Mardenborough story, they found it more compelling.
In one meeting, I said I wanted Jack Black to play me! Which I think would've been a much better character choice than Orlando Bloom! But when the movie was being made, I kept getting text messages about potential actors set to play me, and there were some really interesting actor names in there.
Orlando Bloom is not a racing guy, but he does his extreme sports and climbing. So he's an all-action hero with a pretty face.
He asked me a lot of stuff about the story and would message me, asking about motorsport phrases, dealing with situations and how I'd deal with situations. In the end, he plays a stereotypical marketing guy, and in some respects I was that, but I'm not a corporate marketing guy.
Also, the David Harbour character didn't exist in real life, it's a combination of five or six people. Me on the mentoring side, an engineer called Ricardo Davila, an engineer who passed away while the movie was being made, who was a legendary F1 character that went into sports cars and had a massive impact on Jann Mardenborough, there's Bob Neville who was team manager of the Nissan racing team, we had some coaches, driving coaches, so it's a character who smashes six people together. So there's a lot of liberties taken.
Jann went from 19-year-old shy gamer to Hollywood. And we used to call him Hollywood back in the day! He fits in perfectly and looks like a Hollywood actor. This young, shy, lovely character… the film does a good job of following his story arc, but as for the other characters, don't believe the Hollywood version of them.
Where was Darren Cox when the Gran Turismo Movie was green-lit?
GT Academy founder Darren Cox says: There wasn't really a line in the sand – there were a lot of moving parts. So I don't think I really believed it was happening. There were arguments about whether the film should be about Lucas Ordóñez [the first GT Academy winner].
They've had five scriptwriters, at least. At one point Jerry Bruckheimer was making the movie, but he couldn't commit because he was doing the Formula One film.
So there were all these personnel changes. At least two cinema studios, Sony corporate, PlayStation, all individual companies under the same umbrella, and Nissan.
The good thing about the finished movie is its script is as close to reality as any I've seen. The early ones were absolutely atrocious! Delayed gratification is a thing.
I feel like Gran Turismo hasn't been as prominent as it could've been in sim racing. Why do you think that is?
Darren Cox admits: You've asked me to open a can of worms. I could talk about that question for an hour.
Between GT6 and GT7 they brought out GT Sport, which was supposed to be their esports tournament. As we talk here now, the World Series is taking place in Amsterdam – they've got the perfect marketing platform, there's a movie coming out on the same day.
The overall problem in the industry is there's too much going on. There's too many racing series, too many games, it's fragmented. Apart from F1, and the only reason F1 esports is successful is because of F1.
There's big changes coming to F1 esports, in terms of how it's being organised, where the structure is, what the process is, which I think is for the best. So that's a big job.
Outside of that, no one is getting any traction or [significant] coverage. ESL has R1 but it's not getting the [huge] views.
GT is designed as a game, but you can ramp it up and make a career out of it. So the commercial success for Gran Turismo is not esports, it's to sell copies.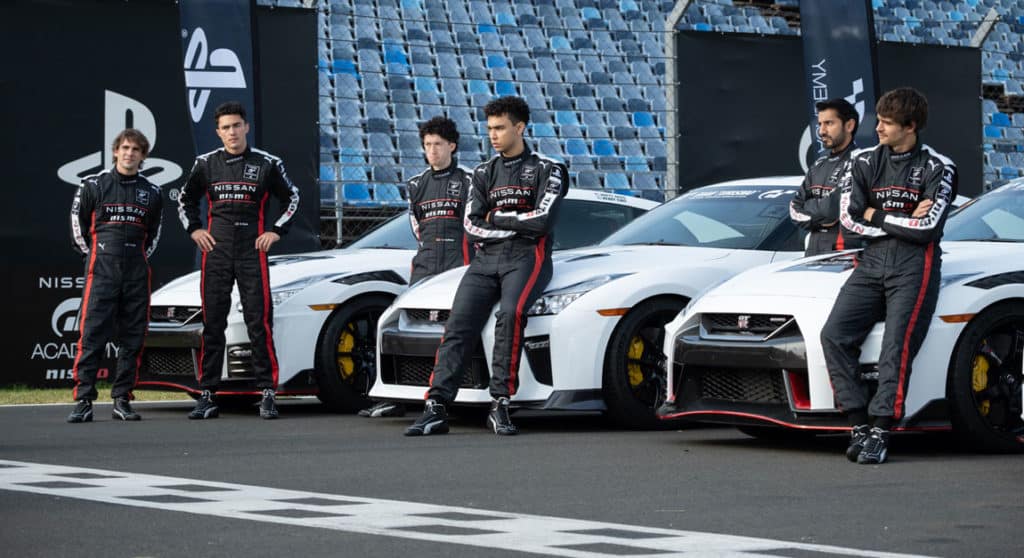 Esports is great for promoting a game. The best of the best play a game with high stakes and fantastic backing and great personalities which create great content. So if that breaks even as an individual activity within the business, it's free marketing. And the gamers get excited by it.
But, like motorsport, people are navel-gazing and are just focused on what they're doing themselves, on their little group of people.
I could watch sim racing or physical racing – there are so many races and activities going on. So esports racing is not only competing with other esports and hobbies, it's also competing against real racing. So esports racing has taken the success it had during covid, but it allowed people to rest on their laurels, thinking they had made it. Then there was another challenge, and I don't think esports racing recognises it needs to adapt and covid's done.
But GT isn't designed as an esport, it's designed to get downloads and for people to buy more cars.
GT has blown Forza out of the water for me over the years. But I think there's improvement to be had around how everyone markets racing games and esports racing.
Why was the GT Academy shut down in 2016?
GT Academy founder Darren Cox replies: I'll give you some facts and you can work it out yourself. I left Nissan in 2015.
When I left, and management were signing off budgets, they apparently didn't call it GT Academy, they called it DC Academy after me, Darren Cox, and they killed it after I left as they saw it as my project.
In 2015, Nissan was miles ahead of any other car company in the gaming world because of GT Academy, but because of politics and ego, they canned it. That's politics in big companies I'm afraid, it's very sad.
I don't think Nissan will go back to it, but if I was at PlayStation, I'd revive GT Academy. They should start it up again around the film and have people seeing it when they search for the film online.
There's an interesting line at the end of the film, which is something like, 'GT Academy changed the world of motorsport forever'.
I'll take that as my epitaph!
Gran Turismo: Based on a True Story is in cinemas now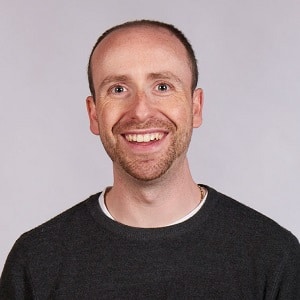 Dom is an award-winning writer and finalist of the Esports Journalist of the Year 2023 award. He graduated from Bournemouth University with a 2:1 degree in Multi-Media Journalism in 2007.
As a long-time gamer having first picked up the NES controller in the late '80s, he has written for a range of publications including GamesTM, Nintendo Official Magazine, industry publication MCV and others. He worked as head of content for the British Esports Federation up until February 2021, when he stepped back to work full-time on Esports News UK and offer esports consultancy and freelance services. Note: Dom still produces the British Esports newsletter on a freelance basis, so our coverage of British Esports is always kept simple – usually just covering the occasional press release – because of this conflict of interest.