Earlier this month British racing brand McLaren became the first Formula 1 team to enter esports.
It announced the World's Fastest Gamer – a new esports tournament that runs across several games including Forza, Project Cars, Gran Turismo and even mobile games.
The winner will land a one-year contract with McLaren's F1 team as one of its official simulator drivers. To find out more and what this involves, we visited McLaren's Surrey HQ for a special press event and interviewed the guy behind the initiative, Darren Cox.
When you approach the entrance to the McLaren Technology Centre, you know you're in for a treat.
The road to the building follows a half-circle around a large beautiful lake – you travel away from the curved building then slowly back towards it. From the outside this looks more like the MI6 building or the Pentagon – not the home of a premium car manufacturer.


When you enter, it's even more breathtaking inside. There are glass panels and windows everywhere, with a sleek white decor and black tiles on the floor. Everything is immaculately clean and shiny; there are glass lifts dotted about leading to a second floor.
A row of F1 cars and other supercars in McLaren's repertoire line the left-hand side of the foyer. Unfortunately we couldn't take many pictures here, as most of the cars were lined up in front of McLaren's technical department.
Through the windows of the technical department we could see engineers working on new car chassis, designs and other bits and bobs that aren't yet ready for the public eye.
After being led down a glass staircase to a waiting area, other members of the press arrive. There's mainstream media, camera crews, specialist motoring press and YouTubers, though I don't recognise any other esports journalists. It seems this is a big PR opportunity for McLaren.
We're divided into groups before being led on a tour of the facility. First we're told about some of the specific cars in the foyer, including the below, as well as the delicious original McLaren F1 supercar. I'm told by McLaren only five were made, but web reports suggest otherwise. Sadly I'm not allowed to take pictures of that one, all you need to know is it looks like one of the sexiest race cars you've ever seen.
The most successful car in F1 history. Ayrton Senna's 1988 Honda Turbo V6 #McLaren #WorldsFastestGamer pic.twitter.com/f9rycUYkn3

— Dominic Sacco (@Dom_Sacco) May 22, 2017
An old 1954 Austin 7 pic.twitter.com/2efZKWHRj3

— Dominic Sacco (@Dom_Sacco) May 22, 2017
It's easy to think this building is the work of someone wanting to splash the cash and show off, but our tour guide says otherwise.
"It's not a vanity project – everything here is done for a reason," he says.
For example, reeds and koi carp keep the water clean, there's a wind tunnel and McLaren received an award for low carbon emissions, largely because of the quality and cleanliness of the building.

Behind closed doors
Next, we're asked to leave our camera and recording equipment at reception as we're led to an area hardly any members of the press have set foot in: the simulation room.
But don't worry about a lack of snaps, I'll do my best to help you imagine the area with words instead.
First, our guide opens a door to the aforementioned technical area with his security card. We have to pass through here to get to the simulation area.
If you thought it was white and shiny in the foyer, it's even whiter than white in here. The floor, walls and desks are white. Even the water fountains are the shiniest water fountains I think I've ever seen.
The McLaren engineering staff are all wearing black McLaren outfits in this area, with what appear to be senior staff in white shirts sitting behind desks.


It's busy yet calm in this area. People working in the racing department are walking around, working on various chassis and car parts. While our tour guide tells us not to go too far into one particular room, where McLaren is working on the next version of its Formula One car, an engineer beckons us to have a look around.
It's fascinating to see the inside of an F1 car. I honestly have no idea what I'm looking at, but you could mistake it for some kind of work of art. The pistons, engines and parts of the chassis are being worked on, and there are hundreds of tiny parts – some gold – lined up next to one another. It's an amazing feat of engineering to behold.
There are some test bays in here, where the team aim to deliver pit stops in under two seconds.

The simulation room
Now onto the area we're here for. The place where the winner of the McLaren World's Fastest Gamer tournament will spend a lot of their time playing working: The simulation room.
Photos are strictly forbidden in here, but again I'll do my best to write about my experience to try and help you imagine the room.
As we enter this dark room, it's almost deathly quiet. It's a medium-sized room, probably around 5 or 6m wide and 10m long.
At the far end of the room in front of us, there's a huge widescreen curved panel screen. When I say curved, I don't mean like a curved TV in someone's living room. I mean curved like a protractor, with a mock F1 car in the middle and the screen curving around it.
The room quickly turns from eerily quiet to loud as the simulation begins and the driver begins to whizz around a virtual version of an F1 track. It sounds like the real thing, just not quite as loud!
The simulation car is tilting and shaking around, with none other than Jenson Button in there. He's doing a virtual test drive of the Monaco Grand Prix circuit.

"The simulation car is tilting and shaking around, with none other than Jenson Button in there. He's doing a virtual test drive of the Monaco Grand Prix circuit."

While it might not have the most ultra-realistic looking graphics (it's more akin to the Dreamcast or PS2 era), that's not the purpose of this simulator. It's designed to accurately simulate the track, right down to the nth degree, whether it's a particular turn, hairpin or red and white kerbs. This allows Jenson and the other drivers to practice ahead of the real thing.
In the first half of the room, there's about ten monitors dotted about, with various multi-coloured graphs on screen. These are tracking the simulator data in real time, like the speed of the car, lap times and so on. They're looking for peak performance and maximum efficiency.
A handful of staff are monitoring this data on the fly and talking to one another via their headset mics. This is where the winner of the esports tournament will work as a simulator driver. I get the feeling whoever wins will have a fantastic opportunity working here.

Interview: Darren Cox
After the tour, we head over to the McLaren Thought Leadership Centre, which has a press conference room.
Jenson Button, as charming as he is, gave a quick two-minute talk about about nothing, while those behind the project including their sponsors spoke about the growth of esports and how excited they are about it – the usual.
McLaren did put two of its engineer/simulation staff on a panel, but it was what you'd expect and didn't include the meat of the actual esports tournament itself.
Because the press conference didn't really answer our questions (though McLaren director Zak Brown told us McLaren won't be buying an esports team or getting into core esports games like LoL or CSGO), we caught up with Ideas & Cars founder Darren Cox afterwards instead.
Darren is the man behind the GT Academy, which saw top gamers become actual racing drivers. He's also behind World's Fastest Gamer.
Check out our video interview with Darren here for the ins and outs of the World's Fastest Gamer tournament:

There's more info on the World's Fastest Gamer tournament on McLaren's FAQ page.

"Racing gaming is closer to its own sport than any other. The ramping up of interest is significant."
Darren Cox, Ideas & Cars
Summary: A foot in the car door, not a full esports drive
It's clear that McLaren is serious about its own World's Fastest Gamer initiative, but I hope that it looks beyond its own competition to the wider esports landscape.
McLaren buying a League of Legends team or sponsoring a team or league could be fantastic for them – and esports.
Like Darren told me in the interview above, once one motorsport or car brand does it, they'll likely all follow suit. It would bring more sponsorship revenues into esports and mark a significant move for a brand of this stature to truly embrace esports.
Organisers made several references to the fact that many football clubs are embracing esports, and said that more car manufacturers will likely get involved in competitive gaming in the future as well.


Some have criticised football clubs' moves into esports as publicity stunts.
During the press conference, McLaren director Zak Brown said that McLaren's initiative was not 'a stunt', but something he takes extremely seriously.
However, from the amount of mainstream media and TV broadcasters in the room, it's clear that McLaren are happy to take some positive PR from this initiative.
There's nothing wrong with that, but it'd be nice to see this have legs.
Darren assures me this will be an annual competition, with more expected in years two and beyond. Time will tell.
For now, it can't do the rather niche racing esports space any harm. And for one person, it could genuinely change their life. I might have to enter the competition myself and practice some of those racing games because I could quite easily live in the McLaren HQ!
Thanks for reading – I hope you enjoyed this different type of feature on Esports News UK. I'll leave you with an image gallery from the McLaren Technology Centre: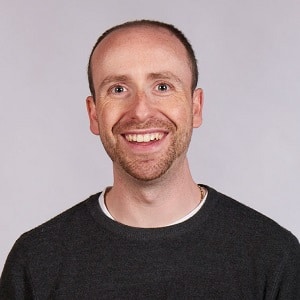 Dom is an award-winning writer who graduated from Bournemouth University with a 2:1 degree in Multi-Media Journalism in 2007.
As a long-time gamer having first picked up the NES controller in the late '80s, he has written for a range of publications including GamesTM, Nintendo Official Magazine, industry publication MCV as well as Riot Games and others. He worked as head of content for the British Esports Association up until February 2021, when he stepped back to work full-time on Esports News UK and as an esports consultant helping brands and businesses better understand the industry.