CSGO is in a strange transition period, in the words of HenryG, with Valorant taking some of the game's limelight – and players. But how is the UK CSGO scene doing? Esports org Endpoint have been putting the UK on the map with some stellar performances in CSGO tournaments like the BLAST Premier Showdowns, ESL Premiership and ESL Pro League.
Jake Nordland reviews the current landscape of UK Counter-Strike with Endpoint and Blast, explores what the future holds for the scene and whether we can expect more Brits to make an impact at the elite level.
---
On September 7th 2020, British CSGO talent Henry 'HenryG' Greer was feeling ambitious. He'd just been announced as the new general manager for Cloud9's CSGO division after stepping back from a decorated legacy as one of Counter-Strike's preeminent casters.
HenryG was to rework the Cloud9 roster into an ambitious European mix involving two UK players – former Vitality in-game leader Alex 'ALEX' McMeekin and rookie William 'mezii' Merriman.
Dubbed 'The Colossus', the project ultimately fell short of the lofty ambitions many had prescribed for the squad – with HenryG leaving Cloud9 as CSGO manager – but the project was significant nonetheless: two British players were competing side-by-side on the world stage for one of the most veteran orgs in the game.
It looked to herald a new, brighter chapter in the otherwise gloomily underwhelming history book of UK CSGO. Five UK players now feature in HLTV's top 30 teams – six if you extend that list to Movistar Riders at number 32, and seven if you count current free agent ALEX. One year ago, there was one: UK/Polish player Mateusz 'mantuu' Wilczewski.
The key protagonist in that new chapter has been Endpoint. Formed in 2016 by Adam Jessop, five decorated years of competition have marked the team as the UK's leading representative on the international stage. Ranked 27th worldwide on HLTV, Endpoint recently brought in mezii after his stint at Cloud9 and re-welcomed Thomas 'Thomas' Utting after selling him to Envy last September.
They joined fellow UK players Max 'MiGHTYMAX' Heath and Kia 'Surreal' Man, alongside Dutch player Joey 'CRUC1AL' Steusel, pushing the roster to four total Brits. This followed a string of success in which Endpoint qualified for two consecutive BLAST Premier Showdowns, finished second in 2020's BLAST Rising, qualified for ESL Pro League Season 13, and won their fifth consecutive ESL CSGO Premiership.
"We've grown massively in the last year in terms of success in Counter-Strike and a lot of that goes down to the people we have in the team now", Endpoint CEO Adam Jessop says in an interview with Esports News UK. "We've got a core roster of MiGHTYMAX, Crucial and Surreal and I think having that core be with us for so long – I mean Max has been with us for five years now or something crazy – I think is starting to pay dividends."
Building a predominantly UK team is something Endpoint have been trying to do for a number of years, Adam says. "We've always wanted to fly the British flag if you like… that's always been an objective of ours, to have a strong British roster."
Britain has been a cornerstone of Counter-Strike tournaments for years. HenryG is just one name in an impressively long list of venerated British desk talent that have plied their crafts in Counter-Strike, including Richard Lewis, Alex 'Machine' Richardson, Lauren 'Pansy' Scott, Duncan 'Thorin' Shields, Frankie Ward among many others. But while Britain has bred some of the game's best and brightest casters, hosts and analysts, it has long failed to produce the consistent calibre of competitive player seen by many of its European counterparts.
"We became a bit of a meme", Adam explains, reflecting on the UK's checkered past in the Counter-Strike franchise. "Back in the day and certainly within Counter-Strike: Source, we had a really strong talent pool. The talent never went away – it's just that the opportunities went away. The funding and the ecosystem within UK esports as a whole just simply wasn't there to sustain those players and their ambitions."
Unlike North America, stimulated by the waves of venture capital ploughed into the region, and continental Europe, which arguably enjoyed greater community and governmental support, the UK lacked much of the infrastructure necessary for nurturing talent. The UK CS scene has a reputation, the story goes, of poor mentality and attitude, a dogged stigma substantiated by the stream of British teams which have emerged and folded in quick succession over the years.
Faced with a dearth of domestic options, and looking to prove themselves individually, some of the UK's best looked abroad. "It bred this kind of attitude between players to [ask] where can I make the best name for myself, how can I move to an international roster where I can get paid the money I want to get paid to play Counter-Strike? And so that kind of paved the way for a lot of team hopping… and a lot of our best talent had to be exported," Adam continues.
Owen 'smooya' Butterfield (who once told us in an interivew 'the UK is not good enough at CSGO') and Rory 'dephh' Jackson were trailblazers, famously flying the British flag abroad with notable stints on Berlin International Gaming and compLexity respectively. But while some UK talent managed to follow their lead, like current compLexity coach Jamie 'Keita' Hall, the domestic scene fell prey to a whole new type of export in 2020.
Valorant was offering a fresh, flashy new start to the British talent that had been languishing in the UK's stagnant CS scene – including big names, like dephh, who joined Dignitas' Valorant team last year. Connor 'Sliggy' Blomfield was one of many who took a chance in the new market, forming the successful 'fish123' roster of British ex-CS players that ended up signing with Team Liquid. Valorant was converting UK players to its cause by offering them something they just didn't have in CS: opportunities.
"I thought Valorant was great when it first came out because it was a fresh start," former British CSGO player Jake 'Boaster' Howlett told Upcomer in a feature profiling the outliers of UK esports. "CSGO can sometimes be impossible to break into because it's been around for so many years, it's already established", explained Boaster, whose Valorant team was picked up by Fnatic earlier this year.
Necessary infrastructure, however – deficient in UK CS for so long – has started to emerge. Endpoint has been a direct benefactor of BLAST's new, more inclusive tournament structure. They won the Fantasyexpo Spring Cup which, alongside qualifying them for BLAST Premier's 2021 Spring Showdown, awards a $25,000 participation fee for teams to invest into growing and developing their organisation.
"There's a number of things we're looking to do with the participation fee, whether that be prolonged boot camps, whether that's going into a player break of some kind and just helping them with team building – really do things that perhaps the [players] weren't able to do without that money being made available", Adam says.
Endpoint also placed second in BLAST Rising 2020, a €30,000 development tournament for up-and-coming teams ranked 25th and below.
"We wanted to create an ecosystem of play for Premiere to operate within", BLAST Premier commissioner Andrew Haworth tells Esports News UK. "The top level of the ecosystem forms a kind of Champions League level tournament product, [but] we don't want that to be a closed shop. We want to try and create something that has a very direct and clearly understood route in for essentially tier 1.5 down to tier 3 teams."
Growing opportunities and prize money for aspiring talent, and the organisations that back them, is paying dividends for the UK scene. "I think it's a great time [for UK CS]", Andrew adds. "There's a very strong British line-up obviously in Endpoint and a couple of other teams at a sort of lower level. We are quite excited by that – we're building out our qualifiers into something that acts as a greater end of the funnel for more opportunities into 2022."
The breadth of talent emerging in the UK scene was on display in ESL's latest CSGO Premiership earlier this month. As the longest-standing esports tournament in the UK, the prestigious bi-annual Premiership acts as the highest tier of domestic Counter-Strike and offers tens of thousands of pounds in prizing. After beating out UMX Gaming, Team Xenex and Audacity to make the finals, Chetz Esports put up a valiant effort in a 3-1 grand final loss to Endpoint.
Two of the UK's eminent gaming conventions, Insomnia (which GAME has just sold) and epic.LAN, provide further opportunities for rising talent to shine. Insomnia's most recent 2019 CSGO LAN installment in Birmingham was won by the then-Vexed Gaming roster, whilst the last two aptly renamed epic.WAN online events have been taken by UMX Gaming. Meanwhile, UKCSGO recently announced the return of their long-standing County Championship.
"We've certainly seen from our point of view, even just playing this season of ESL Premiership, that the competition is getting harder", Adam tells us. "And it's new faces – there's no denying that a lot of the UK CS talent left to go to Valorant… but I feel what that's actually done is it's paved the way for new faces to come along and prove their worth in UK Counter-Strike, and they're certainly doing that.
"Our guys certainly came away from that thinking they have what it takes to kind of take on a lot of European competition and do well there."
Things are changing in UK CS, Adam explains, as greater financial backing affords better opportunities for homegrown talent to emerge: "We are seeing more investment into UK esports, whether that be from brands in the way of sponsorships, or whether that be [direct] investment, and so I'm hoping that the tide is going to turn."
Endpoint recently extended their partnership with technology retailer CeX in a landmark seven-figure agreement.
"It's given us sustainability in the long run," Adam says of the deal. "We're in a great position ourselves where we have our players contracted for a long period of time now, and so we're certainly hoping that we're here to stay."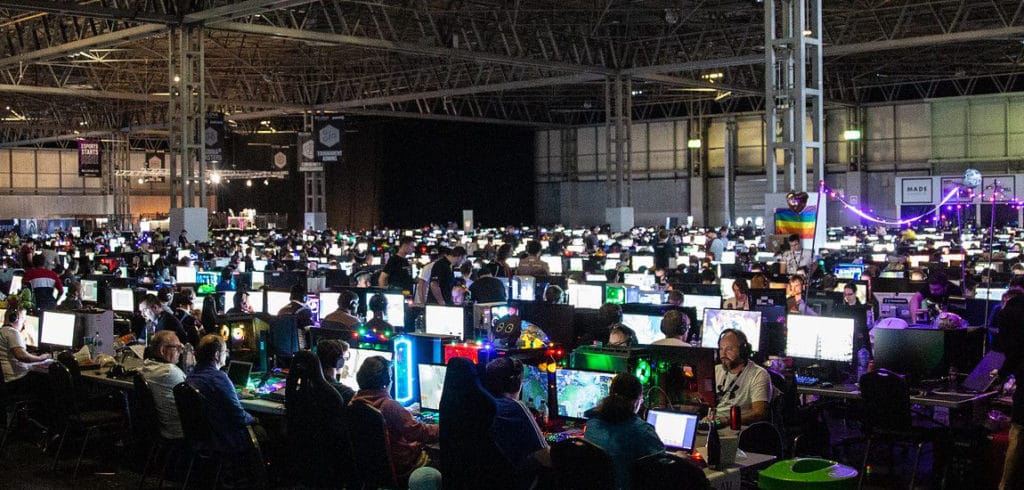 As an increasingly mature domestic scene shapes up, and Brits continue to roam the international arena on some of the world's top teams, it is clear the UK scene has made a marked step up from chapters past.
"There's some obvious contenders that could build on the success of British players and Endpoint", Andrew concludes. "I expect to be having BLAST Rising, Qualifier and Premier events that have more British players and more British teams in them over the next couple of years, certainly."
Glimpses of hope, both domestically and internationally, offer incentive to shake off an avowed cynicism rooted deep in British Counter-Strike. Endpoint, for example, weren't invited to BLAST Rising this year.
"We actually had a conversation with them," Andrew says, reflecting on the decision: "We're not inviting you to Rising because… well, actually, you've risen."
---
You can follow Endpoint on Twitter here, Adam Jessop here, and follow the upcoming BLAST Spring Finals on HLTV from June 15th here.