Esports News UK editor Dom Sacco shares his views on today's announcement that Gfinity has entered into a huge multi-season agreement with Domino's.
The UK esports scene has attracted some decent sponsors in recent years, mainly gaming brands, so it's great to see a big non-endemic like Domino's getting involved.
'So what, Dom?' You might be thinking. 'It's just another sponsorship deal.' Except it's not really like any other deal that has come before in the UK scene, and for that reason deserves to be highlighted and explored in greater detail, in my opinion.
Gfinity states that this 'represents the biggest commercial deal in the company's history', one that Esports News UK understands to be worth seven figures.
The 'Delivered by Domino's' partnership, which runs until December 2020, will see the pizza brand become Presenting Partner of the Gfinity Challenger and Elite Series UK. Domino's will have an in-show presence throughout the 80 hours of live FIFA, Rocket League and Street Fighter V broadcasts, and Domino's will receive bespoke content, broadcast and digital assets, player shirt sleeve branding, social media activations, customer relationship management, ticketing and hospitality.
The scale of this deal is not to be sniffed at. Gfinity has worked with HP Omen in a big way in the past, a brand that has been pretty much throwing out bars of gold at esports in recent years, as well as the likes of Lynx and Turtle Beach, and the fact this new deal is the biggest should be inspiring to others in esports, including Gfinity's rivals.

"With the quality and scale of tournaments we now have here, there has arguably never been a better time for sponsors to get involved with esports in the UK."

It's not just this Domino's deal which is worth highlighting. Look at the great work ESL has been doing in recent years in the UK and elsewhere. The DHL activation it arranged at ESL One Birmingham, the work with Intel and many others.
And just the other day, drinks brand Mountain Dew announced it is teaming up with Rocket League to create a new tournament for amateur gamers in the UK, with participants playing on board the 'Big Betty' esports truck during Insomnia at the Birmingham NEC.
With the quality and scale of tournaments we now have here, and examples of other successful brand activations and initiatives in the past, there has arguably never been a better time for sponsors to get involved with esports in the UK.
And in a scene still finding its feet where funding can make all the difference between a grassroots org flourishing or falling under, seeing big deals like this must be reassuring to those guys in particular – and the rest of the community.
As Gfinity states, the latest deal allows Domino's 'to connect and engage within one of the fastest-growing entertainment sectors and target the young adult demographic that consumes gaming/esports content daily'.

Garry Cook, Gfinity's new executive chairman, said: "Esports has become the entertainment of choice for brands looking to connect with young adult consumers. It is exciting, it is growing and it is full of opportunity. We look forward to working with Domino's to create new and innovative ways to bring even more excitement and interest in the Elite Series."
Brands tap into an audience they may struggle to do elsewhere, esports companies benefit from added investment and the whole esports ecosystem gets a boost.
Another aspect I want to highlight is the fact that Domino's will also 'use its extensive channels to promote both the Gfinity Challenger and Elite Series UK, plus the player stories that emerge and share them with its loyal consumer base'.
All too often I see brands throwing money at esports tournaments, organisations or service providers and expecting to get a return on investment without doing anything else. That's not always going to result in a successful activation in my opinion.
My message to brands is: get involved with the community, reach out, share stories on your social media and other channels, embrace the scene, learn about it, understand it.

"All too often I see brands throw money at esports and expect to get a return on investment without doing anything else. So it's good to see Domino's using its channels to promote player stories itself."

Domino's actually taking an active role in content and talking about the Elite Series to its customers – who might not know about esports – is huge. It helps spread awareness of esports and engages with more people that can also help to lift the scene.
Let's just hope we can all deliver as an industry – not just the sponsors – and show them all why they need to come back again after their deals expire.
Esports has had a problem in the past – arguably still does – around investment, poor/cowboy consultancy services giving brands misinformation and putting them off this great industry.
Let's all properly help educate and support these brands, because the more deals like Domino's that are successful, the more brands will want to get involved in the future. Whether it's Gfinity taking the money from that specific deal, or ESL, or an organisation, it doesn't matter.
As long as we hold up our end of the deal and prove to brands why they need to be involved, we will all benefit.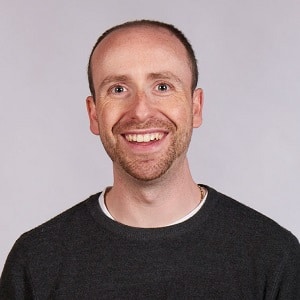 Dom is an award-winning writer who graduated from Bournemouth University with a 2:1 degree in Multi-Media Journalism in 2007.
As a long-time gamer having first picked up the NES controller in the late '80s, he has written for a range of publications including GamesTM, Nintendo Official Magazine, industry publication MCV as well as Riot Games and others. He worked as head of content for the British Esports Association up until February 2021, when he stepped back to work full-time on Esports News UK and as an esports consultant helping brands and businesses better understand the industry.