Excel Esports' female League of Legends team have won the FemaleLegends tournament at DreamHack.
The final was cast by xL bot-lane players Innaxe and Aux (who has just retired from competitive play to focus on university), with former UK ADC Crane on board as analyst.
xL only had to win one game in the grand final against mix team Super Hot Crew XD, because they already had a one-game lead after coming in from the winner's bracket.
Aux interviewed support player Renate "Rencha" Ritina after the win, and asked her what the victory meant to her.
"Oh my God, I feel like this is only the first step, honestly," she said.
"We're trying to go to LCS next year, I think we can do it," she laughed. "I think we got this, honestly… maybe female LCS."

On her feelings ahead of the final, Rencha said: "I felt pretty anxious honestly [ahead of the final], but since we had already won twice… I thought this was all fine and that we would get them."
Rencha also selected top-laner Paleolite as her MVP because 'her ultis were on point'.
xL LoL manager Barnetto said:
Congrats to the @exceL ladies on their flawless win at #DreamHackWinter @xL_Paleolite @xL_Mey @xL_Vicksy @xL_Cathrine @xL_Rencha absolute smurfers!

— Ryan Barnett (@_Barnetto) December 2, 2017
Paleolite added:
We take home the @FemaleLegendsSE Dreamhack tournament without dropping a single game! So proud of my girls @xL_Vicksy @xL_Rencha @xL_Mey @xL_Cathrine❤️ pic.twitter.com/B33qRiXZkz

— Paleolite #DHW17 (@xL_Paleolite) December 2, 2017
xL's female LoL side won their first DreamHack qualifier back in October.
Their roster is as follows:
Sara "Paleolite" Jakobsen – top
Milenka "Mey" Escalera – jungle
Victoria "Vicksy" Doman – mid
Adelina "Cathrine" Nalsen – ADC
Renate "Rencha" Ritina – support
You can watch the final VoD here.
xL's other team won the ESL UK & Ireland Premiership back in November, coming back from 2-0 down against Singularity to eventually win 3-2.

What is DreamHack?
DreamHack is one of the world's largest LAN events, featuring thousands of gamers who bring their own computers and compete against each other on various video game titles. It's an event that originated in a Swedish school more than 20 years ago and is now hosted several times a year in numerous countries around the world.
Gamers can surround themselves with other players, go up against each other, listen to live music, visit exhibitions of the latest technology and cosplay and take part in tournaments, both for professional players and amateurs.
Prize pools can rise to hundreds of thousands of dollars. With plenty at stake and many of the world's best players competing at the pro level in these tournaments, it's become popular to view and place bets on the matches that are going down. Not only for people who attend the DreamHack event and view the action live, but also for people at home who tune in through streams.
Article contains affiliate links
Hide our ads and become a premium reader to support ENUK today from just £1 per month!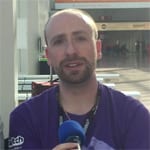 Dom is an award-winning writer who graduated from Bournemouth University with a 2:1 degree in Multi-Media Journalism in 2007.
A keen League of Legends and World of Warcraft player, he has written for a range of publications including GamesTM, Nintendo Official Magazine, industry publication MCV as well as Riot Games and others. He works as full-time content director for the British Esports Association and runs ENUK in his spare time.