We speak to North American Clash Royale pro player Colton Wall and caster Seth (aka The Rum Ham) about their region's chances in the Crown Championship finals at London's Copper Box Arena on Sunday December 3rd.
Colton Wall (aka Coltonw83), who plays for Team Queso, hails from Texas and currently goes to college in California.
"I've been playing the game for about a year and a half now, I'm one of three representatives from North America in the Crown Championship finals this Sunday," he told Esports News UK.
"I qualified from the Invitational tournament, where all past tournament winners were invited. I was able to win the 16-man bracket."
Seth aka The Rum Ham, meanwhile, is a caster and content creator, also from California, whose YouTube channel has more than 4m views. He was a player before making the transition to caster.
Here's what they had to say to Esports News UK in our pre-finals video interview.

On the finals being in London
Seth: I studied abroad in London, it's a bit of a homecoming for me. It's such a cool experience because being centrally located, you're able to have a show that's viewed by everyone in the world at the same time, and I think that's part of the reason why we're here.
You can get everyone from the Pacific coast in America all the way to Japan watching the same event at once.
It's a great location for it. The Copper Box Arena being where the Olympics were held… it has an Olympic feel to it. We have the two best players from the eight major regions all flown in, and I'm really excited to see how it will all play out.



Predictions for the finals and how well NA will do
Colton: For the finals I'm always going to count on myself, I think I have the ability to win it.
Other than that, I'm cheering on my teammate Adrián Piedra. I think NA is really strong, I think NA will make it to the finals. And I do think we are the strongest region, although it is close between the top few.
Seth: Because it's the first international competition, people's perceptions of how the regions are going to perform are bleeding onto the players.
I know there's a huge divide between the Western hemisphere and the Eastern hemisphere, in terms of language barriers and platforms, so I'm excited to see regions like Japan, who almost never really clash with NA and Latin American players, how they're going to perform on the biggest stage.
There's a feeling in the Western hemisphere that NA is the strongest region, and they have three representatives of the 16 here so they kind of have an argument for that, but we'll see.
Any of the 16 could win, it wouldn't shock me to see a bunch of upsets in the first round, and for a completely underrated or unexpected player to take the whole thing.

On Clash Royale and how it's grown as an esport.
Colton: As a player, the draw for me is it's 1v1, I'm really competitive, I like outwinning opponents. It takes mechanical skill and a lot of thought process and decision making in and out of the game, choosing decks and so on.
It has a lot of challenges, it has a high skill cap I think, but it still allows casual fans to get into it. You don't have to understand the game at a high level to know what's going on, which is not necessarily true about other esports, and I think that makes the viewer base grow a lot faster than other esports, in addition to the fact it's a free mobile game, and almost everyone has access to a phone.

On if there are any notable UK players in Clash Royale
Colton: My teammate Saint Belikin is a very good UK player. He's just about to hit the age limit, so he's currently 15 I think and you need to be 16 to compete.
Come next year when the next CCGS (Crown Championship Global Series) is due to start up, he'll be old enough. I have almost no doubt he'll qualify, he's very good.
Seth: The esports scene in Clash Royale tends to skew a little young, there's a lot of teenagers. The 16 age limit is one of those things where players come into their rookie year, there's a lot of expectation on them.
Saint Belikin has been one of the best players since the game came out, I think he was 14 then, and there's a lot of expectations when he turns 16 that he'll be representing the UK in the 2018 world finals.

Further reading: How the man behind the London Olympics ceremony is transforming The Copper Box into a Clash Royale esports arena (behind the scenes tour)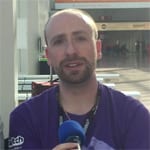 Dom is an award-winning writer who graduated from Bournemouth University with a 2:1 degree in Multi-Media Journalism in 2007.
A keen League of Legends and World of Warcraft player, he has written for a range of publications including GamesTM, Nintendo Official Magazine, industry publication MCV as well as Riot Games and others. He works as full-time content director for the British Esports Association and runs ENUK in his spare time.