UK esports organisation Reason Gaming have been suspended from the ESL Premiership, just over a week before they were due to play in the finals.
In a shock move, ESL has suspended the team pending a full investigation over alleged match fixing in their game against Radix Esports during week six/seven of the ESL Premiership.
The currently unproven claim is that Reason threw the game against Radix, losing 16-9 to them in a best-of-one so they would face them again in the next round, as opposed to Fish123 or Method.
Radix also suffer, because the result of the allegedly fixed match has been void. This means that the teams in the finals will now be Endpoint, CeX, Fish123 and Method, with the latter two replacing Reason and Radix, who have been dropped from the playoff finals.

"We're really disappointed. The team had worked to secure the games they needed to get to LAN. We really don't agree with how this has all been handled."
Michael "Afro" Todner, Radix Esports

CeX are also apparently under investigation because they lost to Radix 16-5 the week before, but have apparently kept their spot in the finals. Esports News UK has reached out to CeX and ESL for confirmation on this.
We understand that following Reason's 16-9 loss to Radix, some negative comments were made by other teams and people in the scene, including this tweet from Method player Reece "Puls3" Marrs who implied Reason threw the game:
Im not mad reason gaming im just disappointed

— Reece Marrs (@Puls3csgo) September 4, 2017
— Reece Marrs (@Puls3csgo) September 4, 2017
This sparked a response from some Reason players:


The ESL Premiership currently follows the Esports Integrity Coalition (ESIC) Code of Conduct and Anti-Corruption Code.
ESL's revised penalties for cheating will affect UK amateur tournaments
The current penalties for match-fixing include voided results, a ban that varies in length depending on the severity of the offense, forfeiture of prize money and a fine (or disqualification if discovered before the end of a tournament).
Evidence has not yet been published by ESIC/ESL, though we were sent this clip anonymously, which seems to show Reason speaking on voice comms:

The clip features Reason players joking about bringing manager Adam "Blanks" Heath into the team to play, and smooya asks: "Are you planning to lose?"
Reason player Thomas responds, saying: "Absolutely not – we're winning. I told [UK CSGO player] Jenko the only way I'll win this match is if he buys me a brand new gaming chair."
Esports News UK understands Reason is sponsored by Noblechairs, and Thomas wanting a chair is apparently an in-joke between the players.
ESIC integrity commissioner Ian Smith told Esports News UK: "ESIC has not decided whether there is a case to answer and no Notice of Charge has been issued – investigations are ongoing. Preliminary evidence, however, was compelling enough to justify provisional suspension while these further investigations are carried out.
"Unfortunately, the fact that the LAN finals are so close, the consequences of that suspension are magnified beyond what would normally happen. We would have preferred the matter to remain private and confidential until resolved one way or another, but a third party decided to put it in the public domain, so we have been forced to respond with clarification.
"If Reason Gaming suffer any unjustified reputational damage, they have their friend to blame as we would have kept it under the radar a lot longer. To be clear, there is no allegation of betting fraud. If there was match-manipulation, it was to ensure weaker opposition in the next round. Investigations continue and ESIC will not be making further comment."
 
"Preliminary evidence was compelling enough to justify provisional suspension while further investigations are carried out."
Ian Smith, ESIC

As ESIC states, the matter was initially meant to remain private, but Epsilon CSGO player smooya posted several tweets on Monday evening, which were picked up on Reddit.
One anonymous source told Esports News UK: "It's only public because smooya can't get an erection without Twitter likes."
The five reason gaming players have been banned till may 2018 for losing a game to Radix. The reasoning they are a much better team?? ROFL

— Owen Butterfield (@smooyacs) September 11, 2017
// Radix also beat the unbeaten CEX team the week before 16-5. Does this mean CEX should be banned also?

— Owen Butterfield (@smooyacs) September 11, 2017
Update, final 4 spots at eps finals are going to be Cex, Endpoint, Method, Fish123. Still cant go because of immi the moron

— Owen Butterfield (@smooyacs) September 11, 2017
Radix Esports organisation owner Michael "Afro" Todner – whose org has already spent money on new jerseys and equipment for next week's finals – said: "I think I speak for everyone on Radix in saying we're all really disappointed. The team had worked to secure the games they needed to get to the LAN and had achieved that.
"We understand the reshuffle based on h2h but really don't agree with how this has all been handled.
"We've wasted money and time arranging to go to this event, hopefully ESL release a full statement soon."
Reason player kARMApangya has since tweeted:
Oi @ESLUK @ESLCS @ESL or what ever your silly fucking tag is, you've no reason to ban us you silly silly fucking cunts

— kARMApangya (@kARMApangya) September 11, 2017
Earlier this year, two British Tekken players were banned from the Tekken 7 UK Championship for 'suspected collusion'.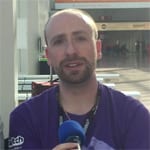 Dom is an award-winning writer who graduated from Bournemouth University with a 2:1 degree in Multi-Media Journalism in 2007.
A keen League of Legends and World of Warcraft player, he has written for a range of publications including GamesTM, Nintendo Official Magazine, industry publication MCV as well as Riot Games and others. He works as full-time content director for the British Esports Association and runs ENUK in his spare time.