Rainbow Six Siege is still a relative newcomer to the world of esports, but it's managed to carve an exciting niche in the crowded shooter genre and is continuing to grow.
Ahead of the $237,500 ESL Pro League Finals taking place this weekend (August 25th-26th, starting 9.45am CEST), Jacob Hale sat down with Ubisoft esports director François-Xavier Deniele and game director Alexandre Remy at Gamescom, to find out about plans for the competitive side of the game.

'Rainbow Six is kind of unique in its blend between reflex shooter and strategic gameplay' – Francois-Xavier Deniele
Jacob Hale, ENUK: For those with less understanding of the internal/business side of working in the industry, could you give a summary of who you are and what it is you do?
François-Xavier Deniele, Ubisoft: I am the esport director of Ubisoft, so I'm working on every title from Ubisoft, mainly Rainbow Six, and we are closely working with production to make the game esports ready.

So what are your plans for Rainbow Six esports? Are you looking for a quick rise to the top (such as games like Overwatch) or are you planning a slower, more organic growth?
Our plan right now is to extend the regions. In Season 1 we only had the North American region, because it was the first game as an esport title at Ubisoft so we had to learn how to develop it as an esport. Recently we have introduced Latin America, which was a huge success and then Asia-Pacific to try and build this into a global esport title.
Right now, we're in the situation where we're learning a lot, but obviously we want to achieve the best figures as fast as is possible. But, we are taking our time to follow what the tradition is in terms of design, what the community wants, what the pro players want in competition, and we are also talking closely with our partners ESL so we can build this competition together.


A gameplay clip from the Season 1 finals

You mention expanding to more regions and growing on an international scale, but are there more future plans for grassroots tournaments? For example we have events in the UK such as Insomnia. Is it possible we could see Rainbow Six at smaller, more local tournaments such as this in the UK?
For us, we are working very closely with Alex (Remy, Game Director at Ubisoft), and there are different levels of esports. Right now, we are starting with our Pro League, and what we have seen is that we need to have less professional tournaments and focus more on local territories. That's why we are putting together lots of local championships in our bigger territories such as Europe and North America so we can provide the competition you want if you want to become a professional player.
We know that in the UK we will introduce some local championships for Rainbow Six, for everyone to get involved in. There are different levels of esports, and we want to help and make local events, for sure.
Related reading: Rainbow Six Siege Go4 UK console cups announced


"We are starting with our Pro League, and we also need to focus more on local territories. In the UK we are introducing some local championships for the game."
I've noticed that a lot of the competitive player base in Rainbow Six in the UK play on console, but the Pro League is played on PC. Is there a reason for this split, and would you encourage players to play on PC if they aspire to become professional players?
We had our Pro League originally on both PC and Xbox, but we made the decision to move forward with only PC as the level of competition and gameplay is just stronger on PC. We did not forget about console at all, because we still support that player base, we even introduced it to PS4 at the beginning of the year.
We did see some teams switch from console to PC, such as Elevate and Vitality, so there is a gate between them both and competition for both, but from a UK perspective there are definitely talented players on console, which is why we are working locally with them to see if they can make the switch to PC.
Rainbow Six is kind of unique in its blend between reflex shooter and strategic gameplay, but we see this level of skill elevated when switching to PC.
If you are serious about Rainbow Six competition, I think you should absolutely look in to investing your time into PC.


In preparation of the Pro League finals this week at Gamescom, take a look at the schedule for entire event! pic.twitter.com/1Nnu0zTSO7

— Rainbow Six Siege (@Rainbow6Game) August 21, 2017
'Esports was part of our intentions and directions from the start' – Alexandre Remy
Please introduce yourself and tell us what you do at Ubisoft.
I am Alex Remy, I am the Game Director of Rainbow Six at Ubisoft Montreal Studios. I've been at Ubisoft for the last 14 years and spent the last five on Rainbow Six Siege. I'm part of the core team that built it from conception, to production and, the main reason we're here – a big part of it has been to do with competition in games.

So, initially, do you build the game and develop it with esports in mind, or is it a game made for the casual player and then moulded into an esport?
I remember very, very vividly, it was about six months into conception, so it was very early. We had a meeting with the CEO of the company and we were presenting the vision for Rainbow Six Siege. Within that vision, we had one clear plan and that was to build the game with competition in mind.
So, esports was already part of our intentions and directions. A lot of our choices were made with that intention of making a competitive title. We knew we wanted a game that was competitive in how it plays, but then whether it becomes an esport is entirely up to the players and the community.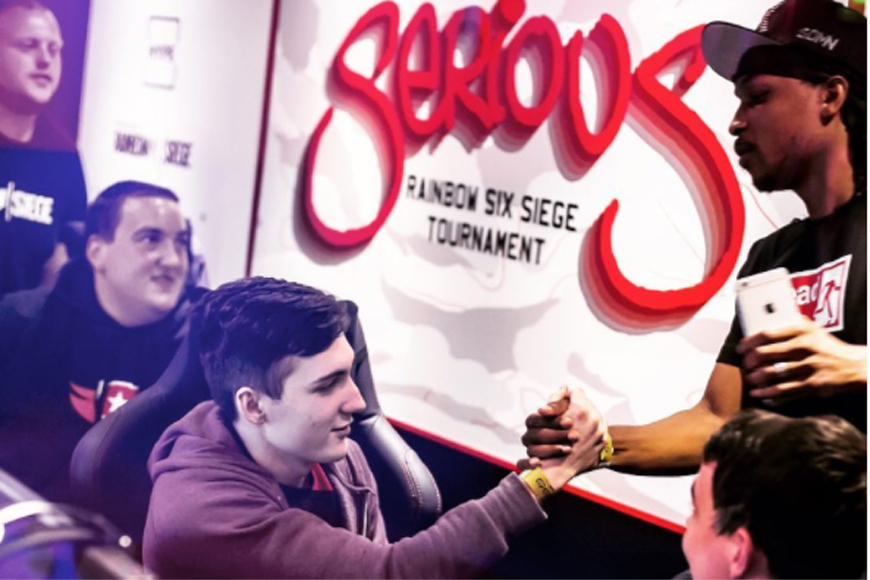 Rainbow Six had an impact on the UK esports scene last year, when grime artist JME held a 'Serious' tournament in conjunction with Gfinity (source: Gfinity Instagram)


"We knew we wanted a game that was competitive in how it plays, but then whether it becomes an esport is entirely up to the players and the community."
Saying that, do you feel like Rainbow Six esports was a product of the fans' demands as opposed to yourself making the decision?
I think Rainbow Six is the product of creative vision, first. There are many phases to a long-term multiplayer game, so we had early-alpha, the beta version etc, and even now we are enforcing this even more with test servers.
So, in doing this, we have to embrace player feedback so the moment the game is launched, this is when you say, "this is not my game anymore, this is the players' game". That's the moment when you say, "okay, I'm open to feedback, I'm open to take lots of shit, because that happens". So yeah, why we're doing and have done everything up to now is because of them.


Matt Andrews has hosted Rainbow Six tournaments in the past – and is returning to host the Gamescom event this weekend

What would you advise young people who want to follow a similar path as yourself and get in on the industry-side of developing an esports title?
I think today it's much more different to when I started 14 years ago. Now there are many university courses that exist to make your way in to video games. I sort of came into it as an accident, but now it's grown by a huge margin and is an extremely established industry making millions of dollars.
So if I had tips, I would say choose the functions you're most interested in. If that is esports then focus on esports and organising tournaments etc. If you're more interested in content and creation then it's design and programming. There are tons of universities in the world that offer these courses, so I would say just stay in school and focus on where you want to go.
Entry level jobs such as game testing are great for those extremely passionate about their project, and is a good step in to the industry. You don't particularly need the best or certain qualifications but is a good transition.

The Rainbow Six ESL Pro League Finals take place at Gamescom in the ESL Arena from August 25th-26th, kicking off from 9.45am CEST. It features eight of the best teams from EU, NA and Latin America, and has a prize pool of $237,500.
Watch the action live at https://twitch.tv/rainbow6