An esports writer has embarked on an epic journey visiting esports cafés in almost 20 different countries across Europe – including UK's Meltdown.
Carolien Vos, from the Netherlands, is travelling across Europe with her dog Evi in a bid to visit as many esports bars and cafés as possible.
The idea is to liveblog her experience on Twitch and via her website Insane Game, and to interview café owners and visitors along the way, to capture the vibe of Europe's best esports gaming bars and café.
She began planning her trip earlier this year, and it officially got underway on May 23rd with a visit to the 'Esports with Friends' bar in Hamburg, Germany.
The original idea was to visit 23 countries, however Carolien was unable to find cafés in Lithuania, Switzerland, Scotland and Ireland, bringing the number down to 19.

Shame on you, Scotland and Ireland! Carolien says she has officially 'uncooled' you when she visited Katowice (above).
She will visit the Meltdown bar in London on August 11th/12th however.
Carolien explained why she's going on the European road trip in a statement sent to Esports News UK.
"Why? Because it's fun! Society sucks, so let's unite and enjoy our lives!" she said.
"During this roadtrip I will visit at least one esports café per country. This cafe will receive a gift from the cafe I've visited before them, and will pass on a new gift for the next café, so we'll establish a chain of gifts for each other!
"The whole trip will be streamed. Get yourself out there. Talk about what you want the world to know about you, your café, your country, gaming, life, the world. It's your time to shine!
"At the end of the road trip I'll make a documentary about the awesome world of gaming that will be sent to each café as well."
Carolien had also planned on setting up an inter-café league, with the winner of a League of Legends tournament in one café playing the winner from the next café, and so on.
The full list of cafés and dates are as follows:


Follow Caro's journey at Insane Game.

Further reading: Meltdown bars to launch 'Tribes' membership scheme and quarterly magazine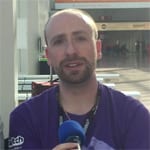 Dom is an award-winning writer who graduated from Bournemouth University with a 2:1 degree in Multi-Media Journalism in 2007.
A keen League of Legends and World of Warcraft player, he has written for a range of publications including GamesTM, Nintendo Official Magazine, industry publication MCV as well as Riot Games and others. He works as full-time content director for the British Esports Association and runs ENUK in his spare time.