Rupert Waring heads to London's Meltdown eSports bar to find out what it's like and if it's worth visiting.
Along with the growth of eSports, there has been a steady rise of gaming bars (or LAN cafes.
Many internet cafes over the years have re-positioned themselves as gaming or eSports cafes. One such 'gaming/eSports pub' – Meltdown – is located in North London and the nearest tube stop is Caledonian Road.
As a gamer myself, I nevertheless felt both intrigued and inclined to pay a visit. I have visited Meltdown twice on both a quiet late afternoon where no events are being livestreamed, and at night where the venue got quite busy and sometimes chaotic.
Based upon a recollection on my experiences on my so called 'quiet night', the atmosphere was very relaxing. For a gamer, it seemed the perfect sanctuary for one to take their mind off the daily struggles of life, kick back and enjoy the company of fellow gamers (and the bar itself, of course).
On the contrary, 'event nights' are much busier. Many people were present when the Dota Shanghai majors were being livestreamed. Like fans watching football at the pub, gamers were cheering or swearing depending on the situation or outcome of the game.
As I brought along a friend, we both felt comfortable sitting down with a pint of beer. This is much like how Brewmaster, freely with little care, distributes his beer to his enemies with his Drunken Haze spell, which cause their attacks to sometimes miss. And at Meltdown the barman was the Brewmaster. In this case, upon alcohol consumption, this caused plays ranging from the terrible, amazing and hilarious from the gamers.
Do not be surprised to see a Natures Prophet teleport into the enemy fountain by mistake. Additionally, I found that the bar has a small selection of StarCraft beverages and some Warcraft-dubbed 'potions', crafted to give the gamer that extra edge they need.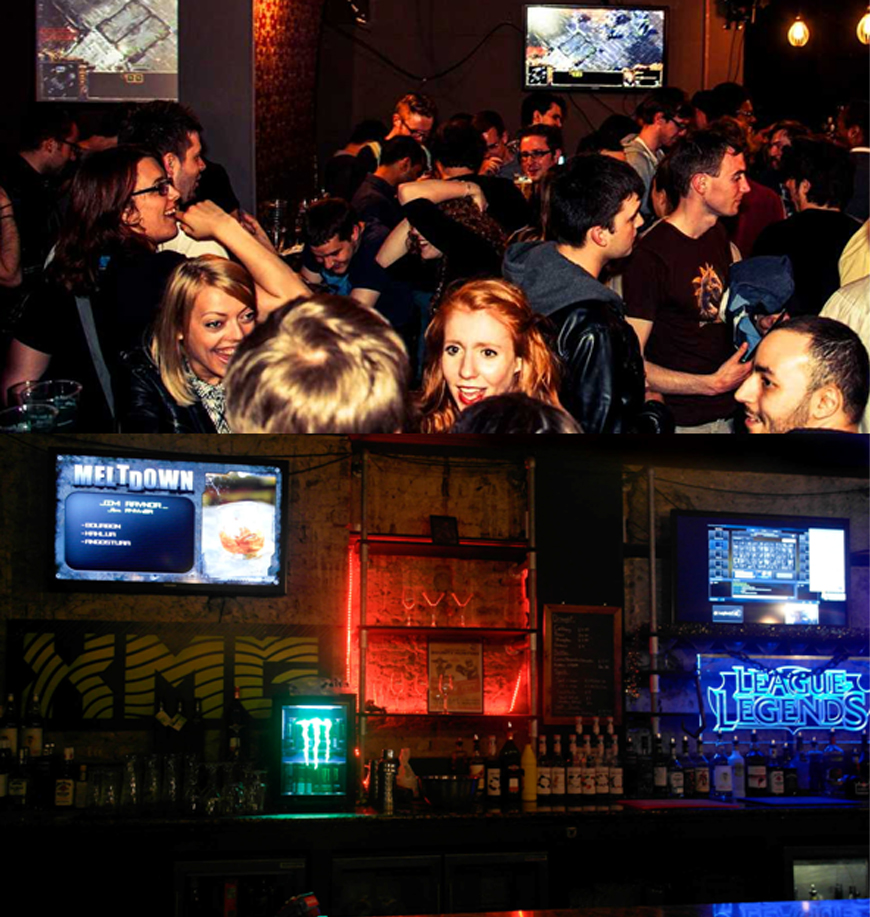 There are a total of five gaming setups, all connected with cable to the network to ensure performance is at its peak. This ensures the gamers who are playing together can easily commune with each other with great efficiency. The setups were great, the desktops were provided by Alienware and the keyboard and mice range from Corsair to MSI.
I noticed that the hardware provided were prone to change. The first night I went, there were XMG 17-inch laptops, whilst on the second there were fully fledged desktop PCs. It gave me the impression that the Meltdown is constantly making an effort to constantly improve and evolve. The peripherals area where the keyboard and mice lay was slightly cramped, but that is possibly due to the machines being placed inconveniently at the gamer's side.
Overall, Meltdown is a fantastic place with a friendly atmosphere and I strongly recommend anyone who is itching to play a few games, or to just sit back and relax, to pay a visit.
The bar has all the traditional drinks we have come to know but with some hidden items, much like how the secret shop houses items required to make the legendary Divine Rapier. On both nights I was surprised to see how well clean the place was kept and the setups are first class.
I did, however, get the sense that Meltdown needs time to grow and expand if it wants to reach its full potential. That was the impression it gave me and it's currently in the phase of maturity and growth. It could use more setups and more screens for those who are into watching live Twitch streams.
Ultimately, this is a fantastic establishment and it felt like a step in the right direction for eSports.

More information: Meltdown London website

Hide our ads and become a premium reader to support ENUK today from just £1 per month!