Multiplay has announced the games, prize pools and formats of the first esports tournaments at i61, which takes place in August.
The games and prize pools are as follows:
CSGO – £7,500
League of Legends – £5,000
Team Fortress 2 – £5,000
Overwatch – £3,000
Rocket League – £1,500
Hearthstone – £500
It seems like some tournaments – such as Overwatch – still have a scaling prize pool dependent on the number of teams taking part. The Overwatch page states a 'current prize pool', while other pages like LoL say it's just a firm 'prize pool'.
Considering the Hearthstone Truesilver Championship at i58 had a pool of around £20,000, this £500 figure is an unusually low amount.
The winning player of the i61 Hearthstone tournament will receive £250. At i60, Hearthstone had a £2,000 prize pool.
However, some tournaments are dependent on sponsors. The Truesilver Championship at i58 had Ballistix as a headline sponsor.

"Headline tournaments will always host a minimum prize pool of £5,000, with the option for sponsors to increase it further."

Still, it's a welcome change for UK League of Legends following the £1,500 i60 prize pool, which some claimed dropped the quality of play to the lowest it's been in years.
Multiplay also announced changes to Insomnia tournament classification.
Tournaments now fall into one of three tiers: Headline tournaments (BYOC competitions that are streamed and feature a stage final and a minimum prize pool of £5,000), Community Prize tournaments (less popular tournaments that don't have a stage final or stream, but are open to community streams) and Casual Cups (smaller casual tournaments).
"With Headline tournaments, we aim to showcase and support the growing esports talent within the UK," Multiplay said in a statement. "We'll be working with partners to improve the tournament experience for both players and our audience on Twitch.
"Headline tournaments will always host a minimum prize pool of £5,000, with the option for sponsors to increase it further."
i61 runs from August 25th to 28th at the Birmingham NEC.

Image source: Multiplay Flickr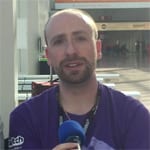 Dom is an award-winning writer who graduated from Bournemouth University with a 2:1 degree in Multi-Media Journalism in 2007.
A keen League of Legends and World of Warcraft player, he has written for a range of publications including GamesTM, Nintendo Official Magazine, industry publication MCV as well as Riot Games and others. He works as full-time content director for the British Esports Association and runs ENUK in his spare time.