There will be £70,000 up for grabs across Multiplay Insomnia58's various eSports tournaments – the largest prize pot in the event's history.
Elsewhere, half of the event's BYOC tickets have been sold.
Multiplay previously announced i58 tournaments will include League of Legends, Rocket League, and CSGO, while Overwatch will make its Insomnia debut.
It also revealed a dedicated League of Legends area – known as League Fest – which will include its own £15,000 tournament featuring both pro and amateur players.
While Multiplay says in a press release that £55,000 is up for grabs at i58, it seems that doesn't include the £15,000 League Pro-Am.
A quick check of the i58 website shows the full prize pool break-down is actually £70,000. It's as follows:
Hearthstone Truesilver Championship – $30,000 (around £21,000)
Hearthstone Insomnia Redemption Cup (for eliminated players) – £2,000
League Fest Pro-Am – £15,000
CSGO – £7,500
Dota 2 – £5,000
Overwatch – £5,000
Team Fortress 2 – £5,000
League of Legends – £5,000
Rocket League – £3,000
FIFA 16 – £750 (£250 per day)
Smash Bros – £750 (£250 per day)
There's also a separate pub quiz with a £2,500 prize pot, which we obviously haven't counted towards the overall eSports prize pool.
Craig Fletcher, CEO and founder of Multiplay, said: "This is the largest Insomnia to date. We're expecting 100,000 people in August, making Insomnia one of the biggest festivals in the UK."
Andy Smith, Insomnia events director at Multiplay added: "We've already sold over 50% of our tickets, so we'd encourage anyone thinking about coming along to book now."
Insomnia58 will be taking place at the Birmingham NEC from August 26th to 29th. Tickets are available at https://insomniagamingfestival.com/tickets/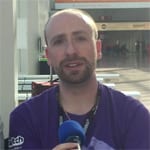 Dom is an award-winning writer who graduated from Bournemouth University with a 2:1 degree in Multi-Media Journalism in 2007.
A keen League of Legends and World of Warcraft player, he has written for a range of publications including GamesTM, Nintendo Official Magazine, industry publication MCV as well as Riot Games and others. He works as full-time content director for the British Esports Association and runs ENUK in his spare time.