Hi all,
Dom here. Just a quick note from me to let you know that the amount of content posted on eSports News UK will likely drop a little this month and next.
No I'm not getting lazy… well, maybe I am a bit now that I'm old and in my 30s, and no it's nothing to do with my full-time job. This time I have a bigger excuse.
I'm now a dad!
Scary, huh. Let's get that frightening thought out of our minds at once.
While it's all very exciting and stuff, it obviously means I won't have as much time to follow the UK eSports/League of Legends scene, research, write, absorb memes or produce videos anymore.
Most of my working time will now be spent on my day job with the British Esports Association. I simply won't have as much free spare time to spend on eSports News UK.
I'm sure my hands will be full, quite literally… as my bundle of joy cries, eats and poos his way into childhood.
However, that doesn't mean I'm saying goodbye to the site. On the contrary, I'll still be posting articles and videos when I can, but there will likely be more opinion pieces and fewer news-focused posts from me going forwards.
All of the site's great volunteers will still be around to post up articles, including David Hollingsworth, Oscar Pelling, Craig Robinson to name a few, so please make sure you give them a follow.
Also, if you have any parenting tips, for the love of God, share them. Please. I'm not sure I'm going to survive this being a dad lark!
Hide our ads and become a premium reader to support ENUK today from just £1 per month!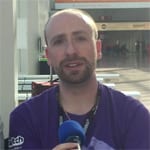 Dom is an award-winning writer who graduated from Bournemouth University with a 2:1 degree in Multi-Media Journalism in 2007.
A keen League of Legends and World of Warcraft player, he has written for a range of publications including GamesTM, Nintendo Official Magazine, industry publication MCV as well as Riot Games and others. He works as full-time content director for the British Esports Association and runs ENUK in his spare time.