Events organiser Multiplay has announced the first few eSports tournaments taking place at its next gaming event – Insomnia59.
For the first time there's a Battlefield 1 tournament, featuring a prize pool up to £3,000, but so far there is no League of Legends BYOC competition announced.
However, it's likely League of Legends will have some kind of presence at i59 following League Fest at i58 in August (and the fact the UK Masters finals will take place at i59).
We reached out to Multiplay to clarify, and a spokesperson told us that while they didn't have any specific news around League of Legends, they said the team is "still working on some projects, so there are likely to be some more announcements soon".
There will be two 'headline' events: a £5,000 CSGO tournament and a £2,000 Hearthstone tournament, though there's been no mention of another Hearthstone Truesilver Championship yet. The latter featured a $30,000 prize pool at the most recent Insomnia event – i58.
These tournaments are separate to the UK Masters ones, the finals of which will also take place at i59.
In Multiplay's announcement today, it also revealed that there will be a Rocket League tournament with a prize pool up to £3,000, plus an Overwatch open with a max prize pot of £5,000.
Casual cups include StarCraft II, Heroes of the Storm and Call of Duty: Modern Warfare Remastered so far.
Tournaments other than the two headline ones will now have a scaling prize pool, with money starting at half of its potential maximum and rising depending on the number of sign-ups.
"This will allow us to support more games, as well as tailoring prize pools to the game's popularity," Multiplay said in a statement. "Time permitting, some of these games will have stage finals, but they won't be guaranteed, with many finals being played from your BYOC desks."
UK caster Tom "Tridd" Underwood wrote a Twitlonger post about the new announcement and explored the idea of putting the bottom half of eliminated UK Masters teams into the BYOC tournament (treating the latter as a lower bracket to Masters, with its own prize pool).
Multiplay eSports manager Charlie Tizard responded, saying that potentially cutting off Insomnia's BYOC prize pool from the top teams "seems unjustified, when it's another avenue for revenue for teams".
Multiplay also announced a new look for Insomnia earlier this month, including an eye-style logo and a new website.
Other features at i59 include drone racing and live music. Multiplay has signed a three-year deal with Island Records so you can expect artists from that label to perform at the show.
Multiplay is also thinking of adding separate game halls to i59, according to rumours.
i59 takes place from December 9th to 11th at the Birmingham NEC.
Hide our ads and become a premium reader to support ENUK today from just £1 per month!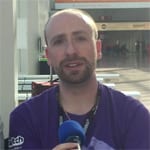 Dom is an award-winning writer who graduated from Bournemouth University with a 2:1 degree in Multi-Media Journalism in 2007.
A keen League of Legends and World of Warcraft player, he has written for a range of publications including GamesTM, Nintendo Official Magazine, industry publication MCV as well as Riot Games and others. He works as full-time content director for the British Esports Association and runs ENUK in his spare time.