Multiplay, organisers of the popular Insomnia gaming festivals, is thinking of adding more game-specific halls like League Fest in the future – as well as live bands.
The League of Legends event took place within i58 last weekend (August 26th to 29th 2016) boasting its own dedicated hall, a £15,000 Pro-Am tournament, cosplay shows, merch stalls and other community activities.
Rumours suggest that Multiplay is considering adding other dedicated game halls in the future, either at i59 this winter or at an event next year. For example, the idea of a CSGO Fest, Hearthstone Fest or CoD Fest could be explored (with names obviously not final).
There's also the possibility of getting sponsors involved with each hall.
A source close to the event told eSports News UK that Multiplay was testing the water with League Fest, and could add new halls for other games in the future, depending on how well it was received.
League Fest seemed a success – there was capacity for 2,000 people and the Pro-Am tournament (and player meet-and-greets) drew solid crowds throughout the weekend.
At i58 there were two 'Fest' halls – the GAME Fest expo area and League Fest. Separate tickets for the latter ranged from £30 for a day pass to £150 for a VIP weekend festival ticket. But existing i58 visitors could pay £5 to upgrade to a League Fest pass.
While separate game halls are not yet confirmed for Insomnia (a spokesperson told eSports News UK they "don't comment on rumours"), Multiplay has signed a deal with Island Records and Universal to bring some live music to future Insomnia events.
Starting from i60 in spring 2016, there will be live music from Island Records, 'all new evening entertainment, interactive gaming zones, BYOC chillout zones' and what's being described as a 'creative challenge'.
Multiplay says 'at least five artists' will be coming to i60. It's asking fans to vote for who they'd like to see perform, including Jack Garratt, Rizzle Kicks, John Newman, Lethal Bizzle, Bastille, Mnek, Professor Green, Ella Eyre, Aluna George and Chase & Status.
Multiplay made the announcement in this video:

Multiplay is also asking people to fill in this survey and suggest live artists to perform at i60, choosing from the likes of Tiesto, KSI, Dizzie Rascal, Ellie Goulding and more. Multiplay CEO Craig "Wizzo" Fletcher previously described i-series as "the Glastonbury of gaming", so adding live music to the eventisn't too much of a surprise.
Insomnia has changed since retailer GAME purchased Multiplay last year.
The new GAME Fest expo area was added, catering to the mainstream gaming fan, while the BYOC area remained and the i58 eSports tournaments received an increase in prize pools.
Team Dignitas owner Michael "Odee" O'Dell recently left Multiplay after almost seven years at the company.
He was sales manager at Multiplay, where he was responsible for all aspects of sales at including events, clan servers and commercial hosting. eSports News UK understands he had a part to play in some of the eSports areas and the ideas behind League Fest.
No longer employed by @Multiplay feels weird!

— Michael O'Dell (@dignitasODEE) August 4, 2016

Live pop music is a new direction for the long-running UK gaming festival.
If it means more famous artists and personalities around to help promote the eSports areas, we're all for it; we just hope that Multiplay doesn't lose its focus as a respected provider of LAN gaming along the way.
Hide our ads and become a premium reader to support ENUK today from just £1 per month!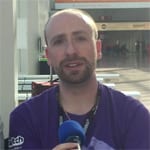 Dom is an award-winning writer who graduated from Bournemouth University with a 2:1 degree in Multi-Media Journalism in 2007.
A keen League player and WoW RPer, he has written for a range of publications including Games TM, Nintendo Official Magazine, games industry publication MCV as well as Riot Games. He currently works as full-time content director for the British Esports Association.