Last week, Loughborough University opposed a motion that aims to get competitive gaming recognised as a sport, AND had the cheek to call the National Union of Students (NUS) 'bonkers' for considering it. 
Esports News UK editor Dominic Sacco responds in this open letter to Loughborough Students' Union VP of Societies Jenna Holmes, Head of News Dan Leedham and anyone else from the university that opposes the motion.
Dear Jenna,
I am writing to you following your comments made around the NUS' motion for competitive esports to be recognised as a sport – and your opposition of the motion.
I understand there was some confusion over your university's (somewhat sycophantic) article on this, and whether it was a news story or an opinion piece.
Well, let me make this clear: this is an opinion piece. And one that vehemently disagrees with your naive and embarrassing comments.
But it isn't my intention to humiliate you; I just want you to give esports a chance. So hear me out, and if you still oppose it afterwards, I'd be happy to hear your reasons why.
Firstly, you say that esports can't be recognised as a real sport because it isn't 'physical'. May I bring your attention to chess, darts and even tiddlywinks. Okay, so the latter might not be an actual sport, but it's a game that has a world championship.
My point is, none of these games are overtly physical, yet they exist. Would you oppose them? Should chess players stop playing right now because it's not physical enough? Think of all the kids that enjoy playing tiddlywinks – would you deny them the prospect of becoming the next world champion?
I'd also argue that esports is physical in a way – it requires extremely fast hand reflexes, player communication and serious mental strength.
Secondly, I take your point on esports being virtual. To some degree it is, but it still needs real, human players to exist.
Think of the computer as the chess board – the players control the pieces within it.
However, why are we even arguing whether competitive gaming is a sport or not? I couldn't care less what it's called. It exists and it's going to grow. Its fanbase is on track to become bigger than the NFL.
Call esports garbage for all you like. But if it is garbage, it's one of the biggest, most exciting rubbish dumps in the world – and you obviously don't like the smell.
The Dota 2 International tournament has an $18 million prize pool. 36 million people tuned in to watch the League of Legends World Championship final last year. I could go on.
How many people watched the netball world championship last year? I don't know, but the game is apparently played by more than 20 million people worldwide (and just how physical is that sport, anyway?).
In comparison, more than 67 million people play League of Legends each month. And that's just one game within the esports umbrella.
I see you have also played sports such as hockey, tennis and athletics. They are some great sports. I enjoy playing football and badminton myself – but I also recognise that esports is a growing entity too.
So, what are you worried about exactly? I'm genuinely interested in this point you raised.
On the NUS' motion to BUCS, you said it's "far from being a definite so no immediate worries but still ridiculous".
Why do you not want esports to be recognised as a sport and receive additional funding?
Are you scared that esports is going to overshadow physical sports? If so, that's a bizarre stance to take – physical sports will always be around.
Or are you concerned that some of your £75,000 budget for student activities will – God forbid – be spent on gaming?
You say a team reports in to you. Are you worried they will back esports and ask you to support it in the future? Is that why you're opposing the motion?
You say you're part of an executive team that leads Loughborough Students' Union, an organisation that turns over £10 million a year to be put back into charitable activities. That is an impressive sum and I commend you for that.
I wish the National University Esports League (NUEL) generated that much. Do you know that the NUEL originated from Loughborough University?
Here are some of your students and alumni in the NUEL.
How do you think they must feel having read your comments? The irony is so bitter I'm finding it hard to swallow.
Some say that the BUCS shouldn't approve the motion because there's already the NUEL. Perhaps you don't understand what it is.
I urge you to read our interview with the NUEL here and here, do your research and educate yourself.
There is hardly any money in UK esports. Most of the top-level players here play for nothing – wages and contracts are not the norm – and it is very difficult for them to make a career out of it. Read Tundra's story here for an example.
The ESL UK Premiership has a prize pool of around £10,000, and that's divided between four teams and multiple players. By the end of the tournament, there's not much left to go around.
Where do you think the National University Esports League (NUEL) gets its funding from at the moment? It is a private enterprise and the NUEL receives no funding or assistance from Sport England, BUCS or any other university body, yet last year over 400 student teams competed against each other for a place in the national leagues and a chance at going pro.
Some of the university esports societies within the NUEL get some small funding from their students' unions, and the NUEL managed to get retailer GAME to sponsor its recent League of Legends Championship. But other than that, it has no revenues.
And yet the NUEL is vital to fostering talent in the UK. Think of it as an under 21s' football training ground. It provides a platform to young players, the potential professionals of the future and tells them it's possible to have a career in esports. Would you deny those people from fulfilling their dreams?
I don't care that you're trying to stop esports from being recognised as a sport; I care that you're blocking vital funding from a scene that so desperately needs it.
This person below is Lee Sang-hyeok, also known as Faker. He is widely regarded as the best League of Legends player in the world.
The Korean pro has earnt hundreds of thousands of dollars in his career so far and has won countless tournaments with his team SK Telecom T1. He is 19 years old.


Korea is known for fostering esports talent
The Korea e-Sports Association (KeSPA) is a body that manages and promotes esports in South Korea. There are gaming academies in that country that encourage and train the next-generation of pros to be the best in the world.
We don't have anything like that in the UK. Yet.
Below is a photo of Fnatic's League of Legends team, who are regarded as one of Europe's best.
Their organisation is based in the UK. But they don't have a single British player, possibly for some of the reasons I've outlined already. And they are nowhere near the level of SK Telecom T1.
Wake up – the things you're opposing now could hold back esports in the UK for years to come.


Also, as a Youth Olympian, did you know that the UK Government is backing an esports tournament at the Rio Olympics this summer?
Culture minister Ed Vaizey said: "I want the Government to get behind esports. I think esports is the next frontier for us.
"I think the UK and London can be one of the world capitals for it. I'd love London to host the eGames Olympics and to see people from all over the world play in a range of games."
Is the Government wrong on this one? What do you think of Ed's comments?
LSU Media also said that "the NUS conference doesn't in any way reflect a balanced demographic for 'average students'," hence the motion being passed.
The article read: "Where do we draw the line with how much we let NUS make decisions that affect the 'average' students that make up the majority of our campuses and yet make up the minority of conference?"
What is an average student? And what are you implying here – that some students' views hold more weight than others? That gamers are in the minority?
You should be ashamed.

Finally, I challenge you to give esports a go. That's right – go and talk to your computer society at Loughborough University and join one of their gaming sessions.
Jenna, you said yourself that 'uni is the place to give it a go'.
"Your experience here is completely what you make it, you get out what you put in and here at Loughborough, you get it back in spades!" you said. "I am one of those people who couldn't say no to getting involved."
Well, put your money where your mouth is and prove it. As VP of Societies, I'm sure you will stand by your word.
With the specific role you hold on the Students' Union, you're also best-placed to learn about your societies first-hand and better understand their concerns.
Play a competitive game like Counter-Strike, watch a team compete in it together and then tell me it's not a sport. Watch a match online on Twitch.
I want you to understand and try and feel the competitive spirit that esports has. Like hockey and netball – you might find it is fun and full of camaraderie.
Please let me know how it goes, and I'd be more than happy to publish a response from you here at esports News UK.
Thanks for reading.
Good luck and happy gaming.
Dominic Sacco,
Esports News UK editor and founder
P.S. A few people have contacted me since the publication of this article who were offended by my some of my comments. I want to apologise if this caused offense – it wasn't my intention to offend anyone. I was just trying to voice my opinion and perhaps could have done this in a better way.

Image sources: ESL Flickr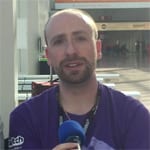 Dom is an award-winning writer who graduated from Bournemouth University with a 2:1 degree in Multi-Media Journalism in 2007.
A keen League of Legends and World of Warcraft player, he has written for a range of publications including GamesTM, Nintendo Official Magazine, industry publication MCV as well as Riot Games and others. He works as full-time content director for the British Esports Association and runs ENUK in his spare time.