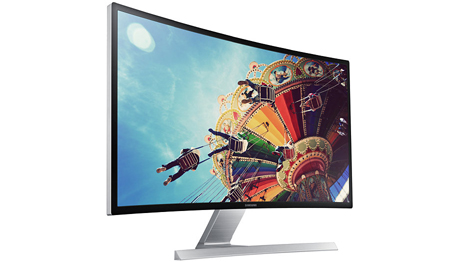 With all the talk of 4K and FreeSync/G-Sync PC monitors out there – and the impressive high resolutions and stutter-free gaming they bring – curved monitors aren't receiving as much love. But are they better for PC gaming than you think? We put a £250 Samsung display to the test.

Product: 27″ SD590C Curved Full HD LED Monitor
Manufacturer: Samsung
Release Date: Out now
Price: £249.99
Retail supplier: Northamber
Reviewer: Dom Sacco
Are curved monitors a decent alternative to 4K and FreeSync/G-Sync monitors? The short answer is yes, but there are obvious differences and nuances that makes me think it will depend on what you want from your display and what kind of a gamer you are.
The first thing that strikes you about the SD590C monitor is its shape – the curve is more noticeable from the side and subtle from the front – and 27-inches is a decent size for a PC monitor. When viewing the screen face-on, from the centre to the edges the screen curves ever so slightly outwards, making it seem bigger in the corners. This gives the impression it's larger than it actually is, and while that's great for casual open-world titles, like Far Cry, GTA and World of Warcraft, it's not actually advantageous for MOBAs.
While it makes games look bigger, better and more rich than they do on a standard monitor, there's more of the screen. So for reaction games like League of Legends or Call of Duty, it means you have to move the mouse more to reach the edges of the screen, and in the extra split second it takes to do this, you could have been killed or hit hard by an opponent in-game. I would say a curved monitor is rather pointless if you're only going to play those kind of games.
However, if you're already used to playing on a large monitor, this is obviously a moot point. And due to this monitor being larger than my usual AOC 21-inch display, along with its curve, I found myself leaning back slightly more than before to see it all, which I felt helped my posture.


And here lies the real strength of curved monitors: these things are endurance beasts. Samsung says the curve is designed to be just the right curve radius for the human eye, so that every part is the same distance to your eye and the viewing is more comfortable. Then there's the flicker free technology which aims to protect your eyes from strain caused by flickering screens on conventional monitors.
In other words, you're better off going on a gaming binge and playing for hours on ends with one of these babies. It's better for your back and your eyes. And because it makes games with rich environments but more chilled out gameplay like World of Warcraft and Final Fantasy XIV look so fantastic, I would say a curved monitor like this is perfectly suited to MMO games.
On the other hand, 4K will make gorgeous new games look their very best, while smaller FreeSync/G-Sync displays are probably best suited to serious games like MOBAs, first-person shooters and aspiring eSports types, as they're stutter-free (and you don't really want that when you're halfway through a heated team-based game).
Speaking of screen tearing, with the Samsung curved monitor I did notice some very minor screen-tearing in graphics intensive games such as Assassin's Creed Unity running on max settings.
While it's a full HD 16:9 monitor with a 1920 x 1080 resolution and 4ms response time, one of the downsides of the SD590C is the lack of a DVI connection, despite some retail websites incorrectly stating it has one. I had got used to connecting my monitor to my computer via DVI with my usual display, and switching to HDMI means some things like text in games and web browsing can be a little grainy (the monitor only comes with a HDMI cable out of the box – you'll have to use or buy a separate cable if you want to connect via DisplayPort or RGB).
After testing all three out I found DisplayPort to be by far the best option with a clearer, more crisp picture.


The monitor also comes with an audio lead and 5w built-in speakers, which do the job pretty well, but can get slightly tinny at higher volumes so of course I'd recommend a set of speakers and a sub-woofer (or a decent gaming headset) instead.
But possibly the most off-putting thing for me with this monitor is the stand. While it looks stylish, discreet and all modern and lovely, Samsung's stands aren't the sturdiest in the world, and with a solid accidental knock to my trusty old IKEA desk, the monitor occasionally wobbles slightly from left to right. It's a real shame because it can ruin the immersion in some games when it happens (and makes it annoying if you're a hard typist like I am)!
However, the monitor does support 100×100 mm VESA standard brackets for wall or table mounting, which would solve that problem, but in my current situation is not possible.
In terms of customisation options on the monitor itself, there are a bunch of 'cool' and 'warm' tone settings, plus customisable colour options and a 'Game Mode', which turns up the contrast/hue and aims to make faster movements smoother. This does make the game brighter but again makes the text slightly grainy, so I tend to leave it switched off in text-heavy games like role-playing titles.
With that said, for the price I can't really complain about the SD590C. It's £250 – cheaper than most 4K and FreeSync/G-Sync monitors already on the market (though a £229 FreeSync AMD monitor is on the way later this year) – and it's curved! I can guarantee you that you'll get some "oooh check you out!" comments from impressed friends and relatives when you tell them you have a 'curved' PC monitor.
Could it feel like a gimmick a few years down the line? Possibly, but honestly it does the job well for the money so if anything I think we'll actually see even more curved monitors used for PC gaming in the coming years.


Verdict
For casual PC gamers this is an absolute delight, and it's a great monitor for the price – but a few niggles let it down. The more serious gamers out there may want to dig deeper into their wallets for something more meaty.
7/10
Pros: Affordable, decent size, brings open-world games to life, easy to setup, it's curved!
Cons: The stand is a little wobbly, no DVI compatibility, tinny speakers, it's not 4K
Specs: Check out the official Samsung product page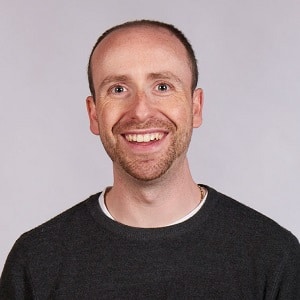 Dom is an award-winning writer who graduated from Bournemouth University with a 2:1 degree in Multi-Media Journalism in 2007.
As a long-time gamer having first picked up the NES controller in the late '80s, he has written for a range of publications including GamesTM, Nintendo Official Magazine, industry publication MCV as well as Riot Games and others. He worked as head of content for the British Esports Association up until February 2021, when he stepped back to work full-time on Esports News UK and as an esports consultant helping brands and businesses better understand the industry.