FIFA 13 introduced the popular Seasons mode to Ultimate Team (FUT) this year, but it's far from easy to get to division 1, let alone win it.
We show you how to become champions of FUT online in 12 simple steps.

The challenge
To win division 1 online, which rewards you with around 9,000 coins and a premium gold pack. There are four leagues to climb before you reach the top division, and each consists of 10 games. Like real football, you get three points for a win, one point for a draw and zero points for a loss. Win enough games and you'll get promoted early or even win the league, which will give you an additional coin boost.
It becomes increasingly harder to get promoted as you climb the leagues. For example, you'll need more points to go from division 2 to division 1, than you will from division 5 to division 4. Obviously, the standard of teams you'll play against will rise, too.
To win division 1, you'll need 21 points from 10 games, which means at least six wins and three draws, or seven wins. Like we said – far from easy. Follow these tips to find success:
1. Build a killer team
Have a game plan from the start. Pick a formation you not only are comfortable with, but one you excel with. Choose players from a certain league/nationality to boost chemistry, and make sure you buy players with the correct formations and positions.
You don't need an extortionate amount of coins to win division 1. Here's our 4-3-3 French squad that won us the division 1 title and the prices we paid for each player: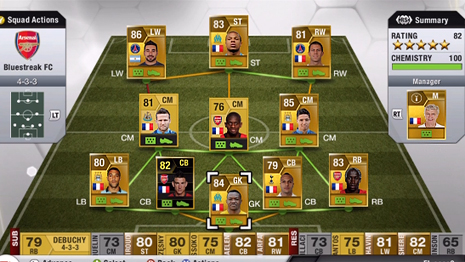 Manager: Wenger, Arsenal (2,000 coins)
GK: Mandanda, Marseille 6,900 coins)
CB: Kaboul, Spurs (around 9,200 coins)
CB: In-Form Koscielny, Arsenal (45,000 coins, is now worth 60,000+, but you can get a standard version for around 10,000 coins)
LB: Clichy, Manchester City (22,000 coins)
RB: Sagna, Arsenal (15,250 coins)
CM: Diaby, Arsenal (2,000 coins)
CM: Nasri, Manchester City (47,000 coins)
CM: Cabaye, Newcastle (5,000 coins)
RW: Menez, PSG (1,900 coins)
ST: Remy, Marseille (7,900 coins)
LW: Lavezzi, PSG (23,250 coins)
Total: 187,400 coins
OK so it's not the cheapest team in the world, but it was a gradual purchase. Start out with one or two cheaper players (like Diaby and Menez above), then slowly build your squad as you climb the tables. Get to know your players well, what their strengths are and who should take free kicks etc.
2. Pace makers
When you're playing at the top level on FIFA Ultimate Team, you can't really afford to have players with less than 70 pace, unless the player has other exceptional stats, like Pirlo and his 90+ passing. You will get beaten to the ball a hell of a lot, and that means losing ball possession often and eventually letting in more goals.
We can guarantee you most of the teams you'll be up against will have strikers with at least 85 pace, so if you can't beat them, join them. Our striker, Remy, offers incredible value for money. He cost 7,900 coins, and has 92 pace and 76 shooting (not bad) – more than enough to go on the break and punish teams. Our wingers also have 93 pace and 85 pace respectively, making it incredibly difficult for our opponent's full-backs to catch us.
Make sure your wing backs have decent pace, too, to catch up with your opponent's wingers. For example our left-back Clichy has 89 pace and Sagna our right-back has 79 pace. We also recommend having centre-backs with at least 70 to 75 pace as well.
3. Heads up
Scoring a headed goal from a corner is probably the least exciting and skill-less way to score a goal in FIFA 13 Ultimate Team, but they all count. Remy our striker has 84 heading, and you'll want your centre-backs to have decent heading too, as they will push up for corners and will bag you one or two every now and then. And when defending a corner, they'll be able to push your opponent's strikers off the ball in mid-air.
4. Have a game plan
Whether you like the counter attack game, wing play, the passing game, lofted through balls or whatever, learn it and master it. If a tactic is not working for you, drop it and try something else.
And of course, adapt your style to the team you're playing against. If you're getting caught out at the back often, try switching to a defensive style (press left or right on the d-pad depending on which goal you're facing, to move the slider in between the far left and middle points). If the team you're playing against is poor at attacking, but you can't find a goal, switch to an attacking style (use the d-pad to move between the middle and far right indicators).
We don't advise using ultra defensive or ultra attacking options, unless it's the dying minutes of a game and you want to take a risk to hold onto that point against a better team than you (ultra defensive), or go for broke and hope to get a winning goal (ultra attacking).
Video: Our title-deciding division 1 match
This will give you an idea of the kind of game you might be playing in division 1:

5. Learn to play
This one goes without saying. Check out our other guides if you haven't done already. You'll need to be on your game if you want to come close to getting to division 1. Bear in mind a lot of the FIFA 12 guides still apply to FIFA 13, as not much has changed in terms of gameplay and controls. You'll want to tap LT/L2 to control a difficult ball the moment your player receives it, if you want to play it safe and keep it under control.
6. Keep fit
Save money on fitness cards AND get more coins quickly by alternating your squad. Play one Seasons game online, then play one Seasons game offline with your B-team. You can pick average players for this squad if you're good enough – it's easier against the computer than it is real players.
7. Frustrate your opponent
Don't let them near the ball. Make simple passes – go back to your defenders if you have to – and play it safe. Keep the ball for a few minutes and weaker opponents will go in hard, become reckless and push their men forward, leaving gaps at the back for you to exploit.
This is a particularly handy tactic to use if you are drawing and want that winning goal (as will your opponent), or if you're winning by one goal. If you're two or more goals up, we suggest going forward in search of more goals – you have less to lose when pushing forwards and you could get more coins at the end of the match.
8. Take calculated risks
Drawing matches regularly won't cut it in division 1. If you're level and there's five in-game minutes left, push to attacking or ultra attacking and go for that late winning goal. There's not much difference between a loss and a draw, but a win is obviously worth so much more at the top.
9. Don't make silly mistakes
This is of course easier said than done, but can make all the difference between a loss and a win. If you're passing it back to your keeper, it's always safer to kick it out high and far rather than passing it to a nearby defender. A good team will intercept, pick the ball out, take advantage of your mistakes and punish you.
10. Skills to pay the bills
Unless you're playing to frustrate your opponent, avoid show-boating; needless skills won't get you anywhere. If you can beat a player with a simple one-two, or a dummy shot, rather than a complicated five-star skill move that's a lot tougher to pull off, do it. The best FIFA Ultimate Team players don't learn all the five-star skills and hammer them out sporadically, they learn the most effective skills and the best time to use them.
11. Pick a beast central midfielder
Go for someone who is strong with impressive defense and heading stats, like Everton's Felliani. After a goal kick, most of the time the two central defenders or central striker/defender will go up to challenge for the ball. If you have someone with decent stats, you'll win the ball most of the time.
It's also a great tactic to have a player who is better than he actually appears at first glance. For example, when an opponent sees our team at the start of the match, they probably notice Diaby's 76 rating and think he's the worst player on our team. They couldn't be more wrong. He's a rock, a ball-winner, and will win most 50/50 challenges. Pick a Diaby-style player for your central midfield.
12. Keep calm
You can't force greatness in FIFA 13 (unless you have Messi/Ronaldo in your side, you're a FIFA God or are playing against the gaming equivalent of Rotherham United). Be patient, build up your play slowly and don't let your opponent frustrate you into making mistakes. If you get emotional or frustrated after falling behind by a few goals, your play will suffer and so will your goal-scoring chances. Try not to let going a goal down mentally affect you.
Your tips
Why not share your advice in the comments section below?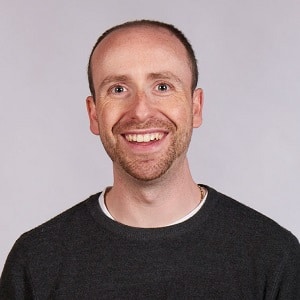 Dom is an award-winning writer who graduated from Bournemouth University with a 2:1 degree in Multi-Media Journalism in 2007.
As a long-time gamer having first picked up the NES controller in the late '80s, he has written for a range of publications including GamesTM, Nintendo Official Magazine, industry publication MCV as well as Riot Games and others. He worked as head of content for the British Esports Association up until February 2021, when he stepped back to work full-time on Esports News UK and as an esports consultant helping brands and businesses better understand the industry.