In the world of esports, pro players, casters and streamers are often the ones in the spotlight, but there are many key people working behind the scenes every day to bring us the content we love, whether it's production staff, video editors, marketers and more.
Graphic designers are significant too – often responsible for impressive artwork and headers on social media or YouTube thumbnails. 19-year-old Lewis 'Medz' Meddings is one such talented British graphic designer, who has already worked with the likes of FaZe Clan and Misfits, and caught the attention of several big players in esports. Esports News UK editor Dom Sacco chats with the self-taught designer and his manager Benjamin 'Parched' Dovey to explore their journey so far and what his work involves, such as designing the Bronny James FaZe Clan announcement graphic.
Some say you should never meet your heroes, 'because they'd be sure to disappoint you', but for young upcoming esports graphic designer Lewis 'MSF Medz' Meddings, he's now working with the heroes he grew up watching.
19-year-old Brit Medz is a self-taught designer who started learning the ropes back in 2016, and his hard work and willingness to succeed has seen him work with the likes of Misfits, FaZe Clan, the Florida Mutineers and more.
"It sounds egotistical, and I'd like to think I'm the least egotistical person out there, but everything I've worked for, I've got the work ethic and determination for," Medz tells Esports News UK in an interview. "And I want to keep going. I watched FaZe as a kid and that's why I'm so happy to be working with the people in FaZe now.
"I worked with them when they announced LeBron James' son Bronny. I was the person who made that graphic, so I was one of the very few people in the world to know about him joining prior to the announcement – it was very secretive. So I had to make the graphic for that and then obviously I did a few other videos like Among Us vs Sidemen.
"Sometimes I have to take a step back and look at the people I've worked with. I was in talks with Soulja Boy about working with him, he followed me and we spoke a bit, but it sadly fell through and didn't go to plan. But just having the reach and speaking to people that I've watched as I've grown up is good to see."
So how did Medz get started on his journey, and how did he get to work with big names and personalities in gaming?
"Well, the original reason why I started doing design was because I used to make YouTube videos as a kid," he explains. "And instead of just taking free-to-use thumbnails from Google, I decided to learn Photoshop and how to make my own thumbnails. So it went from a hobby to helping clients through their journey, and yeah, it went from there."
In terms of reaching said clients, Medz would produce at least a single piece of work every day, for creators, for personalities, for brands, and soon enough, people started to take notice.
"With my first Twitter account back in the CoD community days, I was doing unpaid work for CoD orgs and friends, then I tried to get more involved and serious later on," Medz continues.
"To other aspiring designers out there, I'd suggest finding a content creator you watch and try to get work going for them, offer your free services, and if they like your work, they can work with you and get your name out there. From there, clients can come from their followers. So working for free to get more clients and then get paid – that can work."
Medz has worked with orgs and creators in Call of Duty, Fortnite, Battlefield and more, and often makes free graphics for all kinds of companies and brands – including his football club Aston Villa – without being asked to do so. It all helps to raise his profile.
His hard work and determination soon caught the attention of esports organisation Misfits.
"It's hard because most orgs do require certain levels of qualifications to do with graphic design, and I'm just self-taught," Medz says. "But in terms of Misfits, I just worked really hard to try getting my name out to them. So I did different pieces of work for different members of Misfits, trying to get their attention.
"Ella [Pravetz, president of media and branding at Misfits] reached out to me and said she wanted to work with me on a freelance basis. So we got a contact signed and it's been nearly a year since I've been working with them now.
"Also, when I got bigger in the Fortnite community, I was working with people in FaZe. They ended up seeing it and I did work for FaZe Sway, he was constantly tweeting out the thumbnails I made with my link in it, and that helped me get my name out there a bit.
"I've worked with quite a lot of FaZe members so far – Apex, Sway, Blaze and Ewok. I've been trying to work with as many people as I can from different orgs, because I want to branch out and expand my reach further and further with different opportunities. So at the moment I'm working freelance with the Florida Mutineers and Misfits, and Chronic, who are in the Fortnite community. I used to work for Team Delirium too."
Medz now has more than 11,000 followers on Twitter, an impressive number for such a young freelance graphic designer. How did he manage that?
"My community has been following me the whole time and saw I was doing a piece of work every day," Medz explains. "I've built up a fairly big community and they're quite close together. So when it was announced that I had joined Misfits, they all retweeted me and it reached a lot of people."
FaZe Sway also has something to do with Medz' online profile.
22-year-old Benjamin 'Parched' Dovey, Medz' manager, says: "Lewis did a lot of free work for people in the community. And he always comes to me with these people, and asks: 'Do you think I should design free for this person for like a year or two, and see where it gets me?'
"Because it does turn around the clients a lot. It brings in a lot of income. He helped FaZe Sway for a long time. Sway would message him at 2am and Lewis would literally get out of bed, load Photoshop, make a thumbnail, go to bed at 6am, then wake up to another 600 followers because Sway gave him a shoutout. Then he has like 50 clients waiting to pay for thumbnails and headers and everything, just because of that.
"So I look at myself as a managerial strategist, because it's taking the right opportunity at the right time and then leaving opportunities at the right time as well."
Parched and Medz are also friends, and met back in 2015 back when Parched owned a CoD team.
"We both started out in the era with the old CoD teams and sniping montages and things like that," Parched explains. "Lewis came to me as I owned a CoD team and he wanted to do designs for us, so we started to work around each other. We found out we work relatively close together, built the friendship and met up in person.
"We organise events with people and meet with all sorts of different organisations and people, and see what they can offer. So the relationship with Medz is we're 100% friends before work. Most of the time we'll sit there and mess around and play games, and then when it gets down to the nitty-gritty we'll sit there and work things out, hash it out properly. But other than that, it is the friendship that comes first, and then it's the business afterwards, because it doesn't feel like a job at all. It just feels like I'm sitting here with my friend and then getting things done on the sidelines."
Getting scammed and getting paid
What about taking payments from clients, what is Medz' typical arrangement there? And didn't working for free attract the attention of those looking to take advantage of him?
"I treat all my clients the same, so I take full payment upfront, and that includes a guarantee with a turnaround time," Medz says. "If it takes longer than it should, then I'll give them a free thumbnail, or they can come to me and I'll do it for free if it took longer than it should.
"Back in the day, I used to do the work before getting paid and yes, I'd basically get scammed. It's a shame that some people take advantage of others, but you learn from your lessons as you get older."
And in terms of a concept for a graphic, how much does that come from client, and how much from Medz?
"If they've got an idea they have in mind, that's better for me, but at the same time, it can have its downfall because some people are obviously non-designers and it might not turn out as good as it could because it's rigidly sticking to their idea," he comments. "So I might try to tweak it and show different sides of it, alongside the one they requested and see what they prefer.
"I try to do a variety of things too. Some people might only focus on making social media headers or banners, but I try to do as many things as I physically can and broaden my skills to branch out to more clients and be a valuable assets to orgs.
"For example, I took an image of FaZe Adapt off Google from his Instagram sitting on a wall, I took out the background and pencilled him in, added smoke, clouds, lightning and a crow, and made it a more suitable setting.
"I also edit my own YouTube videos too but I wouldn't say I'm the best at it. So it's not a big thing for me compared to my design, but I can do it."
So what does the future hold for Medz? What's next for him?
"I like to think I'm quite young, I freelance at Misfits and I think most of their designers are around the age of like 25," he says. "I want to get a full-time job with an esports org. But I'm really happy with Misfits and would love to work full-time with them.
"I also got nominated for the 2021 Esports Awards this year and was hoping to get to the finals but didn't quite make it, so maybe next year.
"So that's where I'm at now. I think I've got a lot of potential to keep growing and get further into the community as I get older."
The sky's certainly the limit for Medz – who knows which orgs and personalities he'll be working with in the future?
So the next time you see a YouTube thumbnail for your favourite org or streamer, know there's someone like Medz who was sat behind a screen somewhere, putting in the work at possibly 2am, designing it just for you.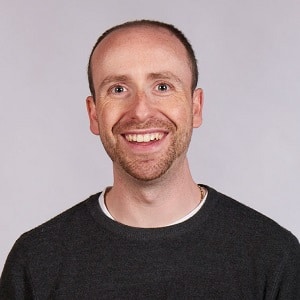 Dom is an award-winning writer who graduated from Bournemouth University with a 2:1 degree in Multi-Media Journalism in 2007.
As a long-time gamer having first picked up the NES controller in the late '80s, he has written for a range of publications including GamesTM, Nintendo Official Magazine, industry publication MCV as well as Riot Games and others. He worked as head of content for the British Esports Association up until February 2021, when he stepped back to work full-time on Esports News UK and as an esports consultant helping brands and businesses better understand the industry.