Rocket League has a host of UK and Ireland talent lined up to take part in the RLCS Fall EU Major.
And UK caster Adam 'Craftman' Stewart and Barrage Esports MD Jeff Simpkins are optimistic for the UK's future in Rocket League (you can read their comments further into this article).
The EU Fall Major features a $100,000 prize pool and kicks off on October 17th.
Most recently, the Rocket League Championship Series (RLCS) for Europe concluded its final regional event for the fall split, with Vitality beating Endpoint.
While the final week of the Grid remains to be played this week, all 16 teams entering the Major have already been confirmed. And there's a slew of UK and Ireland talent across the board:
The UK and Ireland will be well represented by a number of teams and players. UK teams include Endpoint, Guild Esports, Barrage Esports and Top Blokes, with some players from the region scattered across other teams.
Specific UK and Ireland talent taking part in the Major, according to Liquipedia, include:
Cole, Stumpy, Shogun and Johnnyboi (casters and analysts)
Cynical, Rise and Magu (Barrage)
RelatingWave, virtuoso and coach Eclipse (Endpoint)
Deevo (Barcelona)
eekso and coach AndytheMandy (Galaxy Racer)
noly, Scrub Killa, meqza and coach Gregan (Guild)
FlamE, archie and RamS (Top Blokes)
Tadpole and bluey (Triple Trouble)
Elsewhere, Team Liquid's Rocket League team (including UK player Speed, whom we recently interviewed), were just shy of making the top 16.
UK teams have been performing well lately. Endpoint made it to the Regional Event 3 finals against Team Vitality, and Barrage Esports have had some top performances.
Barrage acquired the players from Opp Block back in August and went on to reach the playoffs in Regional Event 2, helping them to qualify for the EU Major.
They also broke the RLCS record of most goals scored in a single game, setting a new one with 11 goals scored against Magnifico.
There's more info on the Rocket League majors and formats here.
'We have a depth of talent to offer' – Craftman and Barrage Jeff share their views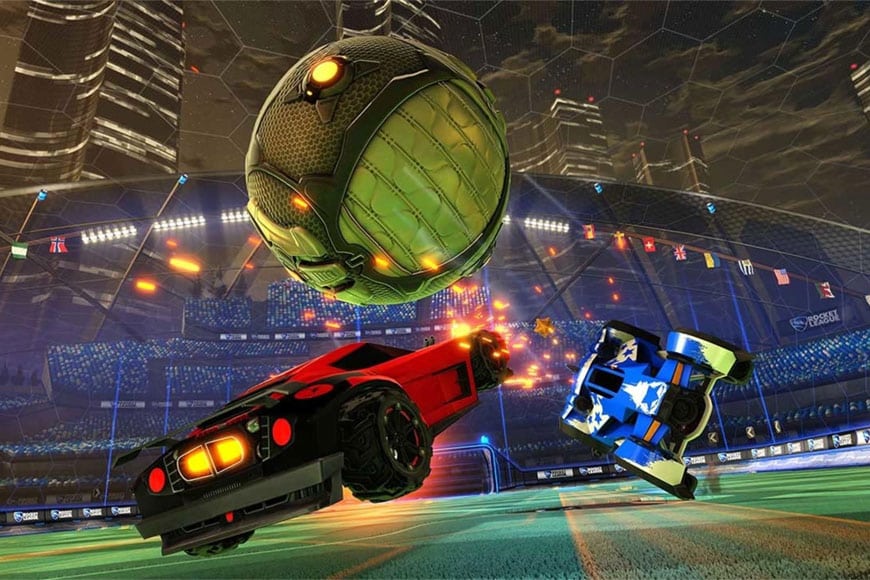 Adam 'Craftman' Stewart, Rocket League commentator, said:
"I think it goes to show how ingrained the UK scene is within EU Rocket League, and the depth of talent we have to offer.
"I know there's a lot of UK bubble players still out there waiting to make their mark when the time comes for them, so there'll be British and Irish talent always making their way to the top for years to come.
"After their performance in the last regional event, Vitality certainly have to be the favourites at the moment, with BDS not too far behind them.
"Although Endpoint raised their stock massively by nearly taking Vitality the distance in the most recent regional final, which will make the fans of the English/Irish duo, RelatingWave and virtuoso, very very excited.
"Barrage and Top Blokes are also two primarily British teams to look out for as well, since they are both severely underrated, and can switch on and pop off when it comes to crunch time."
Jeff Simpkins, MD and owner of Barrage, added:
"It's a great return to Rocket League for us as an organisation. As a brand, we play into the underdog storyline and this roster epitomises that. The third regional of this split wasn't the best from us but we're looking to bounce back for the EU Major.
"We're not expected to do much there by most, so if we can claim a few scalps and cause a couple of upsets, we'll be happy. I think top 8 at the Major is achievable and the lads have ambitions to be a top 4 team in Europe.
"We chose a great time to come back into the scene with Rocket League recently going free to play. Ultimately, we'd love to be at the World Finals at the end of the competitive year, but that's a long way off right now. For now, the community support has been amazing and we're loving engaging with them."
Megalodontus is a miraculous survivor from the mass extinction and somehow learnt how to use his stubby fins to operate complicated mechanical equipment and drink tea. Worryingly for cryptozoologists, he's been writing League of Legends articles too.
A self-taught writer who's had the privilege to work with good editors who aren't terrified of his pearly whites, Megalodontus is often seen writing either independently or for various websites such as this one. When not writing, he usually runs it down mid in real life and is fascinated with watching paint dry.