Not to be deterred by the current pandemic, just over a month ago Esports Insider held their scheduled forum online in the form of the ESI Digital Summit. It once again brought together like-minded members of the esports industry to discuss various topics.
Many aspects of esports were discussed though a number of panels (see some of our picks in our ESI Digital preview piece here). Here, Megalodontus provides a recap on some of the stand-out talks.
---
Esports in Japan: Has a sleeping giant awoken, or merely been stirred?
Speaker: Mike Sheetal, CEO and Founder of PlayBrain Inc.
Thanks to its history and impact within the games industry, Japan has always been seen as a region that would be a world contender when it comes to esports. However, due to the language and cultural barrier, it hasn't always been seen as immediately accessible. And for whatever reason, it's not had a huge impact on esports as other countries have. Mike Sheetal gave a deep insight into its history and where the 'sleeping giant' stands now.
He started off with how competitive gaming began and some of the challenges such as the government placing restrictions. Mike stated that in 2017 the Japanese government lifted these restrictions after much clarification and Japan's market for esports started to steadily grow: "Shadowverse, a popular card game in the same vein as Hearthstone had a $1m prize pool not so long ago and that really changed the perception of what esports can be in Japan."
And since then there's been an estimated 1,300% esports business growth in 2018 – and it's still going upwards.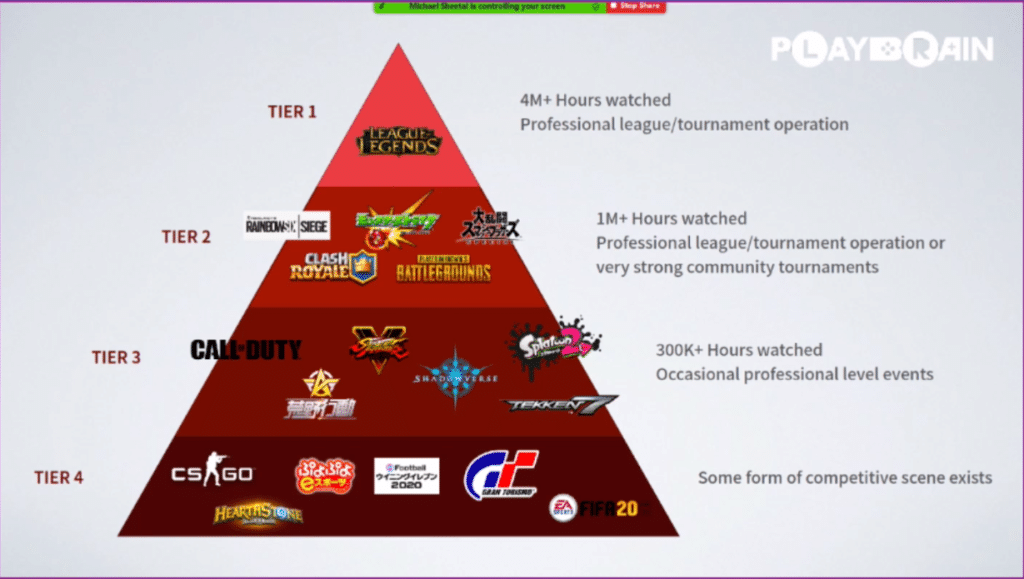 Japan is mostly known for their traditionally strong presence in the Fighting Games Community (FGC) especially in games like Street Fighter V and Tekken 7, but perhaps not surprisingly League of Legends remains in a tier of its own, which according to Mike is due to the formation of the League of Legends Japan League (LJL) by Riot Games, Yoshimoto Kogyo and Mike's company PlayBrain Inc.
Rainbow Six Siege continues to be a strong presence along with PlayerUnknown's Battleground (PUBG). Other esports titles mentioned that are big in Japan – but probably do not have a big presence outside – are Monster Strike, Knives Out, Shadowverse and Puyo Puyo.
So with Japan seeing a big growth in investments and viewership, what's in store for the future?
Mike predicted four things will happen: Japan will continue to improve performance in global competitions, experience an influx of foreign teams and investments, join China as a leader in Mobile Esports and eventually establish its cultural strength in global esports. Mike also warned that "setting up a Japanese company is not as straightforward as in other countries" and that strong partnership is required.
Mike ended with answering some questions said: "The goal of Japanese esports communities is to sit alongside the big players such as China, Korea, USA and Europe."
(Author's note: Also shoutout to Mike as the last and rather touchy question regarding Momochi and the Pro-License issue was asked by me. Thank you for the answer)
'The New Normal' – What's next for esports venues post-quarantine?
Speakers:
Tatianna Tacca, Director of Esports at Momentum (moderator)
Tomaso Portunato, CEO of Platform
Chi Bhatia, Senior Designer at HKS Sports & Entertainment
Paige Funk, Head of Marketing at Nerd St Gamers
Nikita Buffee, Business Development Manager at Allied Esports
This was a panel many were eager to tune in to, as it related to the current situation the world is facing. Chi answered how "luckily, esports and gaming is an industry that works virtually, that's where it started, but I still think that people are still going to want to gather".
Moderator Tatianna corroborated this point with a relatively recent study by Enigma Research: "There's an openness from esports fans to look at digital alternatives to replace their experiences, but it's not going to be a replacement because the opportunity to experience things live is so powerful."
On the topic of business models and areas of expansion during the pandemic, Paige mentioned while things are pushed back, diving into the customer experience has been rewarding and having to rethink grand openings, while for Chi, 2020 is an experimental period to monitor behavioural changes and act accordingly for 2021 in terms of safety, marketing as well as providing software/hardware.
While esports events are of course still being held, it's not 100% foolproof and there are still short and long term consequences. Paige sees an opportunity and despite the delay in events she believes this is the best time to encourage participation in online tournaments, while Chi sees many brands from traditional sports investing much more in digital content to reach their fans.
When asked how they might create value in hosting much smaller-scaled, community-based events, Tomaso mentioned: "If you really want to give a better experience, you have to think about everything from the service, the sound, the lighting etc. It goes beyond putting some hardware. We've done a lot of research on how we can improve that for our future venues."
Nikita agreed and mentioned how they work with their partners to create additional value, and how to balance making smaller events a worthwhile experience while also being financially viable.
"Does it have to be physical location? Can it be digital?" Nikita pondered.
Ravens Till I Die? – Can city-based esports teams mirror the success of their sporting counterparts?
Speakers:
Kirsty Endfield, CEO and Founder of Swipe Right PR (moderator)
Herb May, Director of Corporate Partnerships at Houston Outlaws
Rod 'Slasher' Breslau, esports journalist and consultant
(Unfortunately due to connection issues, Chester King from the London Royal Ravens could not make the panel and Johanna Faries was also unable to attend)
With Activision Blizzard's franchised leagues for both Overwatch and Call of Duty, the requirement was for pre-existing brands to geo-locate and build a fanbase from their represented city. This mirrored how traditional sports teams were set up and much debate has gone on since then.
Rod has been quite a vocal skeptic on this policy, and he started the forum by answering Kirsty's question regarding his skepticism – and if he can see any benefit at all.
Rod cited the example of New York Excelsior from the Overwatch League (OWL) and admitted that he had met many local fans who are fans precisely because the team is from New York.
He said: "There are still a lot of problems that are going to have to be overcome to make this work for the long term, I think it has proven in the short time that it has happened, you can build localised fanbases and it should at least be explored."
On the opportunity of identifying local talent from the area, both Herb and Rod agreed that a championship roster should be built from the best players available and not limited to just the hometown market, and Rod uses the Vancouver Titan's recent move as an example.
Herb also added: "As the league develops, as we connect more with the community, we inspire the locals to be a Houston Outlaw one day. That's a story we'd love to tell."
But is this model sustainable in the long term?
Rod is not optimistic. He's critical of Activision Blizzard's handling of both leagues, investors, issues within the company and the problems with the games themselves. Rod even went so far to argue that a LoL or CSGO localised system would be more successful.
Herb agreed there are a lot of obstacles that need to be figured out -especially due to COVID – but maintains that Houston is actively trying to give brands, sponsors and the local fanbase more opportunities to engage with them in the long term.
They continued by discussing if esports needs a traditional sports model, to which Herb said they can learn from each other, but should remain mostly separate and Rod mentioned there are both positives and negatives.
Herb ended the panel by responding to a question asked in regards to Houston's homestand during COVID: "We were supposed to have the last homestand of the season back in Houston which we were excited -especially me – to sell that excitement. To get those fans who have never been to a live event yet, who haven't the experience to go be in person. Losing that momentum is certainly a bummer."
Mobile world domination? The reasons why mobile esports can succeed in the West
Speakers:
Kirsty Endfield, CEO and Founder of Swipe Right PR (moderator)
Patrick 'Chief Pat' Carney, CEO of Tribe Gaming
Jeff Chau, Founder of GameGether
Akshat Rathee, Managing Director at NODWIN Gaming
Of all the talks, this is the one I was looking forward to the most. Despite personally being a PC-only person, no one can deny the huge market that is mobile esports. It is already a mainstay in many parts of Asia, but can it meaningfully break into the Western market?
Patrick believed the content coming from mobile is very strong, but does not believe currently it will overtake traditional consoles. Jeff and Akshat offered a different viewpoint.
Jeff said: "I don't want to use the word 'taking over' but it will displace PC and console esports, it has already in places like Brazil, to Southeast Asia and China."
Akshat added: "A good view to look at this is not the word 'replace'. I don't see a single person from the PC ecosystem having changed over to the mobile ecosystem in India."
Akshat also gave an overview on India's market: "I often give this crazy example that our biggest dating app in our country is not Tinder, it's PUBG mobile [due to the high number of daily active players]!"
Jeff followed up with details on how China's leading mobile game Honor of Kings eclipsed the playerbase of LoL's China-only version and elaborated how the market has shifted to mobile multiplayer games, as opposed to games like Candy Crush. He also added he believes mobile esports will be bigger than PC and console esports in the next five years.
Jeff noted one of the big reasons that mobile esports is also booming is because the engagement through social media in developing countries has been a lot higher compared to their traditional counterparts. He cites Honor of Kings once more in China, where 80% of females and 50% of males are first time MOBA players.
The panel then discussed why there's been a slow uptake of esports teams in the West signing mobile players or teams. Pat believes fans of traditional brands like TSM for example do not have data on the overlap of their fans who would be interested in mobile esports content, to which Jeff agreed as he's seen teams like FaZe or Fnatic operate mobile esports teams in Asia, where the core market is. Akshat puts it down to money and uses the example of sponsors being more willing to invest if they know the market is there.
They ended the panel speaking about another elephant in the room: why does mobile gaming and esports still have a stigma attached to it? Akshat compares it to cricket, where many 'purists' which are mostly PC/console games dismiss mobile gaming due to a big difference in equipment.
Pat compares the stigma against mobile now to the stigma traditional esports had to face in the US, and how it will take time to move on from it.
Jeff ended the panel with an interesting personal insight: "I was in South Korea in 1999 and I said that PC esports will not come over to the United States, but 10 years later it did. So I think mobile is going to [take off in the West] once these developers port these brands or IPs over, so that people get to experience how amazing they are."
Keep an eye out for Esports Insider on their main website or their Twitter page for upcoming events and news. We thank them once again for giving us the opportunity to attend the summit.
Esports Insider provided Esports News UK with a pass to the ESI Digital event
Megalodontus is a miraculous survivor from the mass extinction and somehow learnt how to use his stubby fins to operate complicated mechanical equipment and drink tea. Worryingly for cryptozoologists, he's been writing League of Legends articles too.
A self-taught writer who's had the privilege to work with good editors who aren't terrified of his pearly whites, Megalodontus is often seen writing either independently or for various websites such as this one. When not writing, he usually runs it down mid in real life and is fascinated with watching paint dry.