LVP UK, the organisers of the UK League of Legends UKLC tournament, have responded to concerns from the community about Barrage Esports having two teams in the upcoming promotions tournament.
Barrage's main team dropped down into the promo/relegation tournament from the UKLC, and their second team Barrage: Retirement Home Edition (pictured) won the separate Forge of Champions open qualifier.
This means the two sides could face one another in the promotions tournament – and potentially both qualify for the next UKLC.
Forge of Champions returns for Summer 2019 with a new qualification format
There was some confusion around how this would work, whether it was fair for Barrage to have the two teams, and questions around the integrity of a potential match if they were to face one another.
LVP have now cleared this up.
"We consider the Barrage: Retirement Home Edition (B:RHE) slot to be owned by the players," LVP said on the UKLC website.
"As per Rule 2.1, 'Slot ownership', in the FoC Qualifying Tournaments regulations, an owner registered on the ArenaGG can only be considered to have 40% of the 'decision power' of the team, with the remaining 60% distributed between the players. There is no owner that was registered to B:RHE, so control of the slot resides entirely with the players."
LVP also said that an organisation cannot own two teams in the UKLC (or across any European Regional Leagues) at the same time.
The tournament organiser also said it has been in discussion with the B:RHE Players to make it clear that if they progressed to the UKLC, they would get into the tournament 'whether they stay under the Barrage organisation or not'.
"LVP UK will enforce a change of ownership if this situation does occur at any future Promotion Tournament," it added.
Finally, LVP said: "Both Barrage and B:RHE have been warned about 'soft play' and how it can and will lead to disqualification. LVP UK will be refereeing all matches at the same level as UKLC matches, and monitoring in-game communications. If either team attempts to throw a game to place the other in a more favourable position, both teams will be disqualified."
LVP said that Barrage have abided by the rules, that LVP 'cannot prevent organisations from having pre-promotion agreements with teams participating in Forge of Champions' and that its focus 'lies with the players'.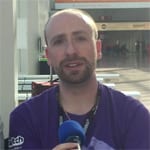 Dom is an award-winning writer who graduated from Bournemouth University with a 2:1 degree in Multi-Media Journalism in 2007.
A keen League of Legends and World of Warcraft player, he has written for a range of publications including GamesTM, Nintendo Official Magazine, industry publication MCV as well as Riot Games and others. He works as full-time content director for the British Esports Association and runs ENUK in his spare time.