Both UK League of Legends teams from the UKLC boast a combined score of 11-1, Excel UK only losing to Spanish kings Vodafone Giants and Fnatic Rising defeating the tournament favourites Team LDLC from France.
Now that both teams have qualified for the Playoffs, what are their chances to pave the road to glory? And the most important question: Is it really coming home? Megalodontus takes a look in this preview.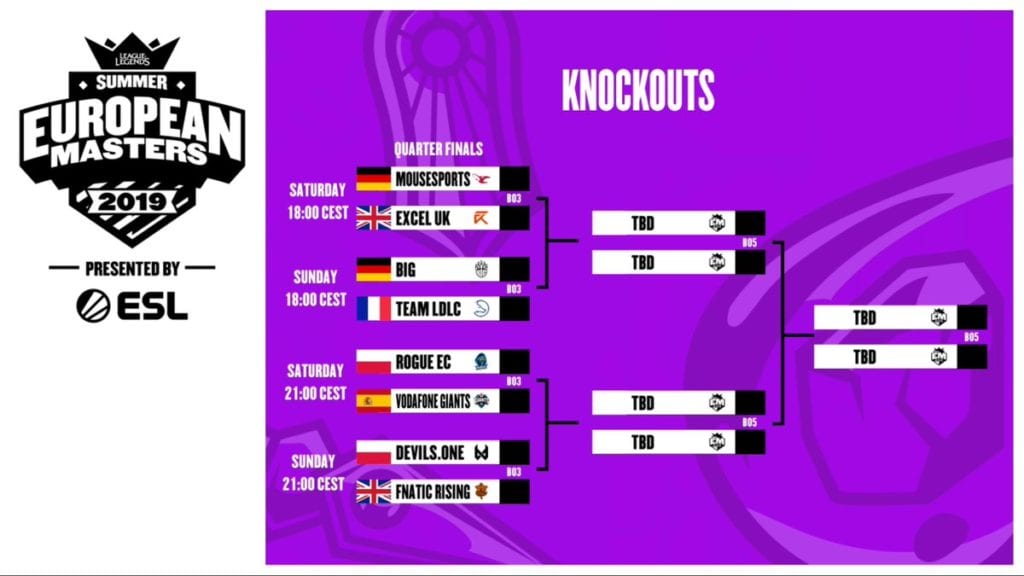 Regardless of how both teams finish in Playoffs, this EU Masters has been a historical campaign for Her Majesty's finest. This is the first time the UKLC second seed has made it through Play-Ins and qualified for Playoffs, meaning both teams from the UK & Ireland will finish a minimum 8th place.
I dare say Boris Johnson should suspend Parliament just so everyone pays attention to the UKLC's playoff matches!
But now the real climb up the steep mountain of the EU Masters truly begins. The eight best teams are locked into a caged ring to slug it out – and only four will walk the rocky path towards the vaunted battleground in Katowice, where the finals take place on September 28th and 29th.
What are the UKLC's chances on this perilous journey?
How did the UK teams perform in the group stages?
Despite both teams struggling initially, the infamous British resilience shone through.
Coming in hot from the Play-Ins with a perfect record of 6 – 0, many teams rightly feared drawing Excel UK, especially since no one really expected them to come out this strong.
Substituting midlaner Exile with Special gave this sometimes near-reckless team a sense of calm and patience, enabling them to play a steady game instead of their famous throws past 20/25 minutes in the UKLC.
Drawn into Group C, one of the most difficult groups, Excel UK started quite slow initially. Against both WLG from Greece and Godsent from the Nordics, the 'plucky, British underdogs' did not look like their all guns-blazing form.
Nevertheless, they marched on steadily to take both wins. However, against the full might of the Spanish Armada in Vodafone Giants, Excel UK could not quite execute their plan and took their only loss of the tournament. They know they must show better against Teutonic powerhouses mousesports.
Like their compatriots, the undisputed Kings of Britannia (and UKLC) Fnatic Rising looked very shaky in their first two matches, despite shouldering the weight of the British circuit on their backs. Being drawn in to Group D, who some dubbed the group of death, the British champions were sure to face tough resistance.
Looking nothing like their UKLC finals form, they displayed a host of errors and mistakes in their plays against both Defusekids from the Benelux region and Crvena Zvezda from the Balkans.
Despite Fnatic Rising once again displaying their infamous mid to late game prowess, many held very little hope against French titans Team LDLC. Yet in true Fnatic fashion, when their backs are against the walls, they delivered in style.
For the keen watchers of the UKLC, you thought Fnatic Rising were just letting loose with their draft putting Ronaldooo on an AD Carry and xMatty on Nautlius when they played MnM Gaming in Tower 7? It was a carefully planned strategy after all!
Maybe they should be called Fnatic Flexing at this point!
Excel UK's next opponents: mousesports (Premier Tour, Germany)
The Teutonic lords in mousesports dominated the Premier Tour and easily clinched first seed from Group A. Like a crimson swarm they overwhelm all who oppose them.
Truthfully speaking, this is a very difficult matchup for Excel UK. Mousesports are an extremely resilient team who find multiple ways to come back from a deficit and are a terrifying avalanche when ahead. While they aren't a team that will flex endlessly in draft, they are known to play very odd picks like their notorious Swain/Taric botlane for example.
Excel UK has been favouring their botlane a lot recently, and against Conjo/Gistick this is a lane they must at least hold even with. Italian prodigy jungler Shadow will be a tough task for Taxer to hold down while Special and Nite should be a relatively uneventful matchup, with each midlaner finding openings to roam to join into big fights.
Against former Excel player Tolkin in the toplane, Send0o will probably be in an extremely hard lane unless he really steps up or is put on a hard winning matchup. What's most interesting is to see if Excel UK play their stock standard style so far or will they take up the mantle of Flex-cel once more against their German adversaries. And remember, don't give Tolkin Aatrox!
Mousesports also are a team that adapt very well in long series, so Excel UK will need to be at their very best and more if they wish to book their tickets to Katowice.
Excel UK's chances of winning: 2/5
(For a more detailed breakdown on mousesports, see this Lolesports articles on the EU Masters teams here)
Fnatic Rising's next opponents: devils.one (Ultraliga, Poland)
The devils cloaked in black clawed their way up to the throne of Poland, battered and bruised but triumphant. Their demonic laughter now echoes in the halls of Europe's contenders.
Like the UK & Ireland, Poland hasn't had the best results in the EU Masters recently. But this time they too have both seeds in Playoffs and they will be damned if they squander this chance.
Devils.one set up very much like an academy team with a 10 man roster, full of young and hungry talent. They are a very intelligent team who can carry from almost every position and adapt their style to suit their opponents, even if they do prefer the 'calculated aggression' style back in the Ultraliga.
Fnatic Rising have not looked stellar but have shown they can flex lanes, champions and roles rather comfortably. And in a best-of-3 series this will be pivotal to match the carries of devils.one.
With just about every lane except jungler Nji able to swap lanes, they could give the sololaners of their Polish counterparts in Agresivoo and Mattislaw a big headache, though devils.one have shown they aren't afraid to switch mid and top as well.
The real danger will lie in the botlane, with Lucker/Erdote capable of becoming an absolute menace if they are left alone. How Fnatic Rising choose to deal with them will be a fascinating talking point.
In the Ultraliga, devils.one played three best-of-5 series that all went to five games, so they are no stranger to long series. Can Fnatic Rising equal or better their placements from last Spring?
Fnatic Rising's chances of winning: 3/5
(For a more detailed breakdown on devils.one, see this Lolesports article on the EU Masters teams here)
Tune in today (September 21st) at 5pm BST to catch Excel UK and September 22nd for Fnatic Rising at https://www.twitch.tv/riotgames as they keep the UKLC flag flying high.
Megalodontus is a miraculous survivour from the mass extinction and somehow learnt how to use his stubby fins to operate complicated mechanical equipment and drink tea. Worryingly for cryptozoologists, he's been writing League of Legends articles too.
A self-taught writer who's had the privilege to work with good editors who aren't terrified of his pearly whites, Megalodontus is often seen writing with his partner-in-crime Clockwork (https://twitter.com/Clockwoork) either independently or for lolesports or liquidlegends. When not writing, he usually runs it down mid in real life and is fascinated with watching paint dry.