At least four gaming records were broken at the Insomnia Gaming Festival (i63) last weekend.
Records were broken by UK gamers in titles including Fortnite, Mario Kart 8 Deluxe, TrackMania Turbo and Rocket League.
In Rocket League, Harvey Morris Daws (pictured above) set the new fastest time in the Guinness World Records Rocket League training time trial at 1.22 minutes, as reported on the Guinness World Records website.
Moving onto TrackMania, a new fastest time was set in the Guinness World Records Trackmania Turbo race track at 1.07 minutes, in double driver smash mode. This was set by Thomas Hall and Alex Dunsmore, both from the UK.
In Mario Kart 8 Deluxe, Findlay Gardner and Michael Lawrence collected the most coins (26) in one minute in a game of coin runners.
And finally, there was a challenge for the game of the moment, Fortnite: Alex Fern Newby beat the fastest time to build a three-story wooden fort in the console solo playground mode – a time of 50.12 seconds.
Well-known UK streamer Tom "Syndicate" Cassell attempted the Mario Kart record, but picked up 18 coins – eight shy of the actual record.
Other YouTubers also made guest appearances on the stand, including Dawko, DAGames, Ashens, Dan Bull, Yammy, Seepeakay, Kaaaarl and members of the Yogscast.
Guinness World Records allowed any Insomnia guest to attempt the world records live on their stand, with up-to-date leaderboards.
The records are somewhat unusual, considering the games included casual titles like TrackMania and Mario Kart and almost trivial challenges like the coin collecting task (not to take anything away from the record-setters).
A quick check of other gaming world records on the Guinness site show a lot of other casual gaming records, like 'Largest Game Boy' and 'Most Gadgets in a Cosplay Suit', though there are some esports-focused ones like 'Youngest Professional Gamer'.
It seems Guinness World Records is taking a more mainstream approach with their records, appealing to a broad demographic of gamers. And that's no bad thing in our books, as it of course helps to raise awareness of the competitive side of gaming, and may inspire more people to look into this.
Hide our ads and become a premium reader to support ENUK today from just £1 per month!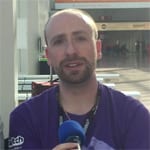 Dom is an award-winning writer who graduated from Bournemouth University with a 2:1 degree in Multi-Media Journalism in 2007.
A keen League of Legends and World of Warcraft player, he has written for a range of publications including GamesTM, Nintendo Official Magazine, industry publication MCV as well as Riot Games and others. He works as full-time content director for the British Esports Association and runs ENUK in his spare time.