One of the UK's hottest prospects in competitive FIFA has been left speechless after being challenged to a game by a top footballer.
Teenager Shaun "Shellzz" Springette, who is currently signed to Unilad Esports and made it to the last 32 of the FIFA Interactive World Cup earlier this year, racked up an impressive 160 wins out of 160 matches on the FIFA Weekend League last weekend.
Following this achievement, Chelsea and Belgium goalkeeper Thibaut Courtois sent a message to Shellzz, challenging him to a game of FIFA.
Thibaut congratulated Shellzz on the feat and said: "When are we playing so I can end your streak?"
As a Chelsea fan himself, Shellzz was lost for words.
Well done @Shellzz_Unilad on winning 160/160 games of @EASPORTSFIFA Weekend League! When are we playing so I can end your streak?

— Thibaut Courtois (@thibautcourtois) November 28, 2017
I actually can't believe this…. https://t.co/NABNLy3jdJ

— Shellzz (@Shellzz_Unilad) November 28, 2017
The interaction between Thibaut and Shellzz is the latest example of the growing relationship between football and esports.
Over the past year, many traditional sports clubs and brands have got involved in esports. West Ham, Manchester City, Roma, Wolfsburg and many more now have their own players or teams.
Some have stuck to FIFA players, while others have branched out from the simulation game world and signed teams in games like League of Legends.
We spoke to Shellzz and some of his other UK FIFA compatriots earlier this year at the FIFA Interactive World Cup, which was won by UK player Spencer "Gorilla" Ealing. You can check out our chat with the lads here:

When asked about acceptance of FIFA as an esport, Shellzz told Esports News UK earlier in the year: "Give FIFA esports a chance. It's like watching a real football game. If you have a favourite player and you see them concede a goal, it's like watching your football team concede, and when they score you're going to cheer.
"It's like real football but playing on a game. I think people need to understand that and see it's a big thing – and it's only getting bigger."
Last month EA outlined some changes to FIFA esports, including renaming its biggest annual tournament to the FIFA eWorld Cup.
Shellzz' organisation Unilad Esports also just announced their new Call of Duty roster.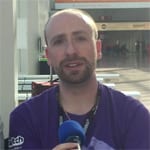 Dom is an award-winning writer who graduated from Bournemouth University with a 2:1 degree in Multi-Media Journalism in 2007.
A keen League of Legends and World of Warcraft player, he has written for a range of publications including GamesTM, Nintendo Official Magazine, industry publication MCV as well as Riot Games and others. He works as full-time content director for the British Esports Association and runs ENUK in his spare time.