Blizzard and EA have announced some changes to the esports aspects of Overwatch and FIFA respectively.

Overwatch gets new 'smart' cameras and more
First up, the Overwatch team has been working on a number of features aiming to improve the game's esports viewing experience.
In a new Developer Update video posted below, Overwatch director Jeff Kaplan discusses some of the upcoming changes that spectators will notice during the Overwatch World Cup broadcast at BlizzCon, including:
Team uniforms/colour palettes
Top-down interactive maps
Third-person smart cameras
Kill feed replays
An automated tournament interface
Auto-pauses for disconnections
As well as this, Blizzard recently announced the team names and colours for the sides taking part in the Overwatch World Cup, including the Los Angeles Valiant (Immortals).
"The Overwatch World Cup will be a major milestone on the road to improving the team-based shooter's spectator experience, and there are plenty more improvements still to come," read a press statement.
There will be more info coming next week.
Jeff Kaplan said: "[We've introduced a] third-person smart camera that automatically follows the action and 'smooth out' the camera so it's not as jerky as a human controlling the camera.
"These are our first steps to making esports much more enjoyable to watch."
One of the historic discussion points around Overwatch as an esport has been the game's spectator elements and whether it's fun to watch in comparison to other esports.


FIFA 18 Global Series & eWorld Cup on the way
Elsewhere, EA and FIFA have made a number of FIFA esports announcements.
The Interactive World Cup has a new name and format.
The launch of the FIFA 18 Global Series on The Road to the FIFA eWorld Cup 2018 has been announced, a competition that kicks off on November 3rd and will culminate at the showpiece event in the FIFA eWorld Cup 2018, where the winner will be crowned world champion of FIFA 18 in August next year.
The Road to the FIFA eWorld Cup competitors will qualify based on FIFA Ultimate Team Champions Weekend League online performance and at live qualifying events throughout the year.
EA and FIFA will identify and invite the top-ranked 128 eligible competitors (64 on PS4 and 64 on Xbox One) to advance to the Global Series Playoffs, vying to be one of the 32 stars to qualify for the FIFA eWorld Cup 2018.
New name, new format.
Your road to glory in 2018 looks a little something like this ? https://t.co/EiJGiBUUAw pic.twitter.com/pI1nXFV20x

— FIFA eWorld Cup (@FIFAeWorldCup) October 27, 2017
A sample of competitive formats in FIFA 18 include:
FIFA Ultimate Team Champions Cups – mass-entry tournaments first kicking off through FUT Champions, with the top competitors qualifying for two major live tournaments (held in January and April)
FIFA eClub World Cup – all-star tournament pitting top FIFA players signed to pro teams against one another
Licensed Qualifying Competitions – third-party competitive gaming organisations and brands will host events offering qualifying spots for the Global Series Playoffs
Official League Partner Qualifying Competitions – competitors can represent their favorite real-life club through official league competitions. Specific details on how leagues will be involved will be available soon.
"Last year was a pivotal achievement for competitive FIFA, engaging millions of competitors and spectators through world football and global competition," said Todd Sitrin, SVP and GM of the Competitive Gaming Division at EA.
"In partnership with FIFA, we're accelerating the growth of competitive gaming through the EA Sports FIFA 18 Global Series on The Road to the FIFA eWorld Cup 2018, producing more competition, attracting more competitors and connecting with more fans than ever before."
UK player Spencer "Gorilla" Ealing won the FIFA Interactive World Cup in London earlier this year.
Hide our ads and become a premium reader to support ENUK today from just £1 per month!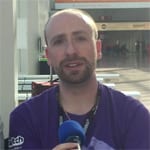 Dom is an award-winning writer who graduated from Bournemouth University with a 2:1 degree in Multi-Media Journalism in 2007.
A keen League player and WoW RPer, he has written for a range of publications including Games TM, Nintendo Official Magazine, games industry publication MCV as well as Riot Games. He currently works as full-time content director for the British Esports Association.