It's that time of the year again – we're gathering your best plays from competitive UK League of Legends.
The idea is to shout about the UK scene and promote the talent within it.
Experienced UK scene ADC Joe "Joekerism" Kent will kindly be putting together the Top Plays of the Year montage video for Esports News UK again.
Joe has a ton of experience editing League of Legends videos and has produced montages for the likes of PornstarZilean and Shaclone as well as his own gameplay clips, racking up hundreds of thousands of views in total.
Here's what he put together at the end of 2016:


What we're looking for
Any particularly impressive plays you can think of from someone playing in the UK League of Legends scene this year.
The play doesn't need to be in an official tournament like the ESL Premiership or UK Masters, though they are welcome. Any interesting high-level plays will be considered.
There are no strict elo requirements for our UK League videos, but obviously we will be looking to include the very best plays for the montage and will want to showcase people playing within the UK League of Legends scene, regardless of their nationality.
So whether you're in the ESL Premiership, a solo-queue player, part of a competitive team, a streamer, part of a university team or whatever, we want to hear from you. Or maybe you think a particular play from a UK pro should be highlighted, for example one from Alphari or Maxlore in the LCS.

How to send in your clips for 2017
.rofl files downloaded directly from the League of Legends game client are best – or lolreplay files.
If you're sending in a .rofl file, then make sure you send a timecode as well.
If this isn't possible, then PlaysTV/Twitch clips are fine, as long as they're at least 1080p and 30fps.
Once you've got your file, upload it to a file sharing site and email it to us, making sure to include the summoner name on it and the time of the specific play(s). Please try and stick to two plays max per summoner.
You can also suggest someone else's plays for us to include. Please let us know roughly when in the year it was and who it was by, and we'll try to track it down.
The deadline for entries is November 6th.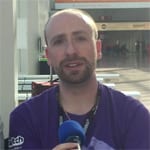 Dom is an award-winning writer who graduated from Bournemouth University with a 2:1 degree in Multi-Media Journalism in 2007.
A keen League of Legends and World of Warcraft player, he has written for a range of publications including GamesTM, Nintendo Official Magazine, industry publication MCV as well as Riot Games and others. He works as full-time content director for the British Esports Association and runs ENUK in his spare time.