One of the world's first and most well-known pro esports players, Johnathan "FATAL1TY" Wendel, has co-founded a new esports team management service.
Known as ReadyUp, the platform claims to be the the first of its kind, designed to 'benefit amateur and professional esports athletes, teams and gaming clans'.
It features tools for roster management, scheduling, availability and communication, allowing esports organisations and players to 'manage and optimise' their teams.
It's set to launch this autumn.
FATAL1TY is the chief gaming officer for ReadyUp. He's joined by CEO Roderick Alemania, formerly of IGN Entertainment/Fox Interactive Media, and chief technology officer Sean Allen (no, not the former West Ham FIFA player), a games industry veteran who's worked at Sony Computer Entertainment America.
FATAL1TY became one of the first full-time professional gamers in 1999, winning 12 world titles. He was considered the best pro gamer of his era and made a name for himself in FPS games like Quake.
"Whether you're an entry level amateur or seasoned pro, competition takes intense dedication, discipline and time," said Wendel.
"By taking on day to day team management tasks that take teams away from gaming, ReadyUp allows for structure which will help the gamer to utilise their time more efficiently to become their best."

"Whether you're an entry level amateur or seasoned pro, competition takes intense dedication, discipline and time. ReadyUp helps the gamer to utilise their time more efficiently to become their best."
FATAL1TY

Roderick Alemania added: "With hundreds of millions of global esports enthusiasts, we believe esports' scale and fragmentation now warrants a comprehensive set of team management tools."
"ReadyUp will bring the best practices in traditional sports that have been successful at providing structure and efficiency, from running recreational teams to managing large sports organisations."
When creating ReadyUp, FATAL1TY and Roderick Alemania said they spoke to several esports peers and looked at the tools and best practices used in traditional sports.
ReadyUp advisors include Steven Roberts, ESL NA' executive chairman, Mike Vorhaus, president of Magid Advisors, and Glenn Chin, former global brand lead for
Nike+, Nike Basketball and EA SPORTS.
ESL's Steven Roberts commented: "A strong ecosystem needs an underpinning of world-class tools and technology platforms to reach its full potential. ReadyUp provides an immense opportunity for athletes and teams at all levels."
Details are scarce but more info is expected to be added to the ReadyUp website shortly.
Hide our ads and become a premium reader to support ENUK today from just £1 per month!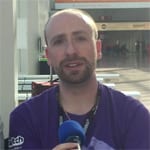 Dom is an award-winning writer who graduated from Bournemouth University with a 2:1 degree in Multi-Media Journalism in 2007.
A keen League of Legends and World of Warcraft player, he has written for a range of publications including GamesTM, Nintendo Official Magazine, industry publication MCV as well as Riot Games and others. He works as full-time content director for the British Esports Association and runs ENUK in his spare time.