Editor Dom Sacco provides a quick update on the website and our slight change in editorial strategy.
Esports News UK has always been about the UK League of Legends scene – and will continue to be.
We've occasionally dabbled in other games like Overwatch, Hearthstone, CSGO and Call of Duty, and we'll continue to write about stories we feel are interesting and relevant in games like those too.
We will continue to write about esports orgs that have origins in the UK too. Orgs like Dignitas and Misfits, who might not be in the UK scene nowadays, but played in it or had links there.
We've also covered news about streamers, YouTubers and other figures in the community.
They might not be esports players themselves, but if you look at YouTubers like RossBoomsocks and Foxdrop, they know people in the UK League scene, and Foxdrop has helped cast the ESL UK&Ireland Premiership for example.
Thus they're of interest (and/or relevancy) to many people in this scene, there is of course crossover there so we will continue to write about them too. Streamer articles also generate decent traffic – our Gross Gore interview is one of our most popular.
We've been covering some of the wider topics in the gaming community, like the following:
They're not about esports teams or players, but they may be of interest to many people in the UK competitive gaming community, so we'll cover them.
Those top two stories have also been incredibly successful for us: they're already among the most-read articles in our history. Popular stories like those help us grow our traffic and our small ad revenues – this helps us to keep doing what we're doing.
For this reason, we will occasionally cover global stories that aren't UK-specific but may still be of interest to esports fans here in the UK. Our biggest audiences are in the UK but also the US. On that note, we may also publish sponsored articles that aren't always core to the UK esports space, but are relevant to the audience, whether it's covering an energy drink launch or esports betting.
UK esports articles may not generate as many views – writing them alone is just not sustainable. So we have to diversify slightly, but that doesn't mean we'll be ignoring the goings on in UK esports.
For me, one of esports' problems is its often insular approach. Those inside esports can be vocal to change or outside influence. While that's fine, I feel there's nothing wrong with taking inspiration from positive areas outside of esports as long as it's of benefit.
And I feel the same way about content. As long as the content is of interest to our readers, then we'll continue to produce it. If it's not, then we're doing something wrong – and you should have a go at us.
Also, please note as of February 2021 I am no longer employed full-time by the British Esports Association (I just freelance for them one day a week putting their newsletter together).
Lastly, thanks for reading – a news site is nothing without its readers.
TL;DR – we're covering more news in the wider gaming/streaming community, but won't be reducing the number of UK esports stories we produce.
Dom/Team ENUK
House style, user data and other Esports News UK info
Please note, we do not cover standard sponsorship announcements as there are so many of them. The only time we usually cover them is if they're a part of a wider story, e.g. a new office for an esports org, or a new jersey reveal or team, for example. Or if they're particularly significant, like the TSM FTX deal.
In addition, please note that while ENUK editor Dom Sacco is no longer working full-time for the British Esports Federation, he does produce their weekly email newsletter on a freelance basis. So our coverage of British Esports is always kept simple – usually just covering the occasional press release – because of this conflict of interest.
Also, it's part of our internal house style not to list names, companies or brands in all block capitals. This is to standardise the text on our website, to make articles simple to read and to avoid clutter.
An exception here is abbreviated names e.g. NUEL and NSE.
The other exception is player names. E.g. 'smooya' not 'Smooya', we respect what players want to be known as, as this is personal to them.
We do respect brands whose style is all capitals, like VALORANT and EXCEL ESPORTS, and will embed tweets where possible in our articles about them to reflect how they wish their brand to be represented.
There's more info in our video on not capitalising esports names here.
You can also read more about Esports News UK's privacy policy here.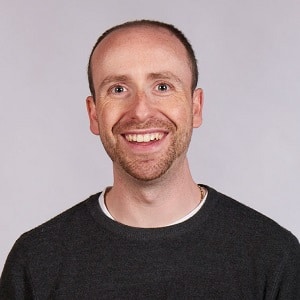 Dom is an award-winning writer and finalist of the Esports Journalist of the Year 2023 award. He graduated from Bournemouth University with a 2:1 degree in Multi-Media Journalism in 2007.
As a long-time gamer having first picked up the NES controller in the late '80s, he has written for a range of publications including GamesTM, Nintendo Official Magazine, industry publication MCV and others. He worked as head of content for the British Esports Federation up until February 2021, when he stepped back to work full-time on Esports News UK and offer esports consultancy and freelance services. Note: Dom still produces the British Esports newsletter on a freelance basis, so our coverage of British Esports is always kept simple – usually just covering the occasional press release – because of this conflict of interest.