As the 2016/17 Premier League season passes its halfway mark, the top three managers in Esports News UK's fantasy football league are running away from the pack.
Chris Topham, MnM Gaming general manager, is at the top of the league with his team Carlsberg, at 1,047 points.
Team EndPoint CEO Adam Jessop is just eight points behind in second place with his side, How's Zlat!
And close behind the top two is former competitive UK League of Legends player and Twitter funnyman Peter "Ped" Goldingay, with Harambe FC.
The top three all have Zlatan in their side, with the top two also favouring Defoe in their front line.
Kyle Jenkins and ESL UK Overwatch champion Chris "ChrisTFer" Graham sit at the bottom of the league with Jenko's Jokers (760 points) and PogChamp United (763 points) respectively.
Esports News UK's own Dom Sacco (MK Doms, 901 points) and David Hollingsworth (Geekmandem, 840 points) are also sitting embarrassingly close to the bottom of the table.
CSGO player Nathan "erniekk" Patterson is the Arsenal of the UK esports league, at fourth place with his team erniekkILLERS.
Who will take the bragging rights, win the gift card and be crowned champions come May? Who's the Conte of the league, who's the Wenger – and who's the Moyesy? Time will tell.
The UK esports league first kicked off last year.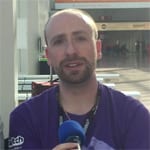 Dom is an award-winning writer who graduated from Bournemouth University with a 2:1 degree in Multi-Media Journalism in 2007.
A keen League of Legends and World of Warcraft player, he has written for a range of publications including GamesTM, Nintendo Official Magazine, industry publication MCV as well as Riot Games and others. He works as full-time content director for the British Esports Association and runs ENUK in his spare time.