The UK League of Legends eSports scene is 'a cesspit of people happy to be big fish in a small pond', says former TSM coach and Fnatic analyst Josh "Jarge" Smith.
Jarge made the comments as part of a Twitter rant, after being accused of flaming Epiphany Bolt top-laner Rifty (aka Riscuit) during the ESL UK League of Legends summer 2016 final on the weekend.
Watching myself get flamed in Twitch chat in the ESL VoD's.

FeelsBadMan
— Riscuit (@PureRifty) October 31, 2016
@PureRifty ahh ye, he feels the need to flame people every UK LoL broadcast dunno why, sad rly

— Joe Kent (@Joekerism) October 31, 2016
Rifty also said in a pre-match team interview (see below): "We definitely have a stacked line-up, but I think our star player is me, because I'm the best person here."

Rifty later explained it was an attempt at humour, and tweeted about being hated on despite the joke.
TFW you can't even joke about being a good player in an interview because people will hate you. pic.twitter.com/VnfWhn3TJN

— Riscuit (@PureRifty) October 31, 2016
Epiphany Bolt coach Tundra then mentioned Jarge in the Twitter thread, which prompted Jarge to have a bit of a rant about the issue.
"That feeling when people want to be respectful in Twitch chat," Jarge said. "What a world.
"But hey Rifty, let's ignore the fact that I offered to help your team between the semis and finals, and also the fact that I sent a wall of text explaining how you guys could have a better chance to win. Let's ignore all that and focus on my making jokes in twitch chat about both teams. Not just one guy.
"This is why lots of UK players arent successful. Any excuse to cry. All drama and no substance.
"Everyone flames in Twitch chat. Get over it. I freely offer advice to all UK players and teams regularly. Painting me as some kind of evil villain cos I was mean in Twitch chat is pathetic honestly.
"Once again I am unfortunately reminded why I should just steer clear of UK scene entirely."
His tweets drew reaction from the UK League of Legends scene and sparked a wider debate about whether it's acceptable to flame eSports players on Twitch."
@FrozenDawnLoL UK scene is a cesspit of people happy to be a big fish in a small pond with egos bigger than their ambitions. Its fucking sad

— Jarge (@Jarge__) October 31, 2016
Excel Esports mid-laner Lukezy and ADC Joekerism hit back at Jarge:
@Jarge__ @FrozenDawnLoL you should stick to coaching, talking about egos while at the same time flaming everyone in twitch chat is tiresome

— Luka Trumbić (@lukezylol) October 31, 2016
@Jarge__ @lukezylol @FrozenDawnLoL never said that, but flaming the UK scene whilst claiming to help them is a bit contradictory

— Joe Kent (@Joekerism) October 31, 2016
Excel's coach Josh "Furndog" Furneaux then asked why Jarge doesn't comment on the positives from the UK scene, and Jarge explained that Twitch chat is not an 'analytical forum', before wishing Furndog "good luck in McDonald's" (see below).
Furndog and Joekerism argued that Jarge is offering to help players in the UK scene, but flaming them on Twitch and how that might change people's opinions on him.
Some of the tweets made throughout the rant were rather petty and reminiscent of comments made earlier this year about MnM coach Jordan Walsh and how he's 'boosted and looks like Mr Potato Head'. Jarge, welcome to the UK scene.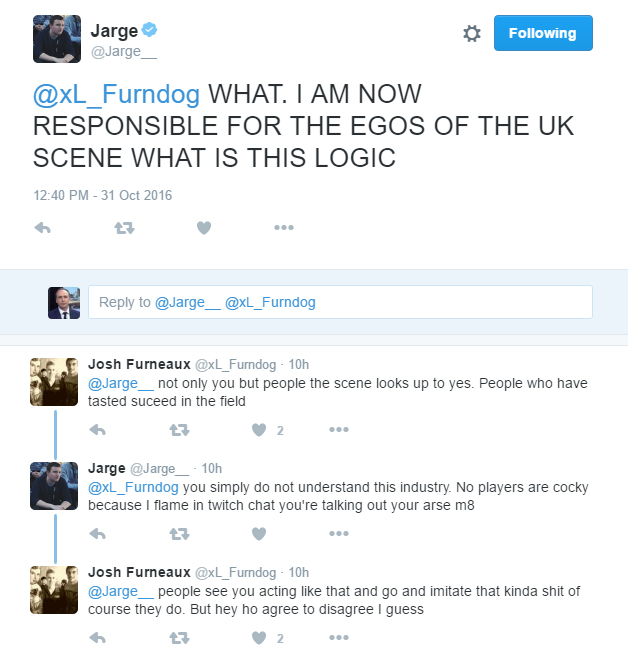 Jarge added: "No I don't have the best knowledge of the game in the world, but what I do have is always open to any UK player. If somehow I have offended you then feel free to not contact me. I honestly won't lose sleep over it."
Rifty later apologised over his initial tweets and if they came across negatively; he said he meant no ill will.
"I didn't mean or intend for it to come across as crying or drama because I don't want to be a part of either," he said. "I just meant it in a lighthearted way because I thought we could all remain civil and discuss things."
Others banded in and shared their opinions:
@xL_Furndog @Jarge__ let's start a revolution, that can be the UK's mark on Esports. Let's clean up twitch chat. #NoMoreFlame

— ?Tridd ? (@CasterTridd) October 31, 2016
@Jarge__ @xL_Furndog I knew Jarge was arrogant but didn't realise he was delusional

— Keeno Combo (@Keeno_Lol) October 31, 2016
@JordanWalshm8 idk i just see him spam and idc , got cancer and unfollowed

— lars (@Larssen00) October 31, 2016
@Jarge__ @Joekerism @Tundra____ @PureRifty if u cant take a bit of flame from twitch chat then gl in esports

— Augustas Ruplys (@Toaster_LoL) October 31, 2016
Twitch chat is the NUEL of analytical media

— Alex Winton (@SynygyLoL) October 31, 2016
@BrixtonHam 🙁 im sorry bro i didnt mean you were actually a gnome

— Foxdrop (@Foxdroplol) October 31, 2016
Might sound strange but i actually think pain/defeat/flame is good. It weeds out the weak and can make you strong. In life and league.

— Will (@FrozenDawnLoL) October 31, 2016
@excoundrel cmon everyone flames in twitch chat, idk why everyone is making this bigger than it is lmao its fucking twitch

— *rae* (@SonaBoner) October 31, 2016
Just for the record I do think @Jarge__ is one of the best exports our scene has had. I'm just very anti-flame in general in all forms.

— Excoundrel (@excoundrel) October 31, 2016
@excoundrel colour casting isnt a form of analytical media btw.

— Will (@FrozenDawnLoL) October 31, 2016
Should we even be posting this story or these comments here? Does eSports News UK count as an analytical forum? Does anyone care? Probably not, but someone's got to document this shit.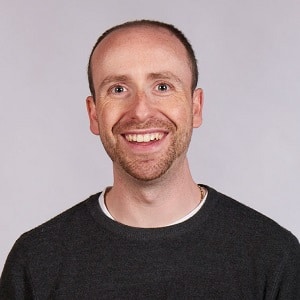 Dom is an award-winning writer who graduated from Bournemouth University with a 2:1 degree in Multi-Media Journalism in 2007.
As a long-time gamer having first picked up the NES controller in the late '80s, he has written for a range of publications including GamesTM, Nintendo Official Magazine, industry publication MCV as well as Riot Games and others. He worked as head of content for the British Esports Association up until February 2021, when he stepped back to work full-time on Esports News UK and as an esports consultant helping brands and businesses better understand the industry.