Hot off the heels of week one, the ESL UK League of Legends Premiership saw Last Remedy take on TCA for a place in the final this week, while Perilous took on GLB in the group A lower bracket. David Hollingsworth provides a recap.
Streamed from: ESL LoL Twitch channel
Last Remedy vs TCA: Game One
Picks and Bans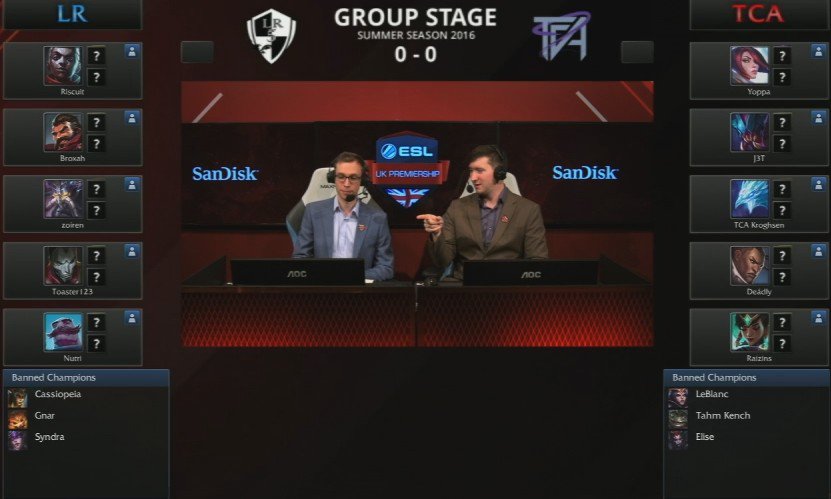 The game got off to a poor start for TCA as J3T and Yoppa pushed Rifty too deep, allowing him to pick up an early kill with the help of Broxah.
Two pauses in quick succession halted the flow of play, but shortly after the pause it was business as usual for Last Remedy, as Toaster and Nutri took a tower in the bot lane, while Riscuit (aka Rifty) picked up another 1v1 in the top lane as he continued to dominate.
With the game heading Last Remedy's way, Nutri gave everyone a lesson in how to support, with a Braum jump into shield blocking Lucian's ultimate - and setting up a team quad kill as Last Remedy looked to close out the game.
Amidst a dominant Game 1, Zoiren secures a tidy Triple Kill! https://t.co/QrQ6nDbWJt #ESLPrem pic.twitter.com/3xDTCcZdyc

— ESL United Kingdom (@ESLUK) September 14, 2016
Game one went to Last Remedy with dominant displays across all the lanes as each player looked to make this week's MVP pick even hard to decide.
Last Remedy vs TCA: Game Two
Picks and Bans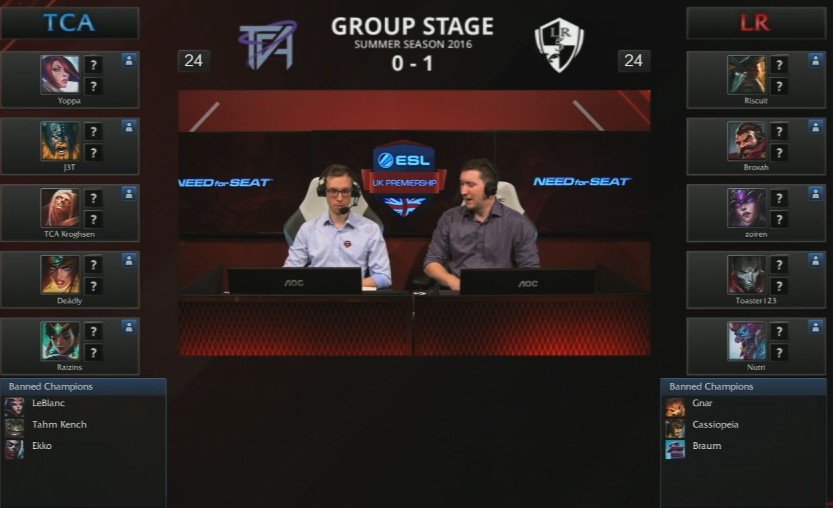 Ekko was smartly banned out after his dominance in the first game in the hands of Last Remedy, with the Fiora pick coming out from TCA for the second game.
The game started in the perfect way for TCA as they managed to bait Riscuit into the lane push as Fiora grabbed the first blood (with the help of Olaf). Shortly after returning to lane, another Olaf push caused Rifty to use his flash to escape, leading to him falling moments later during a 1v1 with Fiora.
A fight broke out in the TCA jungle as Broxah went for the 1v1 onto J3T and left with a double kill.
A 2v2 dive with both top lane and jungle champs occurred, as the TCA pair tower dived to secure the kills, but the hero tower saved the day resulting in a two for two trade.
The Top Lane Tower is currently MVP of Game 2 https://t.co/QrQ6nDbWJt #ESLPrem pic.twitter.com/7i1ULPcXmQ

— ESL United Kingdom (@ESLUK) September 14, 2016
A poor Baron attempt led to TCA losing kills, followed by Last Remedy picking up the Baron and pushing down bot lane. Last Remedy then took the series 2-0.
It was a better display from TCA at the start of game two, with their draft clearly showing off their strength, but Last Remedy pressured the bot lane and carved out the win to win group A - and qualify for the LAN playoffs.
Perilous vs GLB: Game One
Picks and Bans
Perilous had taken an early lead in the game, but with Tahm Kench caught out in the river a team fight got underway. A well-timed Gnar ultimate into Curtain Call saw the fight swing 3-2 in Perilous' favour, making the most of a bad situation.
A dominant middle sector of the game saw Perilous take a huge 10k gold lead into the 30-minute mark, as they hoped to keep their Premiership dreams alive and take game one.
A push down the bot lane by Perilous saw GLB turn the tables, with a great Ryze ult by Xani, bringing with him Aniki and Plex to get a great team stun, resulting in an ace.
Signs of life from @GLB_Esports as they take a great teamfight 30 minutes in! https://t.co/QrQ6nDty83 #ESLPrem pic.twitter.com/wrpuYRZA9O

— ESL United Kingdom (@ESLUK) September 14, 2016
It would be too little too late from GLB, however, with Perilous taking the game.
Perilous vs GLB: Game Two
Picks and Bans
A back a forth early game meant the gold difference stayed fairly close throughout; GLB started to gain a slight lead into the 20-minute mark as they pushed into the mid inhib. They pushed too far, however, as Perilous picked up four kills and took the top lane tier two tower.
Things are getting tense as @GLB_Esports fight back in game 2 of the Lower Bracket! https://t.co/QrQ6nDbWJt #ESLPrem pic.twitter.com/racbBZY2sM

— ESL United Kingdom (@ESLUK) September 14, 2016
The game continued to stay level until GLB got the shut down, along with the top lane inhibitor.
GLB then pushed down the bot lane, picking up three kills as they moved to take down the nexus - and take us into a third game in this series.
Perilous vs GLB: Game Three
Picks and Bans
Game three was another close game - and made for probably the closest series in this year's ESL UK Premiership so far. Both teams brought new champs into this all or nothing game, with the losing team dropping out of this year's Premiership.
GLB began to start taking the game from Perilous, as a fight broke out at the 28-minute mark, with GLB taking two kills from Perilous, but Perilous refused to give up - as the took out Plex in the GLB jungle. As the fight continued in the top river, GLB took down another four members of Perilous, losing two in reply.
GLB continued to dominate in the latter stages of the game, taking four kills at the elder drake and pushing down the mid lane to knock down the Nexus. They took the series 2-1 and will take on the winner of the group B loser bracket.
We won vs @PerilousGaming and get to play @TCAeSports next week for @ESLUK Premiership Offline finals. GGWP!

— GLB eSports (@GLB_Esports) September 14, 2016
Roundup
It was another great week of ESL UK Premiership action; we saw Last Remedy dominate and GLB vs Perilous gave us one of the closest games so far this season.
GLB now move on to play TCA for their chance to take it to the final, while Last Remedy await the winner of Group B to see who will join them in the playoff stage.
MVP - Toaster
Last Remedy have been a dominant force this season so far and it's hard to overlook how much of an impact Toaster has had especially this week. It was always going to be key that Last Remedy's big names stepped up, and Toaster is starting to put any doubts over that to rest.
Nutri must again be mentioned for a superb performance as support.
Play of the Game
And let's not forget this week's play of the evening. Perilous, you may have got knocked out, but damn, you went out in style. Hats off to you, Artorias.