We interviewed UK league of Legends streamer Ali "Gross Gore" Larsen and asked him if he'd ever play for an eSports team in the ESL UK Premiership.
"Firstly, it's if I was allowed to," he said. "You've got to be in their good books. Would I go into a team if I was allowed? Well, I'm a [Twisted Fate] one-trick, firstly, so that'll be a bit of a disadvantage. I would do it on the side for fun.
"You know what I wouldn't mind doing? Being a side manager or coach – I think that'd be more my cup of tea. And to motivate the players, I don't mind getting them out of bed in the morning and tell them how to play, even though I'm only Diamond 3. I'd like to do that. Like YamatoCannon, he's Diamond 3 and a great motivator and coach.
"When it comes to playing in a team, I don't think I'd go that far. Money-wise, it's something to do on the side I feel, but not full-time. It sounds fun, but takes up a lot of time."

"You know what I wouldn't mind doing? Being a side manager or coach – I think that'd be more my cup of tea. And to motivate the players, I don't mind getting them out of bed in the morning and tell them how to play, even though I'm only Diamond 3."

What about subbing in for a team as a one-off or taking part in a special showmatch like League Fest? What about guest casting?
"Yeah, sure. If I was allowed to, but I feel like I'm far away from that," Ali explained. "I need to get into Riot's good books. I've got to sort myself out for a year or two first to get my reputation back. It's about grinding it out for a few years so they forget about me, then they remember: "Oh yeah, this guy, no drama. He's actually come far."
Ali also spoke about what he'd do to improve UK eSports and some of the players he knows in the scene in our full video interview, including that time he went 0/8 when he laned against Team Paria's mid-laner Vicksy…!
See our full video interview here:

Hide our ads and become a premium reader to support ENUK today from just £1 per month!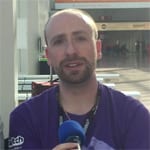 Dom is an award-winning writer who graduated from Bournemouth University with a 2:1 degree in Multi-Media Journalism in 2007.
A keen League player and WoW RPer, he has written for a range of publications including Games TM, Nintendo Official Magazine, games industry publication MCV as well as Riot Games. He currently works as full-time content director for the British Esports Association.