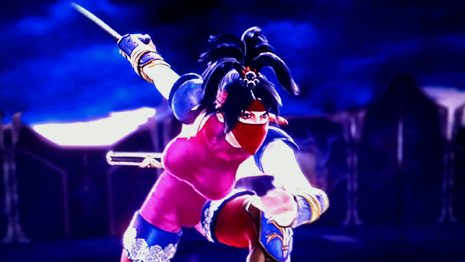 We're big fans of Soul Calibur's Taki here at Leet Games Blog, and it's a shame she wasn't included in V's roster.
Luckily the game's character creation mode lets you make a deadly swift ninja of your own. Here's how to make Taki in Soul Calibur 5 plus an online gameplay video of us playing as her.

Head into the Creation mode and follow these steps to edit and play as Taki. Feel free to alter her appearance slightly, as we based this Taki on a mix of appearances throughout the Soul Calibur series:
Select a new slot, click 'Original Character' and choose Natsu.
Choose female and the regular height
Body
Upper arms -12
Forearms -12
Pectorals -12
Hips -4
Thighs -10
Calves -7
Stomach -10
Chest +18
Waist -14
Muscle Mass +1
Face 6
Scrunched Ponytail (You can use Blaze which is the only decent swept back ponytail similar to Taki's, though it didn't look right so we opted for Natsu's hairstyle instead)
Eyebrows 17
Voice Type: Serious
Pitch -1
Tone -6
Malfestation Level: None
Equipment
Head equipment: Headband
Face equipment: Spy Mask
Undergarments: Sleeveless Unitard
Arm equipment: Vagrant's Kote
Shoulder equipment: Steel Pauldrons
Feet equipment: Honor Boots
Weapon/style
Natsu
Kuzukiri & Mekki-Maru
Custom effect: None
Colours/patterns/stickers
Skin: Saturation 9/9, 9:7, 2
Hair: Saturation 9/9, 9:0, 30
Face paint 1
Eyebrow colour: Saturation 3/9, 3:2, 28
Eye colour: Saturation 1/9, 1:38, 22, Saturation 0/9, 0:8, 6
Press RB to select equipment
Head equipment: Pattern: Basic 8, Colour 1 is Saturation 6/9, 6:1, 21, Colour 2 is Saturation 9/9, 9:1, 23, Size very low, Angle just to the left of centre,
Face equipment: Colour Saturation 7/0, 7:63, 21
Undergarments Colour: Saturation 9/9, 9:63, 27
Arms Colour 1: Saturation 3/9, 3:41, 18, Colour 2: Saturation 6/9, 6:10, 21, Colour 3: Saturation 8/9, 8:10, 19, Colour 4: Saturation 7/9, 7:10, 19
Shoulders Colour: Saturation 2/9, 2:41, 16
Shoes Colour 1: Saturation 7/9, 7:63, 14, Colour 2 Saturation 4/9, 4:43, 20, Colour 3: Saturation 6/9, 6:8, 23, Colour 4: Saturation 9/9, 9:44, 14
Press RB twice to get to Weapon Colour
Leave weapon as default, change weapon trail to 9:62, 23
Pose: Style 1
Input Name: Taki!
In true Blue Peter style, here's one we made earlier:

What do you think of our Taki? What would you do differently? Let us know in the comments box below.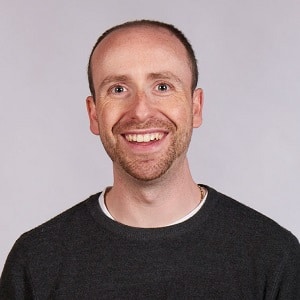 Dom is an award-winning writer who graduated from Bournemouth University with a 2:1 degree in Multi-Media Journalism in 2007.
As a long-time gamer having first picked up the NES controller in the late '80s, he has written for a range of publications including GamesTM, Nintendo Official Magazine, industry publication MCV as well as Riot Games and others. He worked as head of content for the British Esports Association up until February 2021, when he stepped back to work full-time on Esports News UK and as an esports consultant helping brands and businesses better understand the industry.