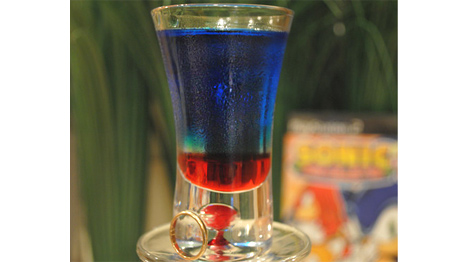 Like a decent gaming session, there's also nothing quite like a good drink with friends. Combine the two however and you get some rather interesting results.
We show you how to make ten of the best video game-related alcoholic drinks and shots.
Thanks to the help of gaming drinks blog The Drunken Moogle and gaming cafes Loading and The Mana Bar, we've picked ten of our favourite gaming drinks. Do try these at home kids (as long as you're over 18) and remember to drink responsibly and all that jazz.
1. Sonic the Hedgehog shot (pictured above)
1 part Grenadine
2 parts Menthomint Schnapps
4 parts Blue Curacao
Pour in the grenadine first, then layer the Mentholmint Schnapps and Blue Curacao on top, in that order.
2. Zelda: Ocarina of Lime drink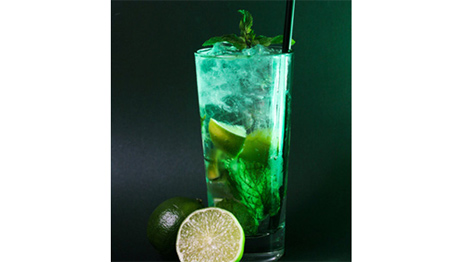 Bacardi Superior Rum
Fresh lime
Mint leaves
Teaspoon of brown sugar
Sparkling water
More than just your average Mojito - one drink and this can make you feel like the Hero of Time himself.
3. Final Fantasy: Golden Chocobo drink
1/2 shot of Goldschlager Cinnamon Schnapps Liqueur
1/2 shot of Wild Turkey's American Honey
1 Can of Ginger Ale
Shake the American Honey and Goldschlager and pour this into a glass. Add the ginger ale then stir.
4. Portal gun shots
First Shot: 2/3 shot Gold Tequila, 1/3 shot Orange Juice
Second Shot: 2/3 shot lime juice or Roses lime, 1/3 shot Bol Blue
5. The Kirby cocktail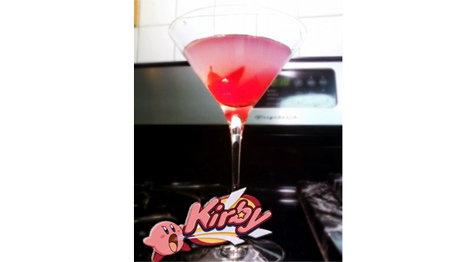 1 cherry jello shot made with Malibu Coconut Rum
4 oz. pink lemonade
2 oz. Bacardi Superior Rum
1 oz. Hiram Walker Blackberry Brandy
A sweet and colourful cocktail. Definitely one for the ladies. Place the jello shot in the glass first, then pour in the pink lemonade, rum and brandy.
6. Mario: 1up shot
Half shot of Malibu Rum
Half shot of Midori
For when you need an 'extra life'.
7. The Mana Potion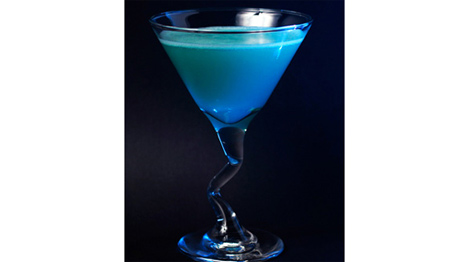 42 Below Vodka
Apple pressé
Blue Curacaos
Fresh lime
Sparkling white wine
A perfect complement to the 1up. After all, for every life you'll need some magic power.
8. The Halo: Red and Blue shot
Blue Curacao (layered on top of:)
Dekuyper Sour Grapefruit
Raspberry cordial
9. Bulbasaur, Ivysaur and Venusaur Pokémon drinks
Bulbasaur: 1/2 shot lime vodka, 1/4 shot lime juice, 1/4 shot melon liqueur (mix all three together)

Ivysaur: 1 shot lime vodka, 1 shot lime juice, 1 shot melon liqueur, 1 shot sprite, mint leaves (shake all alcoholic ingredients, then add ice, sprite and mint leaves)
Venusaur: 1 Bulbasaur, 1 Ivysaur, 1 shot lime vodka, 1 shot lime juice, 1 shot sprite (shake a Bulbasaur shot with the ingredients of an Ivysaur, with an extra shot of lime vodka and lime juice, topped off with more sprite and mint leaves)

10. Resident Evil: G-Virus and T-Virus drink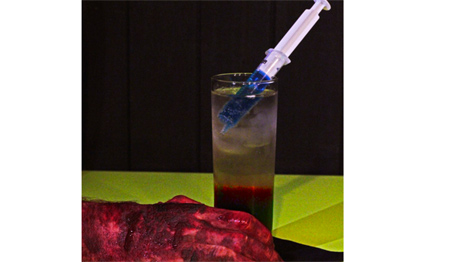 G-Virus: Gin and Tonic, Lime, Sugar syrup
T-Virus syringe: Bombay Saphire Gin, Blue Curacao
Don't forget...
No drink is complete without some Pac-Man ice cubes. You'll also need to know the top ten video game foods.
Now get mixing and get drinking!
What do you think of the above? Do you know any other games-related drinks? Let us know by leaving a comment below.